For many homeowners across America, you might find the upkeep with maintaining a house and the surrounding property to be exhausting. An endless cycle of weekend projects that seem to require an even more endless list of tools.
Many of these projects barely register as projects that require a chainsaw in the first place. That said, a good chainsaw can be one of the more versatile tools you can own. Many brands are recognizing this and gearing their chainsaws more and more toward the residential market.
Homelite is an excellent example of this. If you're a homeowner with a need for a chainsaw to. help you maintain your property, Homelite probably has an option available for you.
---
Homelite Chainsaws: Homelite 14 in. 9 amp Electric Chainsaw
Homelite's most popular chainsaw options are their electric chainsaws, namely the 14 in. model. Their smallest offering, the 14 in. has enough power and size to tackle serious projects, while maintaining a small enough size to be easy to use for beginners.
Their chainsaws also include a Saf-T-Tip to help keep you from getting into situations that might produce kickback and therefore endanger you. This is especially helpful for those who aren't experienced with a chainsaw. You can find this chainsaw on Amazon.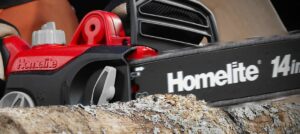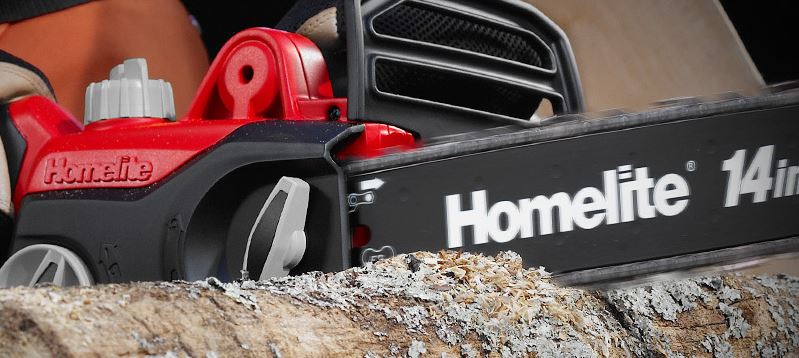 Things We Like:
Powerful 9 amp motor packs a punch for this size
Saf-T-Tip helps reduce the risk of rotational kickback
Cord retention hook helps to prevent unintentional power disconnect
Things We Don't Like:
Electric motor means needing to be connected to an outlet at all times
Though a medium-sized blade, not as powerful as a comparable gas-powered model
---
Homelite Chainsaws: Homelite 16 in. 12 amp Electric Chainsaw
Another popular offering by Homelite, this saw is essentially the same as the 14 in., only with a bit more length and a bit more power. Great for all the same tasks that you would use the 14 in. for, the 16 in. provides just a bit more capability when it comes to bigger tasks.
Similar to the 14 in., this model features the Saf-T-Tip to prevent kickback, as well as a number of other great features. A tool-less tensioner allows you to easily maintain the proper tension on the saw's chain, while the soft comfort handle reduces fatigue and improves handling. You can also find this chainsaw on Amazon.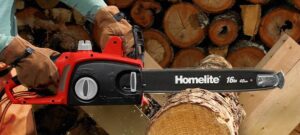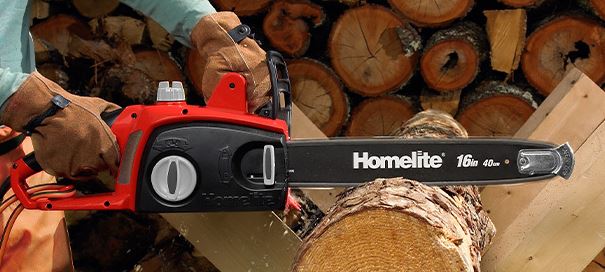 Things We Like:
Automatic oiler helps to keep chain lubricated
Wrap-around handle with soft grip makes for easier handling
Tool-less chain tensioner makes for easy adjustments
Things We Don't Like:
Not as powerful as gas-powered counterpart
Not as mobile as a gas-powered model
---
Homelite Chainsaws: Homelite 16in. 42cc Chainsaw
Homelite's most popular gas-powered model is their 16 in. chainsaw. If you're looking for a quality residential chainsaw that doesn't require a cumbersome power cord to connect it to a power outlet, this chainsaw is a great option.
Being gas-powered allows for a more powerful motor and the freedom of being completely mobile. Because it's a Homelite chainsaw, you can be sure you're still getting an easy to use chainsaw with excellent standard features.
Things We Like:
42cc engine provides enough power to tackle larger projects
3-Point Vibration Isolation helps to reduce fatigue from prolonged handling
Includes deluxe case with removable scabbard
Things We Don't Like:
Gas-powered engine means mixing own fuel and dealing with exhaust fumes
Larger blade could be difficult to handle for beginners
---
Choosing the Right Chainsaw for You
With the market for chainsaws rapidly expanding, the number of options available to consumers has never been more plentiful. While this means more competition for the consumer's business, it can also make knowing what your best option is a tougher task. Use these considerations to help narrow your search.
Power Source: Electric vs Gas
Both gas-powered and electric chainsaws have their pros and cons. Gas-powered engines provide more power than do electric motors. Having a gas-powered chainsaw means no power cord, meaning you can work wherever you need to without worrying about how many extension cords you need.
Electric powered chainsaws tend to be lighter, quieter, and easier to handle than gas-powered ones. They also remove the need to keeping fuel on hand, which can be one less headache you need to worry about.
Size
The size of your chainsaw will depend entirely on what it is you plan to do with it. Chainsaws range in size from as small as 10 inches, all the way up to 24 inches and beyond. The higher end of this spectrum is generally reserved for professionals, as 20 inches is about the max length you'll see being used by hobbyists and homeowners.
If you're using your chainsaw for simple trimming and pruning work, then something smaller and more maneuverable is best. If you're eyeing up a tree on your property that needs to come down and be cut down to size for firewood, then something a bit bigger should be on your radar.
Price
As with any purchase like this, you'll want to consider your budget and how much you're willing to spend on a chainsaw. With the glut of options on the market, you'll generally be able to find an option at whatever price-point you're looking at.
To find the right saw for you, you'll want to consider all of these factors. Knowing what size chainsaw you'll need will help you decide whether electric or gas-powered is better, as many smaller chainsaws come in electric powered models. If you're looking to tackle larger projects, a gas-powered saw with a longer blade should be a consideration.
Quality Power Tools from Homelite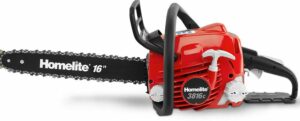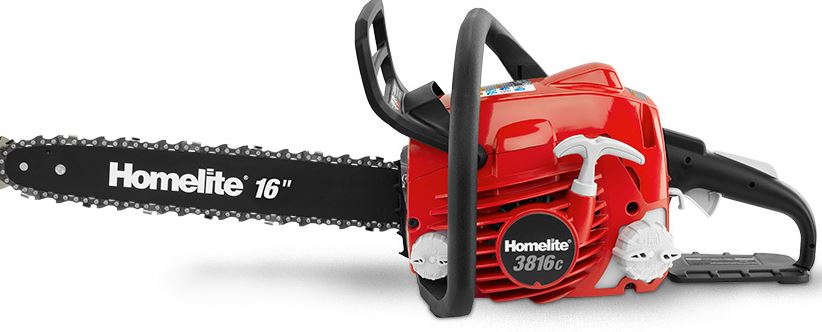 Homelite has been in the power tool market for over 60 years and is known for providing customers with high quality power tools at an affordable price. This is no less true when it comes to their chainsaws.
All models come with easy to use features and are designed to be affordable for the first-time buyer. As a quality brand for a smaller price tag than the top-tier models, Homelite is a popular choice by many homeowners for their power tool needs.
Writer's Pick: Homelite Chainsaws: Homelite 16 in. 12 amp Electric Chainsaw
To me, the best bang for your buck from the Homelite chainsaws is the 16 in electric chainsaw. With a 16 in. blade, this saw packs enough size and power to tackle some larger projects(you can reasonably cut through a log with a 26-28 in. diameter), while not having to deal with the headache of having to properly mix fuel for it.
The electric powered motor helps to keep it quiet when you're working around the house, and means the saw as a whole is lighter than its gas-powered counterpart.
Where the 16 in. excels is where all Homelite chainsaws excel: the standard features. The soft grip handle and the Saf-T-Tip are excellent features for a chainsaw geared towards the first-time buyer. The tool-less tension adjustment knob is a breeze to use, and the lockout switch helps to prevent accidental startup.
All of this is to say that you can't go wrong with the Homelite 16 in. 12 amp Electric Chainsaw.