Dating back to the late 1940s, Poulan chainsaws have established themselves as a popular consumer brand at an attractive price point. Founded by a lumberjack, the company originally made chainsaws for professional loggers. As opportunity presented itself, Poulan shifted to the consumer market with a focus on lightweight, quality chainsaws. With Poulan Pro and Poulan product lines, they offer a variety of chainsaws for different project needs.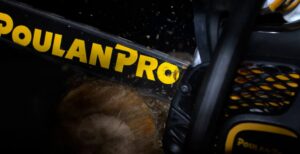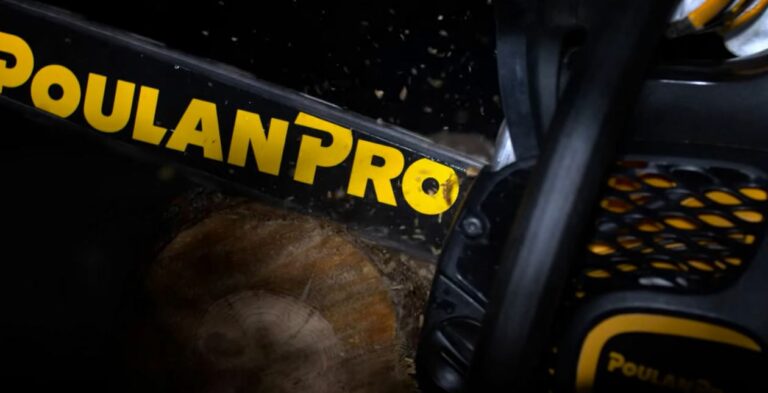 In this article, we will give our Poulan chainsaw recommendations, how to find them, and our advice for best maintenance and repair.
---
Best Overall: Poulan Chainsaw Pro PR5020
On the larger and heavier side of Poulan's product offerings, this gas-powered chainsaw provides enough power for almost all chainsaw needs. Check out this guide for the best gas chainsaws overall. With continued advances in technology, it boasts lower fuel emissions and uses gas more efficiently than earlier models. The pull starting system has also improved, making it easier to run and preventing damage to the starter.
What We Like
One of the most powerful in the Poulan line, it is able to complete a variety of jobs
The auto oiling feature allows the chainsaw chains to remain lubricated for longer life use
Comes with a case for protection and ease in storing
What We Don't
Heavier and more expensive than most Poulan products, making it more suitable for regular users
Difficult to start with time, making it prone to repairs and replacements in saw lifetime
---
Best Pro Use: Poulan Chainsaw Pro 4218
For regular jobs and heavy-duty cutting work, the 4218 model is the best offering in the product line. Having a large gas tank allows for hours of runtime and enough power to cut larger pieces of wood. This chainsaw is best suited for regular use and those needing consistent dependability. This 18-inch chainsaw gives you the ability to do all levels of work without significant risk of failure or need for repair.
What We Like
Strong price point for power and capabilities on almost any job
Easy starting compared to other chainsaws make jobs more efficient and less frustrating
Automatic oiling system does not require user adjustments or handling for ease
What We Don't
One of the heaviest among Poulan products, may cause fatigue with extended use
It does not provide the same quality and performance as other professional-grade chainsaw brands
---
Best for Homeowner: Poulan Chainsaw PL1416
Not every user needs significant power for their tasks. For seasonal and landscaping needs around your home, the Poulan PL1416 will accomplish tasks from pruning, trimming, and taking care of a few trees on your property. The smaller size makes this chainsaw much easier to use and easier to store. FOr more small, comapct chainsaws check out, the 5 best small chainsaws. Consumers appreciate its reliability for smaller sized tasks. This is not a saw designed for large trees or consistent heavy-duty jobs.
What We Like
Attractive price for a simple saw compared to competitors in corded saw market
Lightweight and compact size make it easy to use for extended periods
Powerful for an electric saw and quieter than gas-powered models
What We Don't
Requires access to a power outlet for use
What Should You Know About Poulan Carburetors?

A carburetor is used to mix fuel and air for the engine to run smoothly and at the proper speed. Engines could damage or run ineffectively when running too fast. When running too slow, a chainsaw may need to be restarted often. Poulan carburetors are set to the right speed from the manufacturer, but you may need to make adjustments after it dies or it becomes difficult to start.

To adjust the carburetor setting, turn on the chainsaw, and allow it to run (idle). You will be able to increase or decrease the speed by turning the carburetor screw, marked with a "T." Clockwise rotation with a flathead screwdriver will increase the idle speed.

These adjustments are necessary for engine efficiency. Many of the pathways in the carburetor can also get clogged, this will require cleaning and if unattended, replacement. Remove the carburetor and check 3 key areas for cleaning:

Air filter

Intake components

Needle valves

Using fresh fuel, restart the chainsaw to check for an easy start.

How Should You Acquire Poulan Chainsaw Parts and Get Necessary Repairs?

Poulan products are available in many big box stores, including Home Depot and Lowes. There is also an extensive market of online resources for chainsaws and parts. This makes finding Poulan chainsaws and parts much easier than specialty chainsaw manufacturers.

Because these retailers carry countless product lines, employees may not be as knowledgeable about specific Poulan products and parts. Finding compatible parts for your chainsaw may be best found through online research.
For Poulan chainsaw repair, you can either speak with a service provider at many local hardware stores across North America or DIY (do it yourself).

Working with a dealer of Poulan parts and products in a smaller store will be more successful in diagnosing your problem and finding the right solution. This may be the costlier of the two options, paying for service in addition to the parts, but also convenience and success in running your chainsaw.

If you choose to DIY, there are plenty of online articles and videos we found useful to help you solve your specific problem. Repair Clinic is a great resource for answering repair questions, offering videos, and providing links to specific parts based on your model. You can even chat with specialists on the website or call.

Why Poulan?

Across the product line, Poulan products are easy to use and great for consumers who need a simple and reliable chainsaw. While they do not boast the features that many professional-grade chainsaws offer, they are a popular brand for their performance at an attractive price point. With continued innovation in technology, the Poulan Pro and Poulan products are consistent performers.

If you are a homeowner looking for a chainsaw to keep your yard in shape without breaking the bank, we would go with the Poulan PL1416. For more regular users that are willing to spend more money for greater power and performance, the Poulan Pro PR5020 will fulfill your chainsaw and woodcutting needs! Check out our other Poulan Chainsaw guide, Poulan Pro vs. Husqvarna – Can Poulan Pro Stand Up to Husqvarna?