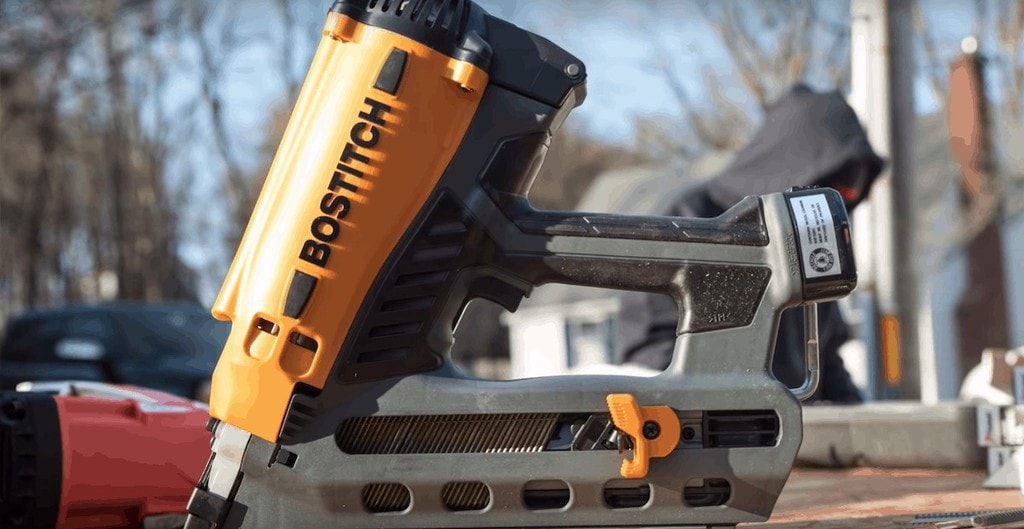 Is it time for you to invest in a framing nailer? In your search for the best framing nailer, you'll find that a few brands dominate the category, and one of the most trusted and well-used brands is Paslode.
Paslode makes several of the most popular nailers in the business, and today, we'll take a closer look at five of their most popular models to help you determine the best Paslode framing nailer for your needs.
Top Five Paslode Framing Nailers
Let's take a look at what made the list.
Paslode F325-R Compact Framing Nailer
The F325-R is Paslode's most compact framing nailer, making it ideal for getting into tough to reach areas.
At only 5.9 pounds, the F325-R is possibly the lightest nailer on the market, and indeed the lightest from Paslode. It's compact size and light weight help to reduce fatigue so you can tackle longer jobs without tiring. The 30-degree magazine makes it all the more easy to maneuver into small spaces.
Of course, there are a few downsides with the smaller nailer. A capacity of 44 is a bit limiting, and this nailer can only accommodate nails up to 3 ¼", which is a bit short by framing standards. Despite these caveats, the F325-R is still a strong choice, especially for remodeling and home improvement tasks.
What We Like
Extremely lightweight and easy to maneuver
Gets into hard to reach areas with ease
Affordable
What Could Be Better
Limited capacity
Doesn't accept 3 ½" nails
Paslode F350-S PowerMaster Plus Framing Nailer
Paslode's PowerMaster line has been the choice of distinguished professionals for over twenty years, and the PowerMaster Plus nailer is one of the most popular nailers on the market.
This nailer is packed with pro-quality features that every contractor is sure to love. The 30-degree magazine has a capacity of up to 84 nails, so you can get more work done in between reloading. It accepts a variety of nails, from 2-3 ½" with shank diameters of .113 to .131.
While it isn't quite as compact or lightweight as the F325 nailer above, it still comes in at a lean 8.4 pounds, and its frame is small enough to fit into most tight spaces, such as in between o.c. studs, joists, and rafters.
The F350-S also features an adjustable air deflector cap and a rafter hook which swivels out of the way when not in use. The bump fire trigger features sequential or selectable operation, and the PowerMaster Plus is capable of driving as many as 12 nails per second.
While the F350-S isn't entirely tool-less, it does include an integrated hex wrench for making any adjustments you need to.
What We Like
Large capacity
Supports sequential or selectable bump firing
Relatively lightweight and compact
What Could Be Better
Doesn't include a male adapter for air hose
Paslode F350-P PowerMaster Pro Framing Nailer
The pride and joy of the Paslode line of framing nailers, the PowerMaster Pro packs top line features into a surprisingly lightweight and compact frame, making it ideal for working in tight quarters.
This nailer also features a 30-degree magazine with a maximum capacity of 88 nails. It accepts nails from 2-3 ¼" and shank diameters of .113 to .131. Unfortunately, this nailer doesn't accept 3 ½" nails, which are the standard for framing.
What's most impressive is the size and weight of the PowerMaster Pro. The Pro manages to shave off a ¼" here or a ½" there to make for an even more compact nailer than the PowerMaster Plus. The Pro also manages to come in at a whopping one pound lighter than the Plus model.
Other performance features include an inline magazine for optimal balance and control, sequential or selectable bump firing, tool-free depth of drive, a movable rafter hook, and pronounced nose barbs for the most accurate toe nailing.
What We Like
Tool-free adjustments
Lightweight and compact
High capacity
Supports sequential or selectable bump firing
What Could Be Better
Doesn't accommodate 3 ½" framing nails
[youtube https://www.youtube.com/watch?v=5gOa1WeGYEc&w=560&h=315]
Paslode XP Cordless Framing Nailer
If you don't feel like investing in an air compressor, or you need the most compact nailer possible, you're in luck thanks to the Paslode XP cordless nailer.
This compact nailer is a little taller than the F325R, but it's about the same size otherwise, and it's also one of the lightest nailers in Paslode's line, coming in at just over seven pounds.
This cordless nailer features plenty of impressive features, such as tool-free adjustments and dry firing protection. A stainless magazine raceway helps to prevent warping and jams, ensuring reliable operation for the life of the tool.
Like the PowerMaster Pro, the XP accepts nails from 2-3 ¼" with shank diameters of .113 to .131. It holds a single strip of nails, so it's only about half the capacity of the PowerMaster line.
The 7V Li-ion battery allows you to drive up to 9,000 nails between charges, a 50% improvement over past cordless models. This nailer also does an excellent job of conserving fuel and can drive about 1,200 nails with a single can of fuel.
What We Like
Compact and lightweight
Impressive battery life
Aggressive teeth for precise toe nailing
What Could Be Better
Paslode P350-21 21-Degree Framing Nailer
If you're looking for a real workhorse and aren't concerned with weight, or getting into tight quarters, the Paslode P350-21 may be the perfect nailer for you.
This nailer piggybacks on the same impressive features found in the other 350 models, with a few noteworthy additions. Despite its large size, it still comes in at just a hair over eight pounds, so it's not as prohibitively heavy as other 21-degree nailers.
This nailer features sequential or selectable trigger operation, a top loading magazine for the fastest reloading, tool-free adjustments, and aggressive nose teeth for precise toe nailing.
While 21-degree nailers are known for reduced capacity, this model is reasonably robust, holding a maximum of 70 nails per magazine. Since it's a 21-degree nailer, it also offers the broadest range of fastener options.
The P350-21 handles nails between 2-3 ½," and it accepts paper tape or plastic strip nails with either smooth, ring, or screw shanks, which makes this one of the most versatile nailers on the market.
What We Like
Wide variety of fastener options
Relatively lightweight for a 21-degree nailer
Tool-free adjustments
Dual mode trigger
What Could Be Better
Doesn't fit into tight spaces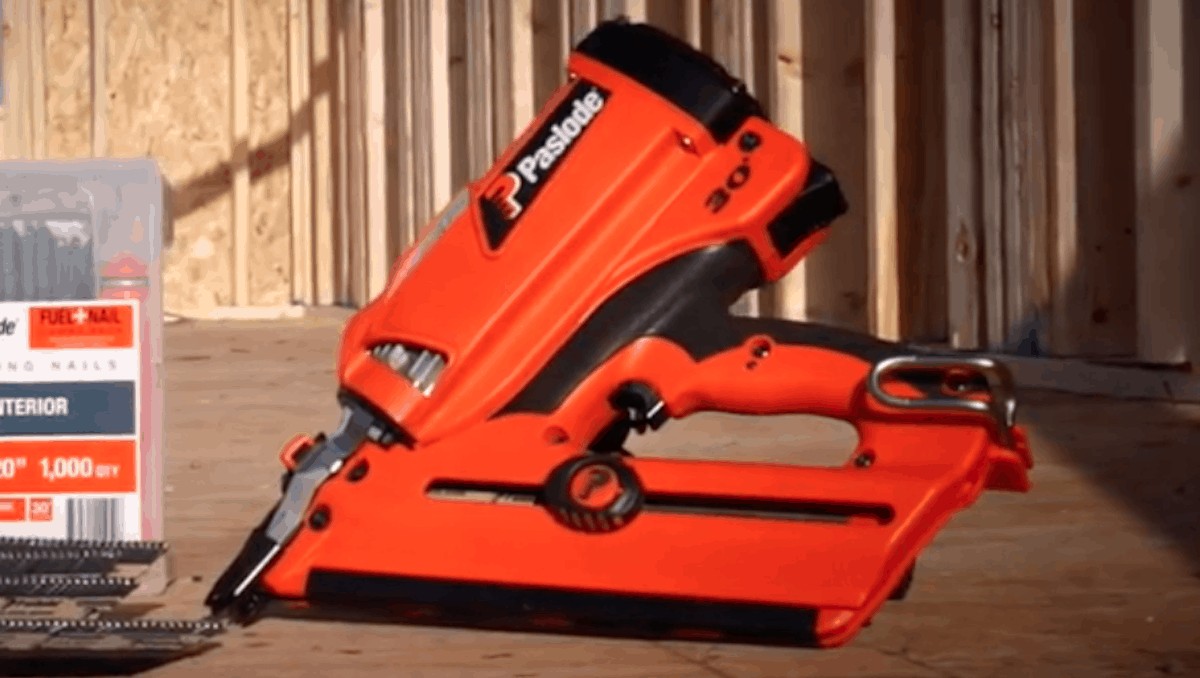 Framing Nailer Buying Guide
Whether you opt for one of the great nailers we've covered above, or go a different route altogether, there are several key considerations you'll need to make when you're determining the best nailer for you.
Types of Nailers
Framing nailers fall into two categories: pneumatic and cordless.
Pneumatic
Pneumatic nailers have been the industry standard for decades. These nailers hook up to an air compressor with standard tubing, and the force of the air drives the nails into the surface you're working on.
Pneumatic nailers can be more cost-effective. If you already have an air compressor, there are no additional supplies you'll need to buy to use the nailer. Plus, you'll never have to worry about running out of fuel in the middle of a job.
Cordless
Cordless nailers are the newest nailers on the market, and they're growing in popularity. But, there are a few caveats associated with them. Unlike pneumatic nailers which hook up to an air compressor, cordless nailers use a can of compressed air to power the tool.
This means that you'll need to purchase cans of air to use the nailer, and if you run out of air and don't have another can handy, your job will be at a standstill until you head to the store. While these nailers don't require you to have an air compressor to use them, the cans of compressed air can add up to a hefty expense over time.
Types of Triggers
Just as there are a few different types of nailers, there are also two different types of triggers. Some nailers provide the functionality of both triggers, while some triggers only function one way or the other.
Single fire triggers are the standard, and they work like any other power tool does. Place the nailer against the surface where you want to drive a nail, and squeeze the trigger.
Bump fire triggers allow you to quickly tackle larger projects. With a bump fire trigger, you put your finger on the trigger, and the nailer is actuated whenever you "bump" the foot of the nailer onto the surface.
Single fire triggers are more precise and accurate, but bump fire triggers are quicker and allow you to tackle jobs more quickly. Nailers that provide both styles of operation are preferred in most cases.
Type of Magazine
The type of magazine the nailer uses is another important consideration to make. There are two types of magazines: coil and strip style.
Strip style magazines are most popular and feature a long strip of nails that are bound together with either tape, paper or wire. These nailers feature a long magazine that extends from the tool.
Coil magazines feature nails that are wrapped up in a coil, which eliminates the need for the long magazine extending from the nailer. This may make it easier for you to work in tight quarters, and they also have a higher capacity than strip style nailers do, so you'll have to reload less often.
Your personal preference should dictate which type is best for you. Strip nailers offer better balance but must be reloaded more often, and often aren't an option in very tight areas. Coil nailers have more weight concentrated in a single area, which makes them less balanced. But, they hold more nails and can handle tight spaces more easily.
Features to Look For
Now that you understand the basic differences between different nailers, you'll want to look at the features that differentiate them.
Magazine Angle
The angle of the magazine will affect the type of nails you can use, the weight of the tool, and how easily you can get into tight spaces.
You'll find nailers with 21, 28, 30 and 34-degree angles for the magazine. 21-degree magazines have the least capacity, but they're able to fire nails with the largest heads. They're also significantly heavier than nailers with greater angles for the magazine.
28, 30, and 34-degree magazines are more lightweight, and they're able to more easily fit into tight spaces. But, these nailers can't accommodate as many fastener types as a 21-degree nailer can.
Tool-Less Jam Clearing
A fact of life when using a nailer is that at some point, it's going to jam. Some nailers require the use of a separate tool to remove the jam, while others feature tool-free jam clearing. You'll be able to save time and frustration by opting for a model with tool-less jam clearing.
Tool-less Depth of Drive
Another feature to look for is easy to adjust the depth of drive. Depending on the nailer, you should have several depth adjustments that control how far the nail is driven into the surface.
Some nailers require a separate tool to adjust the depth, while others allow you to do it quickly without a tool. If possible, go for one you can adjust without a tool.
Anti-Dry Fire
Dry firing occurs when the gun fires, but there's no nail to be driven. This is dangerous because it can cause premature wear and tear on your nailer while also damaging your work surface. Some nailers have a mechanism to prevent the gun from dry firing, which eliminates the undue wear and tear and damage to the work surface.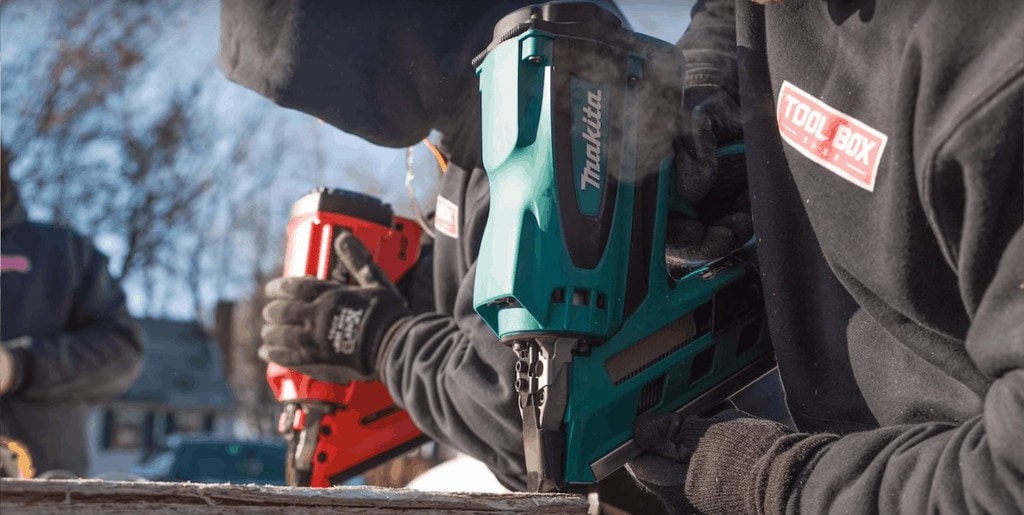 Final Verdict
When it comes to the best Paslode framing nailer, it's a matter of personal preference. Each nailer Paslode makes is high quality and suited for a variety of different framing tasks. The best one for you will depend on your personal preference, and the tasks you'll use the nailer for.
In our experience, the Paslode PowerMaster Pro is the best and most versatile nailer available. Thanks to an impressive array of features designed especially for framers and contractors, the PowerMaster Pro is the go-to nailer for serious craftspeople and professional framers alike.