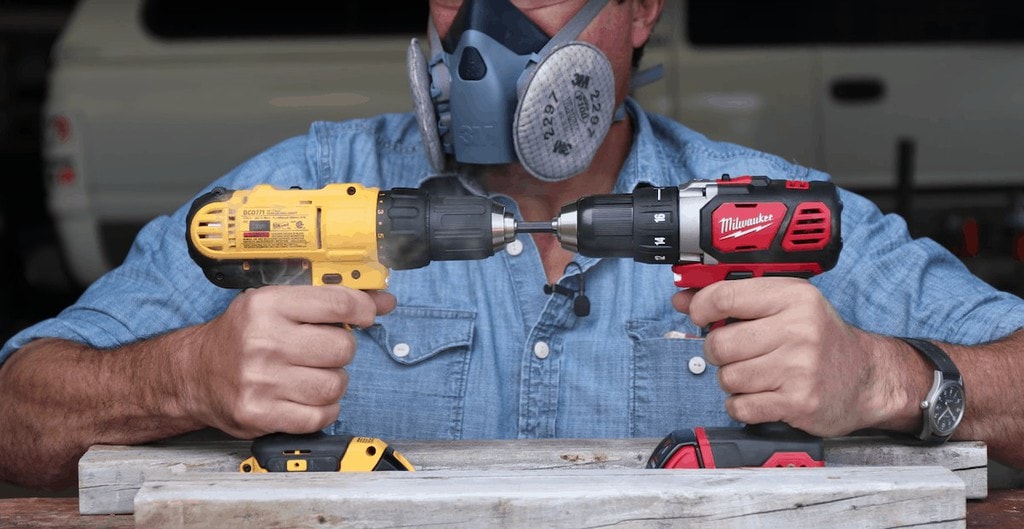 A cordless drill is probably the one tool that every single person should own.
From driving screws to drilling holes, this tool can perform many functions at a fraction of the time it would take to use a screwdriver.
The convenience of the cordless drill means that consumers have many options when it comes to buying one. With so many options on the market, this buyer's guide will give you the information you need to purchase the best cordless drill.
Our Top 5 Picks: Best Cordless Drill
BLACK+DECKER 20V MAX Matrix Corded Drill/Driver
BLACK+DECKER manages to provide an extremely affordable cordless drill without sacrificing power. While this brand might be a turn-off to more discerning tool junkies, BLACK+DECKER is upping its game in terms of quality without raising prices.
The MAX comes with a 20V, lithium-ion battery. BLACK+DECKER also touts its Matrix Quick Connect System. The battery works with other BLACK+DECKER products such as cordless trimmers, circular saws, chainsaws, and more.
More innovative is the Matrix system of attachments. The Matrix system allows you to utilize an array of attachments using the same cordless drill base. A jigsaw, small circular saw, sander, and more are just some of the tools that can fit on BLACK+DECKER Max cordless drill base.
Although the attachments come separately, it saves you from having to buy an entirely different tool. Many do-it-yourselfers will like the convenience of having many tools that fit on one base.
Things we like:
20V battery is comparable to leading competitors but at a fraction of the price
Matrix system allows users to purchase attachments to fit on the base of the cordless drill, making it a true all-in-one tool
The battery fits all other BLACK+DECKER cordless products
Things we don't like:
Slightly heavier than cordless drills from other leading brands
Plastic housing not as durable as steel models
DeWALT DCD771C2 20V MAX Cordless Lithium-Ion ½ Inch Compact Drill/Driver Set
Dewalt's latest version of the cordless drill is packed with power, providing up to 60Nm of torque and 300 UWO. As well, this drill can twirl at up to 1700 rpm.
The drill/driver set comes with one battery, a charger, and a bag in addition to the drill itself. The lithium-ion battery is 1.3 Ah. Dewalt does offer more powerful batteries, which sell separately from the drill.
The power this Dewalt cordless drill offers is hard to match at 300 UWO. UWO is a measure of a drill's total power and is a product of a drill's torque and speed. The more power, the faster the tool can complete work.
Primarily made out of steel, this drill is still somewhat lighter than other models on the market. However, it's overall size is larger, making it difficult to use in compact spaces.
Things we like:
Professional power at 300 UWO, 60Nm, and 1700 rpm
Steel construction yet light in weight – less than 4 lbs.
Includes a 3-year limited warranty
Things we don't like:
The bulky size makes it difficult to reach very compact spaces
Bosch DDB181-02 18V Cordless Drill/Driver
Bosch provides a reasonably priced cordless drill without sacrificing quality. While the Bosch doesn't quite have the power of 20V competitors, it still provides around 40Nm of torque and up to 1300 rpm.
The battery is a lithium-ion 18V, and the charger will charge the battery in an impressive 8 minutes/Ah. With two speed settings – 400 and 1300 rpm – this drill is designed to use power efficiently. Bosch also markets a more powerful 6.3 Ah battery as an accessory.
While the drill is light at just over 3 pounds, it is still rather large. The steel and plastic drill body is rugged, and there is an LED light at the base of the drill. The chuck is comparable to other models at ½ inch.
Things we like:
Lightweight design provides ease of handling for long periods
Variable speed settings, allowing for precision drilling or driving
A lower priced, powerful alternative to 20V cordless drills
Things we don't like:
Bulky size negates advantages of lightweight design
Limited 1-year warranty
Makita XFD10R 18V Compact Lithium-Ion Cordless ½ Drill Driver
The Makita cordless drill delivers speeds up to 1900 rpm and 50 Nm of torque, making it one of the most powerful on this list.
The transmission has two speeds for varied drilling and driving. When in use, this drill features two LED lights for ease of operation. The drill weighs about three and a half pounds. The Makita is not the smallest in size, but the ergonomic design and molded grip make for comfortable use.
Makita is also proud of its Extreme Protection Technology, which means this drill has extra protection from rain and dust.
Finally, this drill features lithium-ion battery technology and 18V of max power. The battery charging time is fast, which is crucial when doing big projects that require a battery always at the ready.
Things we like:
Powerful motor that provides nearly 50 Nm of torque with an 18V lithium-ion motor
Lightweight design makes it easier to hold for long periods
Two LEDs for better visibility
Things we don't like:
Will not work with previous generations of Makita batteries
Some drills have a chuck "wobble", resulting in excessive bit movement
PORTER-CABLE PCC606LA 20-Volt 1/2-Inch Lithium-Ion Drill/Driver
Porter-Cable's latest iteration of the cordless drill is powerful yet compact. Best of all, Porter-Cable cordless drills are priced lower than most competitors.
At 20 volts, this drill is on the top end of battery power for cordless products. At 1.5 Ah, these batteries are small for a 20-volt product. If you plan on doing intensive work with this cordless drill, consider purchasing an extra battery to avoid frequent recharging.
At up to 1600 rpm, this drill runs fast. The motor puts out over 300 UWO, which is ideal for heavy-duty drilling such as using a spade or hole-saw bits.
One of the best aspects of this drill is its small size. Although it weighs a little over four pounds, the small size makes it great for compact spaces.
Things we like:
One of the lowest-cost and most powerful cordless drills
Small size and compact battery, with a battery gauge on the battery itself
Features two-speed motor: up to 400 and 1600 rpm, respectively
Things we don't like:
Size of the battery, 1.5Ah, is too small for the 20-volt battery output
Some users complain the drill is too loud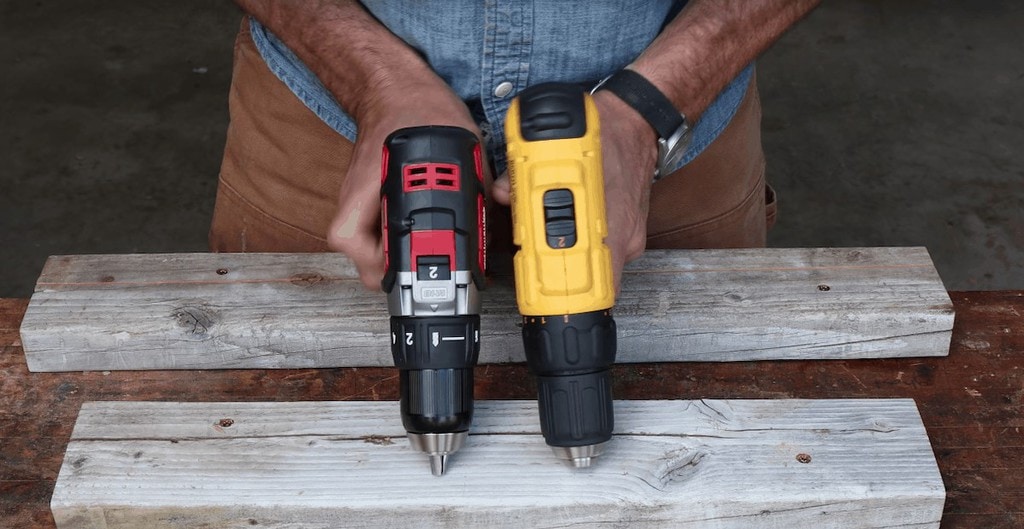 What a Cordless Drill Does and Why You Might Need One
Recently Porch.com published a list of the 20 most common household repairs facing homeowners today. At least 12 of them required the use of a drill or driver.
While a drill with a cord is an option for some, the amount of power put forth by a corded drill is more than you will likely need regularly. Corded drills often spin at over 2000 rpm which increases the overall power of the tool, beyond what you might need to, say, install a doorknob.
An important point to consider is what a cordless drill won't do. Cordless drills do not perform well when drilling large holes with a hole saw or spade bit. At times, they can stop altogether, putting undue strain on the battery and potentially damaging it. The guys from This Old House give a helpful overview of corded vs. cordless drills.
A cordless drill performs two functions: drilling holes and driving screws, nuts, or bolts. Most homeowners will use a cordless drill to drive screws. Installing light fixtures, doors, picture and shelf hanging, furniture assembly, and more will all likely require screws.
Of course, you could use a screwdriver. But imagine using a screwdriver to drive 34 screws into your new Ikea cabinets. It would take at least double the time compared to using a cordless drill.
But let's say you are willing to put up with a screwdriver. What if you need to drill a hole? Installing drywall anchors, pre-drilling holes for hanging hooks, or installing a hinge all require a drill. You can't do that by hand, so you are going to need a cordless drill.
How Cordless Drills Work
Cordless drills accomplish their work using batteries. In the past, drills featured NiCd and NiMH batteries. Today most batteries are lithium-ion because they can hold their charge longer, have a better power capacity, and charge faster since they have a high energy density.
The motors of cordless drills use charged brushes made of carbon to spin the armature and, therefore, the motor. These brushes use springs to ensure they are in constant contact with commutator – and armature – at all times, to maintain the charge.
Another difference between the corded or cordless drill is the clutch. A corded drill usually has a key that tightens the drill or driver bit in the chuck. Cordless drills don't have keys. Instead, they often a variable clutch.
When using a cordless drill, you can adjust the torque by twisting the collar. When the desired torque is achieved, the drill will stop. This is an effective safety measure as it keeps screws from being stripped and the battery from being worn out or destroyed. A corded drill would keep spinning, stripping screws or potentially causing injury.
Cordless drills usually have at least two-speed settings, allowing you to slow down for precise applications. Some have buttons on the top to adjust speed, and others use trigger pressure, depending on the brand and model.
Things to Look for in a Cordless Drill
Depending on your home repair needs, you'll want to consider the following important factors before purchasing a cordless drill:
Voltage. The voltage of a cordless drill battery indicates how much power it has the potential to give. If you use a 20-volt drill battery, chances are you won't always use all 20 volts. However, if you are driving lots of screws and bolts, you will want the most power you can get.
Battery Size. Size matters when it comes to batteries, and bigger isn't always better. Bigger batteries, with higher Ah, will last longer. But they will also weigh more and bulkier. Finding a compact battery with a reasonable amount of Ah is your best bet. Keep in mind that the bigger the battery, the longer it will take to charge.
Weight and Size. The weight of your drill matters. If you are using your drill to put screws or drill holes in walls frequently, then your arm will get very tired. A large drill is a drawback if you want to use it in tight spaces, like a crawlspace or under cabinets.
Flexibility. When purchasing a cordless drill, make sure you understand what it can actually do. Some cordless drills have interchangeable parts that allow you to turn your drill into a different tool, like a cordless jigsaw or sander. Other cordless drills allow you to upgrade to bigger batteries.
Cordless Drill FAQ
Will cordless drills work in extreme conditions?

Dome cordless drill will market their cold-weather durability, functioning in temperatures below freezing. Lithium-ion batteries can function, at about 50% reduced capacity, in temperatures that can range down to -40°C. Anything operation below that temperature can crack the battery case. Alternatively, operation in extremely hot weather – over 100° – can also lead to drill failure.

Extremely dusty conditions can stall the drill motor and ruin the gearbox. Every drill has vents to prevent overheating. Dust can get in the vents and saturate the metal gears, increasing friction and reducing power. Cleaning your drill can help mitigate use in dirty environments.
How long will a cordless drill last?

That depends. First, the quality of the product and brand is critical. While many people swear by a brand, price is often indicative of quality. High-end cordless drills feature more parts that are metal, such as the entire drill housing and gearbox. These parts will last longer than plastic.

Another indicator is the warranty. Brands that offer lengthier warranties, such as three years, will often be more reliable than those offering 90 days – or nothing!

Finally, the way you use your drill will most often determine its lifespan. If you are continually dropping it off a roof, jamming it into tight places, or torquing to the point of stopping, then your drill will not last long. Regular cleaning and proper usage go a long way in making your drill last.
How is one 20V cordless drill different from another?

When you are shopping for a new drill, it seems like they all offer the same options and accessories. However, there are way too many variables for one drill to be the same as another.

Read the fine print! Get to know stats like torque (Nm), speed (rpm), amp hours (Ah), and unit watts out (UWO). Understanding these numbers will help you make an informed decision.
Wrap Up
The Dewalt DCD771C2 20V MAX is the best drill for those looking for the most powerful and rugged cordless drill. However, this drill is more expensive and might be too much power for the basic needs of many homeowners.
A more affordable solution is the BLACK+DECKER 20V Matrix. At roughly half the price, you can own a drill with only slightly less power that transforms into many other handheld tools. Many homeowners will like the simplicity of having just one tool to perform a variety of tasks. Although you have to purchase the accessories, having one base and battery set will save consumers lots of money.
While the price is a factor when considering cordless drills, the overall power, battery life, and durability of the drill should be more important. After determining what job you will need a cordless drill for, use this top 5 list to determine the best cordless drill for you.