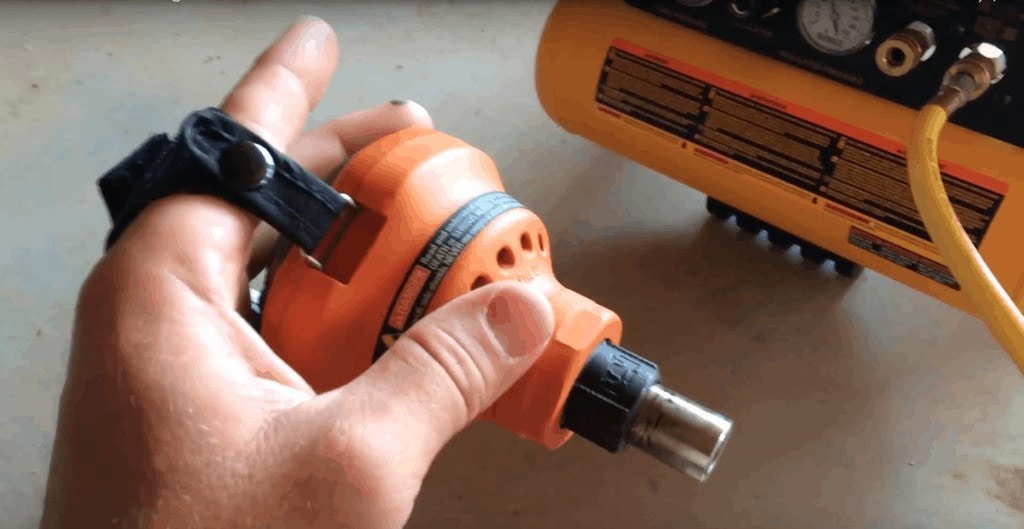 Do you find yourself needing to insert nails at weird angles or in areas that are head to reach? If so, you may be frustrated trying to figure out how to maneuver a nail gun into an awkward angle. Fortunately, there is a product available that could help simplify the process for you.
A palm nailer is a device that straps to the palm of your hand and then operates as a nail gun. When browsing for palm nailers in your local hardware store, you may find it challenging to distinguish between various products. Fortunately, we've taken the time to provide you with a list of the best palm nailers available today and a buyer's guide to help you make an informed purchasing decision.
5 Best Palm Nailers of 2019
Last update on 2023-12-06 / Affiliate links / Images from Amazon Product Advertising API
Palm nailers have become more popular and accessible over the past couple of years. We've taken the time to sort through the numerous palm nailers on the market today. Below, you'll find our list of the best palm nailers of 2019.
1. BOSTITCH PN50 Mini Impact Nailer
The first palm nailer on our list comes from BOSTITCH, one of the most trusted names in the construction industry. This palm nailer features a rubber grip, which reduces vibrations and makes it easy for you to keep your hold.
The rubber grip is also convenient because it insulates the product. One of the most common problems with palm nailers is that they can overheat. The rubber grip on this product prevents that from happening. The product also blows exhaust away from your hand, keeping you safe.
One of the other beneficial features of the PN50 is the fact that it is so lightweight. The product weighs a mere one pound, which should make it easy for you to carry it with you and maneuver in hard-to-reach places. Furthermore, the product has a 360-degree swivel air fitting feature for maximum accessibility.
Customers can use this palm nailer for things such as timber nails, bulk finish, and framing. BOSTITCH offers a seven-year limited warranty on this product. Customers can purchase it for around $35.
What We Like
Incredibly affordable
Rubber grip and outward exhaust keep you safe
Lightweight design makes it easy to maneuver the product
What Could be Better
May not be strong enough for some jobs
Does not work with more massive nails
2. Hitachi NH90AB Mini Impact Palm Nailer
Another excellent choice for a palm nailer is the Hitachi NH90AB. One of the features that stood out most about this product is that it comes with a magnetic nose fastener. This feature helps keep the fastener in place securely and also helps to ensure that the fastener placement is more accurate.
Like some of the other products on our list, the Hitachi model also comes with a rubber grip that helps ensure you can hold the product securely. The 360-degree swivel fitting system makes it easy for you to drop nails into areas that are hard to reach.
Hitachi says that this product is best suited for hanging metal connectors and joist hangers. It will work with nails ranging from 2.5" to 3.5". The product weighs approximately 1.3 pounds, which should still be light enough to maneuver.
Customers can purchase this product for around $50. The company offers a five-year warranty on this product as well.
What We Like
Magnetic hold allows you to secure fasteners
Powerful exhaust minimizes how much effort you must use
360-degree swivel system is fluid
What Could be Better
This device is loud, and you may need ear protection when using it
May not work with smaller nails
3. Powernail PowerPalm Floor Nailer
The PowerPalm floor nailer from Powernail is the most expensive option on our list, but it's a worthwhile option for those who need to insert nails into floors. With this device, customers won't need to use a top nailer when working on engineered, tongue, grooved, or hardwood flooring.
You'll likely find that this product is useful when blind-nailing starting rows and last rows. The company also included a unique tip design, angled so that it fits into the nail pocket easily. It is also magnetic, which helps hold the cleat in place.
The PowerPalm device should be powerful enough to drive L-style and T-style cleats used commonly on floors. You can drive both 16-gauge and 18-gauge nails with this device.
The product weighs one pound and packs a powerful punch. The product is a bit expensive, however, costing around $150. But, if you need a high-power tool that will help you work secure flooring, this product could be worth the investment.
What We Like
Powerful enough to handle 16-gauge and 18-gauge cleats
Angled tip design secures nails efficiently
Insets nail with minimal pressure
What Could be Better
Does not come with a rubberized back
Handles one nail at a time
4. Freeman PMPN Mini-Palm Nailer
If you are looking for a palm nailer that is comfortable to use, you'll want to consider this product from Freeman. Freeman stressed an ergonomic design. The shape of the product should fit in your hand comfortably. The product is lightweight, weighing less than two pounds.
This palm nailer can handle nails from 6D to 16D and up to 3.5" in length. If you're someone who tends to use an array of different nails, this product could be an excellent choice.
During testing, we found that this product was strong enough to push galvanized nails through joist hangers. Even though the product is small, it should be strong enough to handle most of your nailing needs.
Customers can purchase this mini palm nailer for around $30. Freeman manufactures all of its products in the United States and offers a seven-year limited warranty on this unit.
What We Like
Comfortable to hold for extended periods
Strong enough to work with heavy-duty nails
The device operates smoothly
What Could be Better
It was sometimes difficult to hold a nail steady
Some customers said the nostril of the hammer socket was too small
5. PORTER-CABLE PN650 Palm Nailer Kit
This product from PORTER-CABLE is the nicest on our list. Whereas other nailers on our list come with a rubber coating for comfort, this product has a leather case. Attached to the case is a padded handle. You can slip your hand underneath the handle, allowing you to secure the product quickly.
The palm nailer is also useful for those who plan to use the device for an array of products. The palm nailer works with nail sizes from 3D to 70D. Additionally, PORTER-CABLE supplies for different nose tips, further increasing the types of nails with which you can work.
The product is a bit heavier than others on our list, however. Whereas most of the other products weigh approximately one pound, the PN650 checks in around four pounds. However, it's a high-strength option that should meet practically all of your nailing needs.
The product is a bit pricey, available for around $140. Furthermore, PORTER-CABLE's warranty is subpar, especially when compared to other products. The warranty lasts for one year.
What We Like
Four different tips handle an array of nails
Leather casing makes the device easy to handle
The high-powered tool is strong enough to work on motor vehicles
What Could be Better
This product is four times heavier than others
Warranty is subpar
[youtube https://www.youtube.com/watch?v=7YeAR5s7M-Y&w=560&h=315]
Palm Nailer Buyers Guide
When trying to purchase a palm nailer, you may find it challenging to compare models. Even when looking at our list of the five best palm nailers, you may see similarities between the products. So, which features are most critical when purchasing a palm nailer? Below, you'll see the features that you'll most want to consider.
Finding the most comfortable fit
The primary benefit of palm nailers is that they are hand-held, allowing you to access otherwise challenging spaces. As you can imagine, holding onto something for so long can be tiring. One of the most critical features that you'll want to consider is comfort.
Many of the best palm nailers come with rubber grips or straps that make it easier to hold the product. Otherwise, you'll need to take frequent breaks, which could slow down your project completion time considerably.
Interchangeable Heads
Another especially critical feature is whether you can change the heads of the nailer. The best palm nailers come with interchangeable heads, allowing you to work with an array of different nails. If the nailer does not come with interchangeable heads, you'll find yourself severely limited in the type of nails that you can use.
We also believe that having a magnetic head is essential as well. When working in hard-to-reach areas, it could be challenging to hold the nail in place. A magnetic head helps eliminate this problem, however. It will keep your nail in place, even when working at awkward angles.
Nail Compatibility
You'll also need to consider the size of the nails you'll be using. The best palm nailers allow you to work with nails of different widths and lengths. If you're purchasing a palm nailer for a specific task or project, make sure that the equipment will meet your needs. If you're buying one to have for multiple projects, it could be worth your while to invest in one with full nail compatibility.
Driving Depth
If you do not insert your nails far enough into the wood, you're going to have to remove the nails and try again. Make sure that your palm nailer has enough driving depth to fasten the nails you wish to use. One of the best ways to measure this is by looking at the pressure that each device exerts.
Safety Features
Like any nail gun, palm nailers could pose a safety problem if not handled correctly. The guns use compressed air to shoot sharp objects at a high rate. You should always make sure that you use the proper eye and ear protection when using a palm nailer.
Furthermore, you should also consider purchasing a nailer that offers safety features. One of the safety features that we like most in the best palm nailers is their ability to shoot air away from your hand. When you're in a tight space, the blowback or recoil after shooting a nail could cause you to drop the device. Blowing the air away from you can help keep you safe.
Swivel Support
Another thing that you may want to consider is whether the palm nailer has 360-degree swivel support. If it has this capability, you'll find it much easier to maneuver through challenging areas, as you can twist and bend freely to insert the nail.
If a palm nailer does not have 360-degree swivel support, you'll have to be more conscious of the cords and hoses attached to the device. If you plan on using your nailer for challenging projects, swivel support is a must-have.
Pneumatic v. Electric Nailers
One other thing that you'll need to consider is whether you wish to have a pneumatic or electric palm nailer. Pneumatic palm nailers require you to attach them to an air compressor. These devices tend to be lighter than electric nailers. They typically exert pressure ranging between 50 and 125 PSI.
If you don't have an air compressor and aren't interested in purchasing one, then you'll want to look into an electric nailer. These nailers operate on a battery, making it incredibly portable. However, customers will likely need to pay more for an electric nailer than they would for a pneumatic nailer.
Weight
The last thing you'll need to consider is the weight of the unit. The best palm nailers weigh around one pound, making it easy to use them anywhere and hold them for extended periods. The heavier the palm nailer is, the more challenging it will be for you to use. A lighter palm nailer could reduce your risk of a muscle strain or wrist sprain.
Frequently Asked Questions
Can I use plastic-capped nails in my palm nailer?
Whether you can use plastic-capped nails in your palm nailer depends on the strength of the plastic cap. Because the nailer shoots at such high pressures, you run the risk of shattering the plastic. Check with your manufacturer before attempting to shoot plastic-coated nails in your palm nailer.
Will a palm nailer replace my nail gun?
In short, probably not. The primary benefit of palm nailers is that they allow you to insert nails in areas that are difficult to reach. If you're using a palm nailer, it's likely because a nail gun does not fit correctly in the space in which you're working.
However, the most significant downside to palm nailers is the fact that you must load them one nail at a time. Nail guns allow you to work much more quickly, as you can insert multiple nails at once. If you can use a nail gun, it's likely in your best interest to do so because of how much more quickly you can work when using the device.
Do I need an air compressor to use a palm nailer?
You don't necessarily need an air compressor to use a palm nailer. You can purchase an electric palm nailer that operates on batteries. However, these devices are more expensive. They can also die after long hours of use, which means you'll need to wait for them to recharge before restarting your project.
If you plan to use your palm nailer frequently, it could be in your best interest to purchase an air compressor. Air compressors are excellent multi-functional pieces of equipment to have in your workshop. But, if you don't think that you're going to use your palm nailer that often, an electric model could suffice.
Will my palm nailer only work with wooden surfaces?
The type of surface that your palm nailer works with depends on the model that you purchase. The best palm nailers are powerful enough to puncture heavy-duty metal. However, these models can be a bit costly. The average palm nailer should shoot through wood and thin metal, such as siding.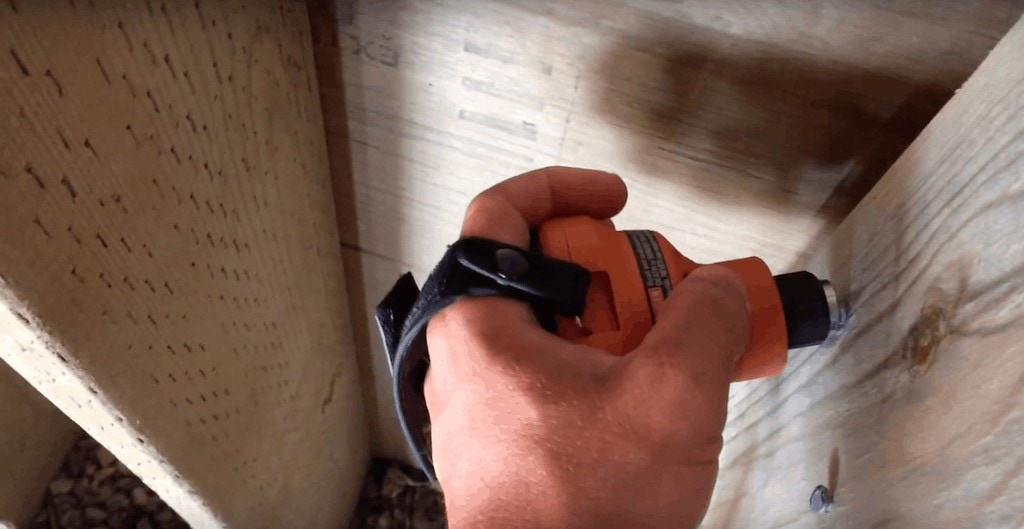 Final Verdict
If you find yourself struggling to insert nails in hard-to-reach areas, you may want to consider a palm nailer. So long as you can fit your hand in the space, a palm nailer will allow you to drive a single nail downward without having to swing a hammer. These products are convenient because they go where a nail gun cannot.
After testing numerous palm nailers, we were able to come up with a list of the five best that are available today. No matter if you're looking to purchase a palm nailer for the first time or are looking for a model with industrial strength for a construction project, we feel that you can't go wrong with any of the options we've listed.
If we had to recommend one model, it would be the PN650 from PORTER-CABLE. We appreciated the fact that this product came with a leather case and handle. We also liked that you could replace the heads on the nailer.
However, the PN650 is a bit expensive. If you're looking for something a bit more affordable, we recommend the BOSTITCH PN50. The seven-year warranty and ability to work with different nail types makes this quite appealing. Which one will you choose? Tell us in the comments.