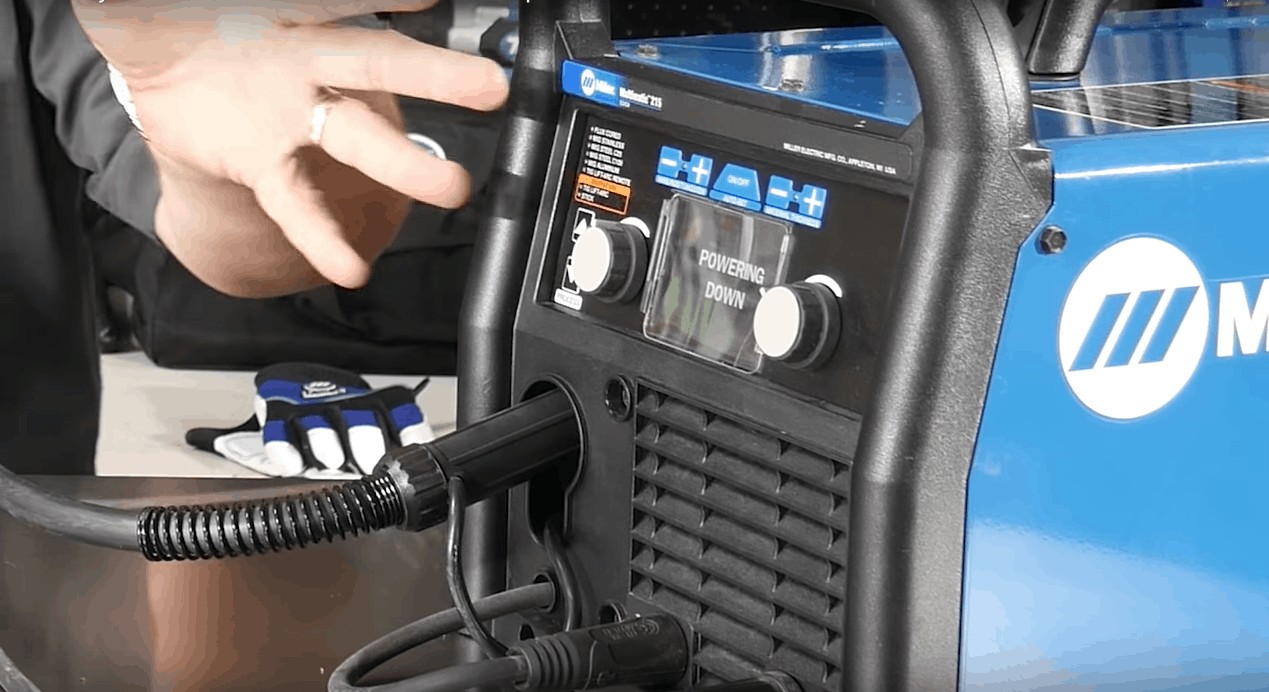 With so many forms of welding available, it can get expensive and daunting to buy new tools to handle each job. That's when a multiprocess welder can become your new best friend in the workshop. You can think of a multiprocess welder like somewhat of an all in one welder to complete several forms of welding, like plasma cutting or MIG, without starting up another tool.
In this guide, I'll introduce you to a few of the best multiprocess welder options on the market today and show you exactly what to look for in your search for the best tool.
Top 5 Picks for Best Multiprocess Welder
Forney 324 Multi-Process Welder
The Forney 324 Multi-Process Welder is a relatively compact and lightweight option for welders who don't want a cumbersome machine taking up space or being difficult to move around the workshop. Despite its lighter weight, this welder can handle the three most common types of welding – MIG, TIG, and stick – as well as flux-cored welding.
This machine is best for lighter welding duties, as it's limited to a 190-amp output, which is lower than comparable tools. You can add wires with diameters between 0.023 and 0.045 inches and spools between 4 and 8 inches to meet the needs of your jobs.
Things we like:
A gas hose is included to prevent additional costs
You can switch polarities between DC- and DC+ for greater welding capabilities
5-year warranty for transformer and a 3-year coverage for all other parts
The machine is only 43 lbs., which is much more portable than similar options
Things we don't like:
The on/off switch is in the back of the machine instead of with the other controls in the front
Everlast PowerMTS 211Si
If you're looking for an all in one welder that's reliable and covers the most common types of welding, the Everlast PowerMTS 211Si might be an excellent option.
At 55 pounds, it's heavy enough to provide durability but not so heavy that it's difficult to transport. The welder handles TIG, MIG, and stick welding and you can go the non-gas route with flux-cored welding using the proper attachments. You can set up to 9 programs on the Everlast welder to save your most used settings in the machine for quick use later.
One benefit of this welder over other similar options is that Everlast included a high-frequency start process for TIG welding in its most recent update. This process is touchless, so there's less risk of contamination, leaving behind a precise weld.
Things we like:
Includes a foot pedal for TIG welding that connects to the front panel
You can access all controls, including the on/off switch, on the front panel
The synergic capability allows the Everlast PowerMTS 211Si to quickly set up its processes based on the information you input, such as the wire type
A touchless high-frequency TIG start process offers a quality weld
Things we don't like:
You can only operate this welder on DC power, which isn't suitable for using a TIG weld on aluminum
The Everlast welder isn't the easiest to set up, as it lacks power setting charts and in-depth user manuals
ESAB Rebel EMP 215ic
The ESAB Rebel EMP 215ic is one of the only welders on the market to include a smart MIG (sMIG) process designed to learn precisely how the user welds. The welder continuously tracks the pattern of the user's welding techniques to keep its MIG arc steady and strong for the best welding results possible.
This welder can complete MIG, TIG, stick, and flux-cored welding projects with only a slight learning curve. Thanks to the sMIG system, beginning to advanced welders can get consistent results. The front display makes setup as streamlined as possible and makes it possible to monitor the welding process easily as you work.
Things we like:
This welder includes several accessories for added value, like a TIG torch and earth clamp
sMIG can help beginning welders become more consistent in their techniques
3-year handle-to-handle warranty protects the purchase
Ultra-lightweight body (40 lbs) for portability
A 5-handle roll cage keeps the welder protected against drops and convenient to carry from any angle
Things we don't like:
The ESAB Rebel EMP 215ic has only a 25% duty cycle at 230 V for MIG welding, which means it will need several minutes of rest time after just a couple of minutes of welding to avoid overheating
Weldpro Multi-Process Welder
The Weldpro Multi-Process Welder is a top choice for an entry-level machine without many frills, making it a contender for beginners who are still learning proper welding techniques and want something affordable to get them started. This welder is a fraction of the cost of other multiprocess welders but still offers TIG, MIG, stick, and flux-cored welding.
This welder can be adjusted up to 220 V for necessary welding techniques, although the duty cycle drops relatively low for higher-powered tasks. It's also compact and only about 30 pounds, making it easy to carry around and fit wherever you need it to.
Things we like:
Incredibly budget-friendly compared to other welders, making it an affordable solution for beginners
Controls, display, and ports are in the front for convenient access
Has built-in protection for overheating and overload and indicates on the front panel when either occur
Things we don't like:
Somewhat low duty cycle of 30% at 200 V, so it won't be able to handle hefty jobs for long
This welder doesn't include arc TIG welding capability, so you'll need to purchase a spool gun to attach to the machine if you need to weld aluminum
Hitbox MIG200 Welding Machine
The Hitbox MIG200 Welding Machine is one of the smallest and lightest of its kind yet is surprisingly powerful for its size. Unlike other smaller machines that typically run up to 200 V, the Hitbox welder can deliver up to 220 V for jobs that need high power, like TIG welding. Additionally, the tool offers MIG, stick, and flux-cored welding.
This machine comes with inverter technology to improve its efficiency and control and lower its power usage. Additionally, the inverter system helps prevent overload and overheating, although the Hitbox MIG200 will alert you with a front panel indicator and automatically shut off if either of these hazards occur.
Things we like:
The Hitbox welding machine can run off electric power or a generator if you're not near a power source
Top handle makes the machine convenient to transport
1-year full-service warranty to protect your purchase
Things we don't like:
This welder can only deliver 220 V +/- 10 %, so it won't meet the needs of light-duty welding jobs
The Difference Between a Regular Welder and a Multiprocess Welder
You certainly can use regular welding tools that are designed to fit a specific type of welding need, like TIG, to complete your job. However, a multiprocess welder combines various kinds of welding into one handy tool, unlike other traditional welding tools that are focused on one welding discipline.
Most multiprocess welders can help you work in different ways without switching tools. This can save you both time and money because you won't have to purchase several other welding tools that take up space. A multiprocess welder combines welding and cutting tools into one machine that allows you to switch between welding types for more efficiency and convenience while you work.
Challenges of Using Multiprocess Welders
A multiprocess welder can be an incredibly convenient tool for welders who find themselves moving between various types of welders and cutters throughout their workday. However, this tool might not be as suitable for some welders as it is for others.
One disadvantage of a multiprocess welder to consider is that they're generally much more expensive than a traditional welder because they combine different tools into one. This tool will be much more of an upfront investment for a welder than a single tool for, say, MIG welding, might be.
Another drawback of these machines is that you'll still need to take some time to switch between tasks. There's no quick way to move from one form of welding to another using a multiprocess welder without turning off the tool, attaching accessories, switching controls, etc. It can also take some time to understand the proper operation of this tool.
Finally, owning one of these devices might cause you to rely too much on one tool. If your welder randomly shuts down and is out of commission until you can get it repaired, but you have no other singular welding tools to fall back on, you'll need to pause your work.
When you use traditional welding tools, you can usually use one temporarily to get the job done while you replace a broken one. It can be a hefty investment to have backup multiprocess welders.
Types of Welding Included in Multiprocess Welders
Some multiprocess welders allow you to switch between two or three welding methods, while the best multiprocess welders offer four or more welding types. Some of the more common welding and cutting methods you can find in these tools include:
This video shows the three most common types of welding – MIG, TIG, and Stick – in action to help you better understand their differences.
How a Multiprocess Welder Works
If you're only familiar with working with one-process welding tools, then a multiprocessor welder will probably require a bit of a learning curve and might even look confusing to you upon first glance.
However, manufacturers design these tools for convenience and efficiency, so they can eventually save you a lot of time in the workshop once you understand how to use one.
A multiprocess welder uses electricity for power, which is how the tool generates its heat current. This function will work the same regardless of the type of welding you need to do. You may need to switch heating devices, though, depending on your welding technique.
TIG, for example, will need a tungsten electrode, while MIG will require you to change out the tungsten electrode for steel wire.
Usually, the process to operate one of these welding machines is straightforward. Most have dials or controls on the front that let you select what type of welding you want to do, as well as accessory ports to attach a foot pedal, spool gun, or other accessories.
FAQ
Q: What is a multiprocess welder?
A: As the name suggests, a multiprocess welder is one that can perform multiple types of welding duties, such as TIG, MIG, plasma, and stick. A multiprocess welder is like several welding tools in one, making it easier for welders who do several forms of welding work throughout the day to get the job done without switching between tools.
Q: Are multiprocess welders worth the money?
A: A multiprocess welder is typically more expensive than a welding tool would be that performs only one duty, like ARC welding. That's because these welders are closer to an all in one welder that handles several welding tasks, allowing you to use one tool instead of switching between them. If you usually do a few forms of welding on one project or throughout the day, the cost of a multiprocess welder could eventually save you money instead of purchasing a few different tools to complete the jobs.
Q: What should I look for in the best multiprocess welder?
A: The best multiprocess welder might look different to everyone depending on the types of welding you frequently do. The most crucial factor to consider is what kind of welding you do the most and whether the tool can work with each type. MIG is the most common type of welding included in these tools, but they'll usually have two or three other welding capabilities too.
You'll also want to find a welder that isn't confusing to set up so that it's ready to go when you are. Not all multiprocess welders are as user-friendly as others, so be sure to find one that has clear instructions and simple controls so that you can spend more time on your work and not on operating your welding tool.
Q: What is the duty cycle?
A: You might notice a manufacturer mentions a "duty cycle" in a multiprocess welder's description. The duty cycle refers to how long a welder can rest and work continuously within 10 minutes.
A duty cycle of 40% at 220 V means the tool can work for 4 minutes and then must rest for 6, while a duty cycle of 20% at the same voltage means the tool can only work for 2 minutes with an 8-minute rest period. The welder that can operate at 40% at that voltage can, therefore, handle more intense welding jobs than the welder with a lower duty cycle percentage.
Wrap Up
I consider the Forney 324 Multi-Process Welder the best multiprocess welder to meet most of your needs if you use a lot of different welding techniques regularly. Rather than buying multiple tools to handle MIG, TIG, stick, and flux-cored welding, this machine can do it all for you. Thanks to its compact and lightweight body, you can transport it easily around the workplace.
If you're new to welding or this particular type of multi-purpose welder, though, you might find the Forney machine to have too much of a learning curve. In that case, you could be better off with the Weldpro Multi-Process Welder. This machine is best for entry-level welders who want an affordable machine with a user-friendly setup process.
These five picks for all in one welders are excellent options, but you'll need to consider what machine is best for you and your welding needs. Be sure to factor in price, welding types, warranty, and portability when comparing our top choices to decide which one best fits your jobs. Are you looking for the best spot welder? If so, check out our guide The Best Spot Welder – Buyer's Guide.