Are you like Michelangelo when it comes to lawn maintenance? Or, are you trying to maintain your lawn just enough to keep your neighbors from calling the Homeowner's Association on you? Either way, the fact is you'll never be able to achieve that beautiful finished look that professional landscapers produce without a quality lawn edger. Today, we'll cover everything you need to know so you can select the best lawn edger, and take a closer look at five of the best options on the market today.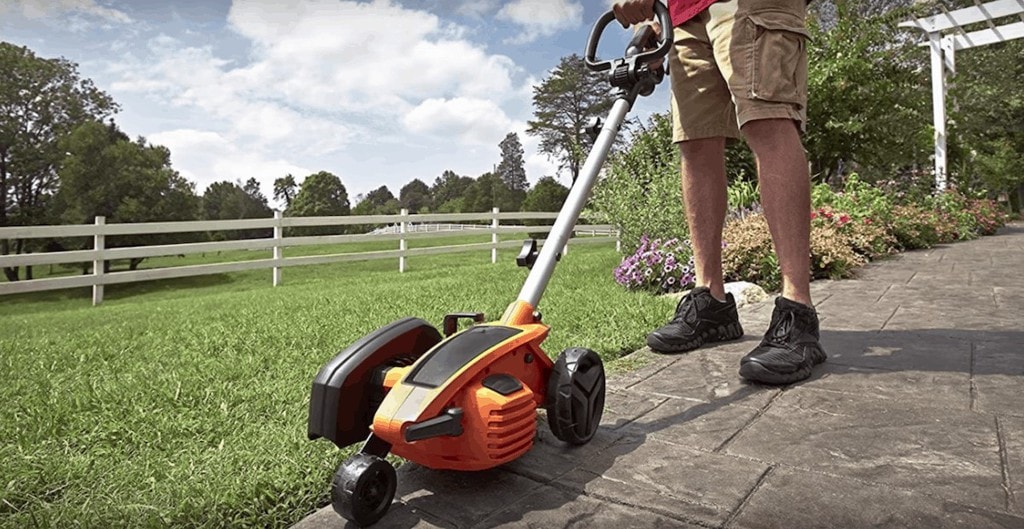 Before we cover the ins and outs of how to select the best lawn edger, let's jump right in and take a look at five of the top models on the market.
5 Best Lawn Edgers 2019 Reviewed
1. Worx WG896 Edger
This 2-in-1 electric edger and trimmer from Worx is ideal for anyone who is looking for an easy to use electric trimmer that's affordable and gets the job done right.
This model is electric and must be plugged into an extension cord as you work, which makes it ideal for smaller yards. People with larger yards may find that the cord gets in the way, and they may be better served by a cordless or gas model.
At 14 pounds, the WG896 is exceptionally easy to maneuver. It has two rear wheels and a front guide wheel, which makes it easy to follow the grass line as the edger cuts. A cutting line indicator fool proofs the entire process, allowing you to see exactly where you're about to cut as you move.
The 7.5" trimmer blade is adjustable, and you can set the depth of cut at 1, 1.25, or 1.5 inches. In addition to its main use as an edger, you can also use the WG896 to dig trenches for burying wiring or creating landscape features.
The 12-amp motor of the WG896 ensures that you have power to spare as you edge your lawn, and the product carries a three-year warranty which protects you against defects in materials or workmanship.
What We Like
Lightweight and easy to use
Cutting line indicator shows you where you're cutting
Affordable
What Could Be Better
Struggles with heavy or thick grass
Difficult to maneuver on uneven surfaces
Shallow maximum cutting depth
2. ECHO PE-225 21.2cc Gas Stick Edger
The PE-225 from ECHO is an economical choice that's ideal for anyone who wants the reliability and power of a gas edger without the need for a second mortgage on your home.
This model features a 21.2cc 2-stroke gas engine and is exceptionally lightweight at only 13.9 pounds. A single guide wheel keeps you on line as you edge your lawn. The edger itself maintains an exceptionally low profile, so it's easy to see exactly where you're cutting as you go.
Since this is a 2-stroke engine, you'll need to mix the appropriate fuel/oil mixture in the 14 oz fuel tank before you get started. While it can be a bit annoying, anyone with experience working with 2-stroke engines will have no problem getting this handy trimmer up and running.
[youtube https://www.youtube.com/watch?v=lY-sZcpbiRA&w=560&h=315]
Unlike other edgers which allow you to choose between two or three options for depth of cut, the PE-225 is completely adjustable to cut to any length, making it ideal for custom projects that need to be edged at greater depth.
While this model lacks push-to-start functionality, it does include ECHO's I-30 ignition system, which starts up 30% easier than comparable models. You should have no issue getting your edger started with just a few pulls of the recoil starter handle.
This edger also carries an impressive five-year warranty against defects and workmanship. But, be warned: if you use the edger commercially, the warranty is only two years. This won't be an issue for most homeowners, but those who own landscaping businesses may want to opt for a model with a more robust warranty.
What We Like
Powerful enough for the pros
Lightweight and easy to use
Fully adjustable depth of cut
Saves space in the shed or garage
What Could Be Better
Lacks push to start functionality
3. Ryobi P2080 ONE+
If you're looking for the convenience of an electric edger without having to contend with tangled extension cords every time you edge the lawn, the Ryobi ONE+ edger may be ideal for you.
Ryobi's ONE+ system allows you to use over 100 Ryobi tools (and counting) with a single ONE+ 18-volt battery. For fans of Ryobi's other tools, the ONE+ edger may be a no-brainer.
This model features four cutting depth adjustments that allow you to edge to depths between 1" and 2 ¼", so there's virtually no job you won't be able to tackle with this edger. The 9" cutting blade is reversible, so you can get twice as much life out of your blade before it needs to be changed.
At 12 pounds, this is one of the lightest trimmers on the market, making it ideal for larger yards where fatigue becomes a concern. It's also among the most affordable, especially for people who already own other ONE+ tools and batteries. This edger comes in well under $100 without a battery, although a battery and charger will set you back about another $50 should you need one.
With its lightweight frame, 4-way adjustable depth of cut and long battery life, the Ryobi ONE+ trimmer is worth a closer look if you're interested in a cordless electric trimmer, especially if you already have ONE+ batteries handy.
What We Like
Lightweight and easy to use
Affordable
Up to 2 ¼" depth of cut
3-year warranty
What Could Be Better
Additional ONE+ batteries are expensive
Smaller size ONE+ batteries drain quickly
4. Troy-Bilt TB516 Lawn Edger
With the power of gas and the convenience of a 4-stroke engine, the TB516 from Troy-Bilt is a compelling option for anyone in the market for a reliable and powerful gas edger.
So far we've mostly discussed stick edgers, while the TB516 is a wheeled edger which operates more like a lawn mower for easier operation and greater stability. Despite its larger size, this edger is still lightweight at only 22 pounds, making it ideal for larger properties.
Starting this edger is easy thanks to Troy-Bilt's Spring Assist Starting Technology. But, if you can't be bothered with the pull starter, you can also use the Troy-Bilt JumpStart, which is an additional accessory that adds push-to-start functionality to your edger.
This edger features two rear wheels and a front guide wheel and four depth of cut settings, with a maximum depth of 1.75", which is less deep than many competitors. That said, it still makes quick work of most home edging projects.
The four-stroke engine is reliable and doesn't require you to mix fuel before getting started. You'll want to keep your gas can handy if you have a large yard, as the fuel tank is a bit undersized on this model.
While we'd like to see a greater depth of cut with this edger, and perhaps a built-in push-to-start function, this is still a reliable edger that's powerful and easy to maneuver.
What We Like
Lightweight
Easy to control
JumpStart compatible
What Could Be Better
Doesn't cut as deep as some edgers
Has trouble cutting through thick and wide-bladed grass varieties
5. BLACK+DECKER LE760FFAM Edger
One of the most popular electric edgers on the market, the LE760FFAM from BLACK+DECKER is affordable, easy to use and perfect for light to moderate landscaping work.
Similar to the Worx WG896, this is a 2-in-1 model that allows you to edge as well as dig trenches. The blade features three adjustment settings for cutting at a depth of 1", 1 ¼" and 1 ½". Flip the blade guard up, and you're able to dig trenches to define beds, bury cables, or install edging.
At only 7.5", the blade of the LE760FFAM is on the smaller side, but it still packs a punch and creates a well-defined edge that can rival that of heavy-duty gas edgers.
The LE760FFAM features a 12 amp high-torque motor which can make quick work of most residential edging projects. At just over 12 pounds, this model is easy to control and maneuver, as well.
This model comes with a 2-year warranty, which is shorter than most other manufacturers warranties. However, this model is also cheaper than most competitors so that it may be a worthwhile tradeoff for you.
What We Like
Lightweight
Easy to control
Creates a well-defined edge
What Could Be Better
Mediocre warranty
Front guide wheel is small and ineffective
Selecting the Best Lawn Edger: A Buying Guide
The edgers above represent some of the finest choices available for residential landscaping. Whether you opt for one on this list or decide to go with another model, there's some important considerations and questions you'll want to ask before settling on the best edger for you.
Types of Edgers
While the goal of every edger is to produce a nice manicured edge for your lawn, there are several different types available, and each has its inherent advantages and disadvantages.
Electric and Battery Edgers
Electric and battery-powered edgers use electric motors to power their cutting blades. These edgers need to be plugged into an extension cord to work, while battery-powered edgers have a 12v, 18v, or 40v battery attached to the handle of the edger which provides the power.
Both of these edger types are reliable and easy to use. With an electric edger, you're at the mercy of an extension cord, which makes them less practical for large yards unless you have an extremely long extension cord.
With battery edgers, you don't have to worry about an extension cord at all, but if your battery dies in the middle of a project, you'll have to recharge before finishing up, unless you have spare batteries for your edger.
Gas Edgers
Gas-powered models are favored by professional landscapers and homeowners who are looking for an edger with lots of power.
With a gas edger, you can avoid the pitfalls associated with electric or battery edgers. However, gas edgers do have some inherent drawbacks.
Gas edgers with 2-cycle engines require you to mix oil and fuel before getting started, which can be intimidating for those without experience. They also don't start as easily as a battery or electric models. In colder weather, it can be much more difficult to get your edger started.
Many modern gas edgers feature push-to-start functionality, which allows you to start the engine as easily as you could with an electric model.
Edger Styles
Beyond how the edger is powered, there are also different styles available. Depending on your needs, you'll find that one of these styles is the best fit for you.
Pole Edgers
Pole edgers are easy to maneuver, and they can easily adapt to uneven surfaces and difficult terrain. They offer more control over your work than other edger types, but it's also easier for you to make mistakes if you aren't careful.
Walk-Behind Edgers
These edgers resemble a lawn mower and feature either three or four wheels. You walk behind the edger as you trim. While it can be difficult to see where you're going, most walk-behind models feature a laser sight or other guide that makes it easier for you to see where you're edging.
String Edgers
String edgers are easy to use, and they work well on different surfaces. They can be more difficult to control than other edgers, and they usually leave you exposed to more flying debris than a pole or walk-behind edger.
String edgers are almost always multi-functional and also work as a string trimmer. Many feature a removable wheel on top of the trimmer that can be used as a guide for your edge work.
Unlike walk behind or stick edgers, these edgers use a string instead of a blade to cut an edge. The string wears quickly, especially when you're edging along sidewalks or walkways, and they often need to be replaced.
Key Features to Consider
Whether you're looking for a gas, electric or battery powered edger, there are some key features you'll want to consider.
Power
The amount of power the edger has is a serious concern, especially if you have a large lawn.
More powerful edgers can make quick work of any edging project, and they require fewer passes and less time to complete the job. Depending on the type of grass your yard has, you may find that a powerful edger is necessary to cleanly cut an edge.
With more power comes a higher price tag, so you may end up sacrificing power to find the right edger within your budget.
Weight
How much the trimmer weighs is a feature that may be important to you, especially if you're landscaping a large lawn.
With a heavier trimmer, it's common to develop fatigue during long projects. Meanwhile, a lightweight trimmer is usually easier to maneuver and requires less energy to complete the job.
Depth of Cut
Adjustable depth of cut is a key feature to consider, especially if you need to use your edger for other projects, such as digging trenches or defining an edge around flower beds, bushes, or trees.
Almost all edgers provide at least two or three depth adjustments, but some provide several more. Depending on your needs, you may find that your edger needs to be able to cut at depths of 1 ¾" or more.
Convenience Features
Whether you're opting for a gas or electric model, there are some nice features available that make using the edger easier and more convenient.
For example, gas trimmers with push-to-start functionality are more convenient than a pull-start mechanism, as they allow you to get your edger started with the push of a button.
For battery powered trimmers, additional batteries or quick-charging functionality are key features that make it easier for you to get the job done without running out of juice.
Frequently Asked Questions
Should I get a gas or electric edger?
This depends largely on your needs and the type of yard you have. While electric or battery edgers are usually more convenient, they are less powerful than gas edgers, and sometimes run out of power before the job is complete.
If you have a large lawn, you may want to look towards a gas trimmer.
Are all electric edgers less powerful than gas?
Not necessarily. Some gas edgers have smaller less powerful engines, while some electric or battery edgers have larger ones. If you're looking for a powerful electric or battery trimmer, focus on the size of the engine, or in the case of battery trimmers, the voltage of the battery.
What's the best trimmer for uneven landscapes?
Usually, pole trimmers work best for uneven areas or along curves. While these edgers aren't quite as easy to control as walk-behind models, they allow more precision around curves, or on uneven surfaces.
Final Verdict
While each of the edgers we've covered represents a strong choice for the best lawn edger available, there can only be one winner.
The ECHO PE-225 is the overall winner for the best edger. This edger is lightweight and easy to use, it's powerful, and it's more precise than most other edgers on the market. It's also fairly affordable and enables you to achieve professional results without spending professional money.
If electric is more your style, I recommend the Ryobi ONE+ 18v edger. This edger offers professional quality features without the need for gas or an extension cord and is especially attractive for anyone who already uses ONE+ tools as they all function with the same battery.
So, what are you waiting for? Head to your favorite retailer or shop online and pick up the best lawn edger for your needs today. Let us know what lawn edger you choose in the comments.