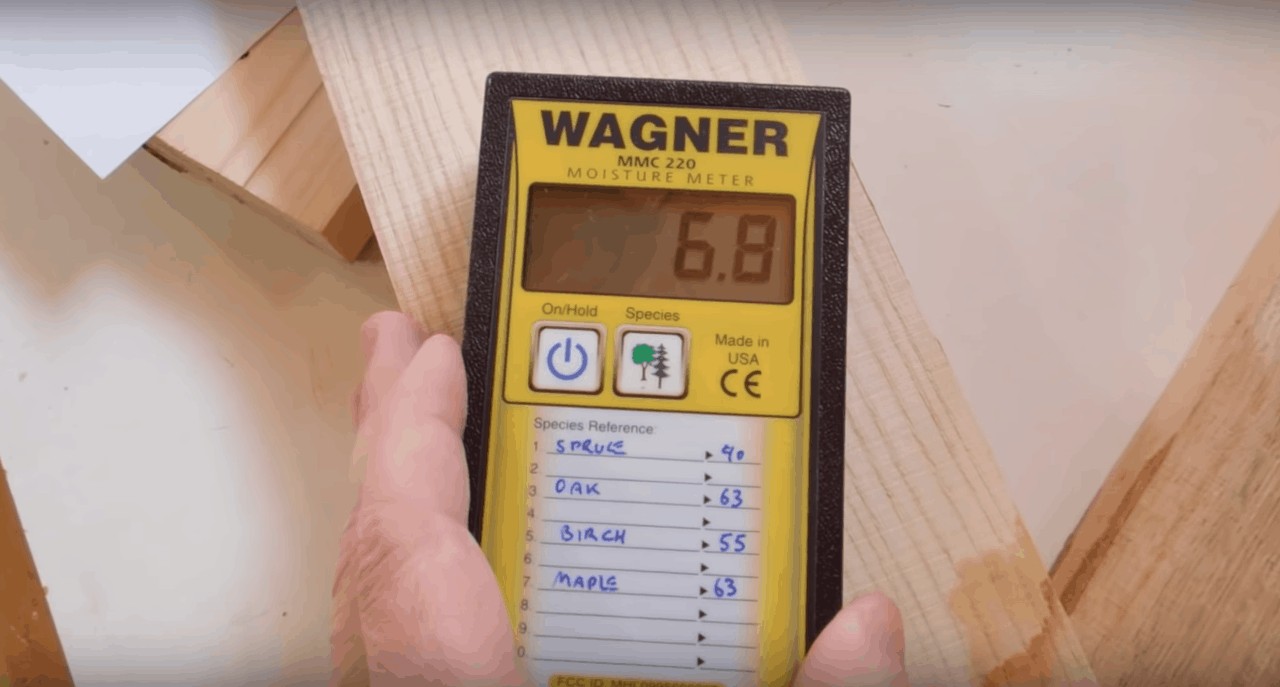 Finding the perfect tool for the job is vital to any project. When it comes to the best wood moisture meter, deciding between specific features is a difficult task. You need something accurate that also fulfills the job's needs. That's why we've rounded up the best of the best in this list.
The Top 5 Wood Moisture Meters
After extensive research, we've rounded up what we feel are the top five products in this category. Here's a breakdown of each as well as why they made the cut.
1. Tavool Digital Moisture Detector
Tavool's model stood out instantly thanks to its variety of features. It not only works with wood but is capable of delivering insanely accurate readings by classifying those woods. Not only that, but it works with various building materials as well (which can help with a leaking pipe in your home).
The LCD interface and four-button functionality make this model simple to use. You can switch between Celsius and Fahrenheit, store moisture levels in memory mode, and gain accurate readings from moisture to temperature with the push of a button.
What we like the most about Tavool's model is the screen itself. Every detail is easy to read with plenty of detail to help you accurately pinpoint the amount of moisture in any piece of wood. Given its ability to work with materials in your home from drywall to masonry, it's a highly versatile option.
Pros:
Simple interface despite numerous features
Multi-functionality
Adjustable readings based on wood type
High level of accuracy
Cons:
The backlight on the LCD screen doesn't stay lit for very long, which can make taking a reading in the dark difficult
Wood type resets to Type A after each power on
2. General Tools MMD4E
The MMD4E from General Tools is also capable of working on both wood and drywall. The LCD screen on this model displays moisture percentages, while a series of three lights tell you whether the concentration is low, medium, or high.
Three buttons allow you to power on the device, switch between wood and home modes, and hold the reading to write down later. One aspect we like is the shape of this reader, which fits comfortably in hand.
Pros:
Multi-functionality
Ergonomic design
High level of accuracy with pin readers
Cons:
More accurate with softwoods than hardwoods
Some users reported calibration issues
Auto shut off feature makes under-sink use difficult
3. Proster Handheld
Proster's model works in four wood groups, containing 50 species. The accuracy of this model is an incredible 0.5% difference, which we love, but what helps users even more is the listing of wood types right next to the interface.
While you can't use this meter on household materials, its simplistic design and accuracy are more than enough to get the job done. Plus, the hold feature allows you to save a reading on the screen anytime.
Pros:
High level of accuracy
Differentiation between 50 species of wood
Straightforward interface
Cons:
Doesn't work with household materials
May need to take multiple readings
Wood type may not be varied enough for some professions
4. Calculated Industries 7445 AccuMASTER Duo Pro
The AccuMASTER Duo Pro's main feature is the ability to detect moisture in both wood and hard materials. Two pins are utilized for wood, while a pad sensor is placed over the top to measure ¾" below the surface of concrete and other non-wood surfaces.
It contains the same buttons found on the Proster model, with a similar LCD screen display. The accuracy on this model is less at plus or minus 3%, but that's still decent for a wood moisture meter. While this is a minor upside, the shape of the meter fits comfortably in hand.
Pros:
Multi-functionality
Accurate readings within 3%
Easy to read LCD screen
Cons:
Pins sometimes stick in hardwoods
Not durable enough for professional/daily use
5. Dr. Meter MD812
Usability is the name of the game with the MD812. It comes with pin replacements, an ergonomic design, and a simple LCD screen. Lightweight and compact, this is also easy to model to carry with you on-the-go.
You can use the MD812 on wood, sheetrock, and carpet. There's no need to switch between modes on this model, either. The only buttons are power and hold to capture a reading on the screen. Measuring in a range of 5-40%, there's also an impressive 1% leeway in accuracy.
Pros:
Simplicity in design and functionality
Multi-functionality
Excellent accuracy
Cons:
Must change sensor pins for different materials
No mode changes for increased efficiency in different materials
Cannot be calibrated or re-calibrated
What to Know About Moisture Meters Before Buying
Before you pick one of these up, there are a couple of things we think you should know. Whether you plan to use yours for a DIY project, firewood, an occupation, or simple home use, here's what to look for if you want to find the best wood moisture meter possible.
Accuracy
The first, and most important, aspect to look for is accuracy. There's no such thing as a 100% accurate reading due to the nature of moisture and the absorption capabilities of wood. That's why you'll see a plus/minus percentage listed.
This percentage tells you how accurate the reading is. If a meter says it reads +/- 5% (in %MC), then you know that each reading is up to 5% off the true moisture level. Look for something at 1% or lower, like 0.5%.
Pins vs. Pinless
You can find plenty of pinless models on the market, but we recommend avoiding them. Sticking the pins into the wood allows you to gain a higher level of accuracy in your reading. This also helps pinpoint where the moisture concentration is, which is vital to most projects.
The advantage of pinless models is that they measure deep into the wood and slide along the surface. Pin varieties allow you to adjust the depth, however, based on how far you stick them into a piece of wood.
If you're working with non-wood materials, like drywall in your home, then you might want to use a meter with a sensor pad to avoid making holes in the wall. The choice is ultimately yours, but keep in mind that pins are generally more accurate.
Multi-Functionality
Various meters on this list can work with either a variety of wood species or materials. We recommend using one that at least gauges the moisture level in types or classes of wood. This allows you to use your meter on various firewood, flooring, and walls in your home.
If you need something that works with building materials, like concrete or drywall, then it only makes sense to find a meter capable of reading both. Lower-end models tend to sacrifice accuracy for this ability, so stick with something professional grade to get the best results.
Temperature
If you dry wood regularly, then your meter also needs to read the temperature. This feature is also useful for identifying hot and cold water leaks, which helps pinpoint an issue in your home. When starting repairs, it helps to know if it's a pipe coming from the hot water tank or a regular one.
The Hold Feature
Recording measurements is extremely helpful in almost every situation. Whether you're using yours under the sink or for work, the ability to hold onto your reading speeds up any project. When looking for the best wood moisture meter, we highly recommend one with a hold button.
Durability
It's tough to know exactly how durable a moisture meter is, but no one wants to spend money on something that doesn't last. Check to see what customers say about their experience with the product to gain a better idea. High-end meters, like any product, are almost always more durable.
The Screen
While the screen is a smaller aspect of moisture meters, there are a few aspects to consider. First, having a backlight helps in dark places. Second, the way a screen displays readings is a matter of personal taste. Some have added information for more accurate readings, including temperature, while others are simple percentages.
Choosing the right screen should come last in your decision-making process. The other aspects above are far more crucial to choosing the best wood moisture meter possible.
FAQ
Q: Does a multi-functional meter retain the same accuracy for different materials?
A: Yes. The accuracy is always listed in percentage form, telling you what degree a reading is off by. Some multi-functional meters have a wider range for error, but that isn't true about all of them. When in doubt, double-check the accuracy percentage.
Q: Do the pins wear out over time?
A: Yes. Replacing the pins on your moisture meter is a necessity, but only once every so often. While their lifespan depends on usage, having a backup set is highly advised.
Q: How much moisture should be in a piece of wood, on average?
A: That depends. Indoor objects contain roughly 6-8% moisture, while construction-grade objects range from 9-14%. The location you live, the room the wood is in, and the time of year all change the amount of moisture inside. You can learn more about average ranges via this link.
Wrap Up
We feel that the Tavool Digital Moisture Detector is the best option out there. It's accuracy, multi-functionality for wood and other materials, and numerous features packed into a simple interface help it excel as a moisture meter.
If you want something simpler, then Proster's model is excellent for DIY projects at home. However, we want you to choose the best wood moisture meter for your needs. Check out these meters in more detail below to help you make the best decision.