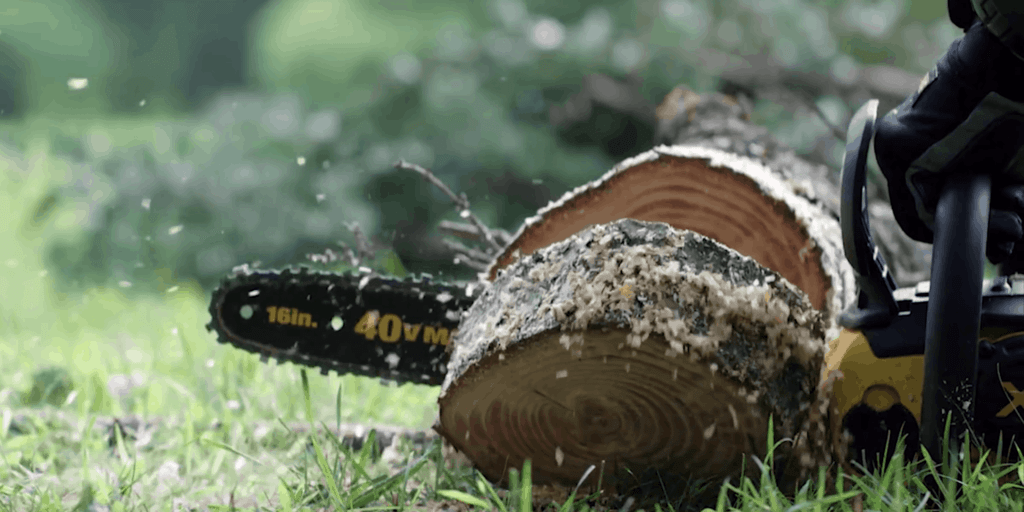 ​When I mention the word "chainsaw" you probably conjure up an image of a rumbly 2-stroke engine with that familiar buzz as it revs up to full throttle. There's no doubt that this familiar image of the gas chainsaw is deeply embedded in us and hard to uproot.
You probably didn't imagine the whine of an electric motor tethered to the wall by an extension cord. This image just isn't as prevalent or quite as sexy. However, electric chainsaws have come a long way and are now more than adequate to handle any tasks a typical homeowner could ask of them.
They are strong enough to fell trees and buck logs, yet maneuverable enough to trim your shrubs. In short, they have become a great alternative to gas at a lower cost with lower maintenance requirements.
How Does Electric Compete with Gas?
When it comes to raw power, electric has a long way to go to catch up with gas. A typical gas chainsaw will move the chain at about 5,000 feet-per-minute whereas the best electric chainsaws top out around 3,000 feet-per-minute. This doesn't mean that electric can't make the cut, but it will take longer.
Electric shines with its ease-of-use, convenience, and lower price tag. Electric chainsaws are typically lighter than gas and so are easier to use for extended periods of time (especially with your arms raised) and gives you better control over the saw. Since they're missing that familiar rumble and buzz, electric chainsaws are also quieter which makes a significant difference after extensive use.
You also won't have to fight in order to start an electric chainsaw like you might a gas chainsaw. You'll be swapping out a rip-cord for an extension cord but starting an electric is a matter of pushing a couple buttons. Electric chainsaws also don't require the messy maintenance that comes with owning a gas chainsaw.
When it comes to cost, the top of the line electric chainsaws are a fraction of the price of a top gas-powered one. All this makes an electric chainsaw an appealing option if you only break it out for occasional use.
The Elephant in the Room
The biggest drawback of using an electric chainsaw is that it requires an extension cord, and a long one at that. An extension cord will not only limit your mobility but it's an added expense (if you don't already have one lying around) to be added to the total cost.
It's also something your gonna have to be aware of and manage while you're using the saw.
An extension cord can get tangled up in your feet or you can cut into it if you aren't paying attention.
These are obviously both bad scenarios, and ones that could happen, but realistically we use lots of tools that require an extension cord and an ounce of awareness. So don't let cord management deter you from considering an electric chainsaw too much.
However, an extension cord will surely limit the range of usefulness on your electric chainsaw and for that reason it's probably a good idea to invest in the longest extension cord your budget will allow. Nothing is worse than not being able to reach your cut by just a few feet, or worse, inches.
This can be an expensive investment if you don't already own one. Just remind yourself that you can use the extension cord to power other tools or to inflate the kids' bounce house.
Also, pay attention to the amperage the saw you choose requires to perform maximally. If you purchase a 14.5-amp chainsaw and run it on a 12-amp extension cord, you won't be getting the maximum performance from your saw.
Safety
As it goes with most power tools, using a chainsaw can be dangerous and especially so if you're not familiar with the hazards of using your tool. With electric chainsaws it's easy to view them as being safer because they aren't as powerful as their gas-powered counterparts.
Don't get caught in this mindset. Although the chain moves faster on a gas chainsaw, because of the high torque electric motors create electric chainsaws can be just as prone to kickback as gas ones.
For this reason, a low kickback chain or bar is a great place to start for safety and having a chain brake is even better. Other equipment such as chaps, helmet, vibration reducing gloves, and eye/ear protection are always worth considering. The full combined cost of these additional items is probably less than an insurance deductible.
Top Electric Chainsaws
Makita UC4051A
This saw is a workhorse and Makita is a name that is well-known for fantastic power tools. The UC4051A runs on a powerful 14.5-amp motor capable of reaching an incredible chain speed of 2900 FPM. Short of large tree felling and bucking, there isn't much it won't handle.
At just 12.3 lbs, it's light enough it won't wear you out using it for an extended period of time. The UC4051A comes with a 16" bar and an electric chain brake, which is important for keeping you safe, and a built-in limiter to keep the saw safe if you get a tad overzealous with it.
Some of the other features are a slick tool-less chain tensioner and a well-designed automatic oiler that includes a view window to check your oil level and accepts a range of viscosities with equal performance. The saw already runs smoothly but the rubberized grips will save any additional wear on your hands.
The UC4051A is a professional grade saw. That means it's top of the line and brings a premium price with it. Once you add the necessary 10 to 12-gauge extension cord, this saw begins to creep into the gas chainsaw neighborhood. But Makita is known for excellence in both durability and performance and the UC4051A is no different.
Remington Limb N' Trim RM1425
The Remington Limb N' Trim RM1425 stands somewhere between a hedge trimmer and a chainsaw. With a 14" low-kickback bar and only weighing 6.25 lbs it's easy to use and is meant for smaller jobs around your yard. Even then, it still does a respectable job cutting decent sized branches or logs for firewood, felling small diameter trees, as well as pruning and trimming.
The RM1425 is very affordable and due to its low cost, it lacks some of the quality of life features such as an automatic oiler and a tool-less chain tensioner. It also does not have a chain brake but with just an 8-amp motor, kickback shouldn't be a major problem and you'll save big on the extension cord purchase as well.
Overall, the RM1425 is a very low-cost and capable chainsaw most homeowners will find more than sufficient for their needs. With the RM1425, you'll just need to be aware of its limits and have a little patience and you'll be surprised how much you can accomplish with it.
Oregon CS1500
When it comes to chainsaws, Oregon is better known for their bars and chains than for producing chainsaws. While they don't make many of them the few they have are clearly made with those who have an understanding of chainsaws.
The CS1500 is built around a beefy 15-amp motor that produces plenty of wood ripping torque to the 18" low kickback bar and chain. Even bigger jobs don't spook this saw. In your hands, the CS1500 has a well-built feel and heft at 12.6 lbs, but it's still balanced well enough to be easily maneuverable.
When it comes to options, the CS1500 is loaded with them. There is a chain brake to help save you in the event of a kickback and the low vibration grips keep your hands and arms from fatiguing before the rest of you. It also has a tool-less chain tensioner and automatic oiler to keep the chain in good shape and cutting well.
Speaking of keeping that chain in good shape, the Oregon CS1500 is the only available electric chainsaw that is self-sharpening. To sharpen the chain, you run the chainsaw and pull the sharpening lever for 3 seconds and the chain is ready to go. This simplifies a task that can often be ignored or avoided and allows the CS1500 to always cut with a sharp chain which vastly improves the capability of, and your experience with, this chainsaw.
WORX WG303.1
The WORX WG303.1 is an excellent blend of power and practicality. The 14.5-amp motor is strong enough to handle all but the largest jobs and the blade comes in at a very manageable 16-inches. Not only that, it's very light on top of everything else weighing in at just 11 lbs.
One feature that stands out on the WG303.1 is the chain tensioning system. Not only does it carry a tool-less chain tensioner but it is also auto-tensioning. This means it maintains the proper tension after repeated cuts and it prevents you from over-tightening the chain which will lengthen the life of your chain.
The WG303.1 also has a number of other features that are surprising given its very competitive price. It has an automatic oiler with a viewing window to track your oil levels and a low kickback bar. Should the saw kickback, it also has a chain brake.
The chain brake might be responsible for the major repeated complaint about the WG303.1. The chain brake leaves little room between the front grip and the brake which can make it easy to trip accidentally. Many people complained that when they purchased their saw, it was dead right out of the box which WORX attributed to many people having the chain brake engaged unknowingly.
Final Thoughts
Electric chainsaws have moved well beyond being a bit of a joke and have become excellent pieces of machinery for any homeowner to include on their shelf. They may not be capable of full-time professional use, but that was never their intended purpose anyway.
You'll want to be sure to carefully consider your budget and the kind of work you expect your chainsaw to do and then find one that will fit those needs appropriately. It's generally a good idea to buy the best tool your budget will allow. Still, be sure to include the cost of a good extension cord when budgeting if you're not already sitting on one.