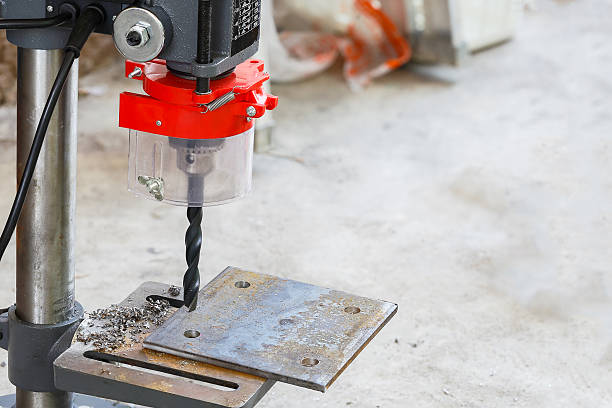 A quality drill press can be worth its weight in gold for your shop. From drilling different materials, to additional tasks like mortising or sanding, a drill press can be a welcome addition to any shop. Today, we're going to take a closer look at some of the best drill presses on the market.
Before we begin, are you looking for some general information on tools like miters saws, chainsaws, table saws, etc? Check out our complete resource guides on Miter Saws, Table Saws, Chainsaws, Band Saws, and Circular Saws. These guides have all the information you need. You will be able to find history, the different types of tools, the top brand sold, and more!
Let's jump right in and discuss our four favorite drill presses available today. Whether you're a professional carpenter or a DIY enthusiast, you're sure to find something that fits your needs on this list!
WEN 4214T 12 in. Variable Speed Drill Press
Source 
The WEN 4214T 12 in. Variable Speed Drill Press has a 3-1/8-inch stroke distance and a 12-inch swing. It's a powerful drill press, it has a maximum speed of 3,200 rpm and a variable speed dial. The control and power of this drill press make it a clear winner. A variable speed dial is useful because you can change the speed while maintaining the same torque and power you may need for thicker materials. If you need a drill press that you can count on, this one is hard to beat.
What we like:
Reasonably priced
Digital speed readout
Variable speed
What we don't like:
Not for heavy-duty use
There have been complaints of chuck wobble
Dremel 220-01 Drill Press
Source 
While this is not a true drill press it's a great choice for those who own a Dremel rotary tool. The Dremel 220-01 Drill Press workstation allows you to use your Dremel rotary tool in a manner that's similar to a drill press. Your rotary tool sits in the workstation which allows you to angle the tool in a variety of ways to fit your needs. Please note that this does not include a Dremel rotary tool. If you would like to purchase this workstation you'll need to purchase a rotary tool separately. This option is best for those who already own a Dremel rotary tool and are looking for a drill press. 
What we like:
Adds versatility to Dremel rotary tools
What we don't like:
Designed to only be used with Dremel rotary tools
There have been complaints of wobble
WEN 4208T 8-Inch 5-Speed Benchtop Drill Press
Source 
The Wen 4208T 8-Inch 5-Speed Benchtop Drill Press is a budget-friendly option. It's a nice choice as long as you don't mind giving up some control and performance. This drill press sacrifices a flexible variable control dial for a five-speed switch. The switch extends all the way to 3,140 rpm. The motor will get the job done on small to medium jobs. The drill press has a cast iron base that mounts to most worktables, it offers a sturdy hold. 
What we like:
Sturdy design
Great for light to moderate tasks
What we don't like:
Some complaints of wobbling
No variable speed
Ogrmar BG-6117 Drill Press
Source
The Ogrmar BG-6117 Drill Press is a great lightweight option for those who need additional guidance. This ingenious device is super easy to transport, a lot more so than to transport than an actual drill press. Instead of lugging around a dedicated drill press, this tool allows you to secure a power drill into a rotating, tight clamp. The clamp rotates 90 degrees so you can even use this on vertical surfaces. This is great for those who need a portable option.
What we like:
Works with a variety of drill brands and models
What we don't like:
Only good for lightweight tasks
Wrapping Up
There are the Best Drill Presses of 2022! We hope this buying guide helped you find a drill press that's best for you! Do you have a favorite drill press from this list? Do you own a drill press already? If not, are you considering purchasing one now? Please feel free to leave a comment, we would love to hear from you!
Did you enjoy this article? Check out some other articles I have written: