Craftsman tools have a great reputation for quality tools at an affordable price. With recent changes to the ownership of the brand name, Craftsman tools are easier to find than ever. If you are in the market for a circular saw, Craftsman circular saws are available to meet your needs. Whether you need a cordless Craftsman circular saw for portability or a 7 ¼ inch Craftsman circular saw for power, you can find what you need. Are you questioning if you need a trim saw or circuclar saw? Check out Trim Saw vs. Circular Saw – What's The Real Difference? for more information.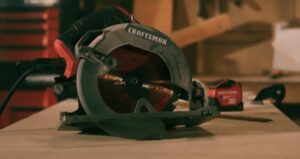 ---
19.2 Volt 5 1/2 Inch Craftsman Circular Saw
If you need maximum portability, the Craftsman 5 ½ inch cordless circular saw is a good choice. It only weighs five pounds. The saw will cut 1 ½ inch material at 90 degrees and 1 1/16 inch material on a 45 degree bevel.
Things we like:
This saw is light and easy to take anywhere
Affordably priced
Handles most cutting jobs with ease
Batteries are compatible with other 19.2 volt Craftsman tools
Things we don't like:
Batteries not included
Battery life isn't great
Cordless design lacks power for the biggest jobs
---
7 ¼ Inch Craftsman Circular Saw, 13 Amp
If you are looking for an all-round saw at a nice price, check out the Craftsman 13 amp, 7 ¼ inch circular saw. It is a plug-in saw with plenty of power, running at 5,300 RPM. The 7 ¼ inch blade will cut material as thick as 2.5 inches on a 90 degree angle, or 1.75 inches on a 45 degree bevel.
Things we like:
Big cutting capacity and good power
Spindle lock to keep the blade still when swapping blades
Ample cutting power for 2x material
Very affordable
Things we don't like:
At 9.6 pounds, is heavy for a sidewinder saw
Some users report that durability is a issue
Plastic blade guard can flex into the blade in some conditions
---
V20 6 ½ Inch Cordless Craftsman Circular Saw
With a bigger battery and 6 ½ inch blade, the Craftsman V20 cordless circular saw is a step up in performance from the 5 ½ inch saw. It has a maximum cutting depth of 2 1/8 inches and a bevel cut depth of 1 ½ inches at 45 degrees. The motor operates at 4,000 RPM.
Things we like:
Can cut 2x lumber on a 45 degree bevel
6.5 pound saw is easy to transport
Cordless design makes it user-friendly
Things we don't like:
Battery life is limited
As with the 5 ½ inch saw, batteries are not included
---
7 ¼ Inch Craftsman Circular Saw, 15-Amp
The most powerful circular saw from Craftsman is the 15 amp, 7 ¼ inch model. This saw has a 2 1/8 inch cutting depth at 90 degrees and 1 7/8 cutting depth at 45 degrees. That is enough to bevel 2x dimensional lumber in one pass. The 15 amp motor runs at 5,500 RPM for maximum cutting power.
Things we like:
Powerful saw at an affordable price
Magnesium shoe and steel blade guard for durability and precision
Users report that it is very easy to adjust cutting depth and bevel
Laser cutting guide makes it easy to control
Things we don't like:
At nine pounds, it's heavy for a sidewinder saw
Some users report that the blade guard is slow to snap back after cuts
---
Craftsman Circular Saw Projects
Now that you have your circular saw in hand, it's time to cut some wood. One of your first projects should definitely be a crosscut jig to help make precise and repeatable cuts with your Craftsman circular saw. Using just a few boards, this jig will let you set a depth stop and cut long boards to the same length over and over.
You can also use the guide from the jig to cut plywood and other large pieces on a perfect line every time. Building cutting jigs lets you get perfect cuts quickly without lots of measuring or working out how to set a straight edge for your cuts.
iPad Stand
You can use the bevel feature of your new saw to cut a stand to hold your iPad or tablet computer. This little project only takes five minutes, and you can make it out of scrap wood. (If you want to sound fancy, don't say it's a scrap…..say you had the wood in inventory.)
Just cut a board three inches wide and five inches long. Set the bevel on your circular saw to 30 degrees, then set the depth of the blade to half the thickness of the board. Make a series of parallel cuts, moving about 1/8 of an inch each time, until the channel is the thickness of your tablet. Use a chisel to smooth out the bottom of the channel, sand the block, and apply finish.
Make a Table Saw
If you are feeling really ambitious, you can use your circular saw to build a table saw. To build a table saw, you are making a big flat surface that holds the circular saw underneath with the blade pointed up. You rest the lumber you are cutting on top of the table and push it through the blade to make cuts.
Building your own table saw is definitely a big project, but having one opens up lots of new possibilities. It is much easier to rip sheets of plywood on a table saw because the table holds the pieces up after the cut is made. It is also safer because the saw is stationary and won't fall. Once you feel good about using your circular saw, building a table saw is a wise next step.
Which Craftsman Circular Saw Should I buy?
Our recommendation is the Craftsman 15 amp, 7 ¼ inch circular saw. While it is the most expensive Craftsman model, its combination of power, laser cutting guide, and safety features makes it the best choice. This is a saw that you can use for years without encountering problems or difficulty in cutting. If you're looking specifically for a Rotorazer compact circular saw check out Rotorazer Compact Circular Saw Review.
If you are on the go, or your already have cordless Craftsman tools, check out the Craftsman 5 ½ inch cordless circular saw. The cordless design and light weight can't be beat if you need to work away from your shop. For more information check out Circular Saws!