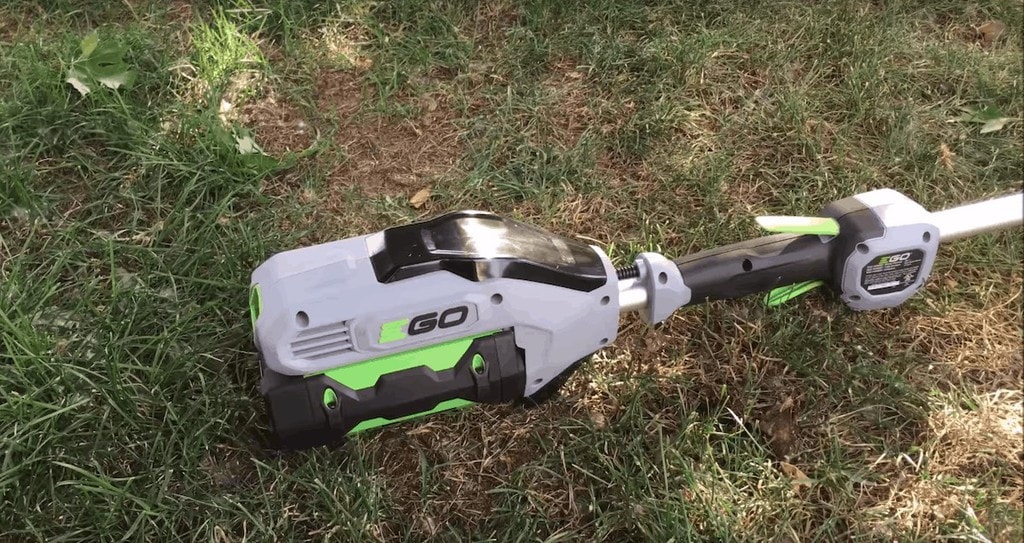 You need the best battery powered weed eater to tackle pesky lawns and overgrown weeds. If you are someone who values the appearance of a clean lawn, then you want to make sure you get the best battery powered weed eater available on the market.
There are so many options out there; it can seem challenging to decide. People typically turn to reviews from customers who have already made the leap of faith. If you are having a hard time deciding which weed eater is the right choice for you, don't worry. We've compiled a list of five of the best battery powered weed eaters available currently.
If you're trying to understand the difference between a cordless and corded one, we also have a helpful buyer's guide towards the end of the article. You'll find everything you need and more right below.
Best Battery Powered Weed Eater: Top 5 Picks
Here we have our five picks for the best weed eaters available for purchase online. These all have fantastic reviews, and they are from the most reputable companies. It's essential to shop where you know you'll get the best deals, that is why we scoured the internet to find the best combination of value and performance.
Check it out!
1.Worx 20V Powershare 12" Cordless String Trimmer
Our first battery powered weed eater comes with the option of purchasing two or three batteries with it. You get a two in one function because this serves as both a weed wacker and edger. You can convert the unit in seconds with no added tools involved.
It comes with two or three 20V lithium power batteries and a 12-inch cutting diameter. The length of the cutting line is 10 feet, and it comes with a quick release lever so you can easily adjust the height of the trimmer.
The primary advantage of using a cordless is the weight of the trimmer. This one only weighs a little over five pounds, and you can share all the batteries you use with your weed wacker on all your other Worx tools.
During our research, we discovered that most people who buy this weed eater are entirely satisfied with their purchase. They do state that you should opt to purchase replacement batteries because they can die quickly.
What we like:
Lightweight
Easy to use
Comes with two or three batteries
Affordably priced
Best for medium-duty jobs
What we dislike:
Short battery life
Lack of power (a good and bad thing)
2. Black and Decker 40V String Trimmer 13-inch
This lightweight and battery powered weed eater comes from the reputable and well-known brand, Black and Decker. This comes with a dual trimmer and edger built in so you can make your way through any job your yard throws your way.
The weed eater uses a 40V battery which delivers quite a bit more power than the previous one we reviewed. This is both a blessing and a curse. Some people who aren't doing intense yardwork prefer the lighter duty weed eater because it doesn't kick up so much debris and it isn't as hard on your hands when you're using it.
This one is more intended for medium to heavy-duty work.
One exciting feature we noticed about this product is that it has a "power-command" feature that allows you to adjust the output you get with the weed eater. This means you can prolong the life of the battery if you are doing light-duty work, or you could crank up the power for tall weeds but shorten the life of the battery.
Although you get quite a bit more power out of this one, you are not sacrificing in size. Most people turn to battery-powered weed eaters because they are lightweight and this one weighs in barely above eight pounds.
While you do get more power, you still don't have enough to get through the seriously heavy stuff and a lot of customers realize this. If you are looking for a weed eater and edger that gets most medium duty jobs around the house done, this could be a good choice for you.
What we like:
Power command allows you to adjust battery power
Light and easy to use
40V battery offers plenty of power
What we dislike:
Still not strong enough for heavy jobs
Heavier than the previous
3. Greenworks PRO 16-inch 80V String Trimmer
Let's turn things up a notch. Here we have an 80-volt trimmer from a less popular company known as Greenworks. With this trimmer, you get 45 minutes of continuous use without requiring a recharge. Once you run the battery down, you'll only have to charge it for 30 minutes before you can fire it up again.
The trimmer uses all the same batteries across their entire line, so hopefully, you have some other Greenworks tools. Similar to the Black and Decker you also get adjustable power batteries, which was a feature we didn't even know was so popular. You can adjust the amount of output your battery gives depending on what type of brush you're dealing with.
The cutter has a two-line design, so you get double the output, and the fact that it has a 16" cutting width means you'll be able to take down quite a bit of weeds in a short amount of time.
If we had to compare this battery powered weed eater to some gas ones, we would say that it has a lot of the same power, but it still makes up for it in weight. This one weighs barely under 10 pounds, so it is quite a bit heavier than your standard battery trimmer, but you get a lot of power.
What we like:
80V battery makes for a powerful cut
16" cutting width tackles jobs faster
Adjustable battery output
Equal power of a gas trimmer
What we dislike:
Clipping shield doesn't prevent clippings from flying up at you
4. Toro PowerPlex 40V 14" Cordless String Trimmer
Let's take it back to a reputable brand that everyone knows and loves. We use plenty of Toro tools, and we believe in the company, so we had high expectations when we started this review.
First, you get a brushless motor which increases the power and effectiveness of your cuts. These motors tend to last longer and provide better performance over the life of the weed eater.
You also get a variable speed trigger which allows you to control the power of the trigger. This feature is similar to the other two products we've reviewed so far. The only difference here is it's a feature built into the trimmer, and it has nothing to do with the battery power itself.
With the Toro weed eater, you get a lot of adjustments. You can adjust the handle and move it up and down the shaft. This feature is ideal if multiple people are using the tool so everyone can feel comfortable when using it. You can also fold the shaft in half, which makes it easier to store in a cramped garage or shed.
This is a 40V, and it has a 14" width so you don't get near the power of the Greenworks trimmer, but you still get plenty of weed eating for your money with this one.
What we like:
The variable trigger makes adjusting easy
Brushless motor gets built to last
Foldable and adjustable for easy storage
What we dislike:
Only about 30 minutes of battery life
5. DeWalt Flexvolt 60V 15" String Trimmer
Now we'll crank you back up a little. We want to provide plenty of variety in the options, so we have almost every residential battery power available on the market. This weed eater is meant to compete with the Greenworks, so let's see if DeWalt has the power and functionality to put up a fight.
This one comes with a long-lasting battery that can run for as long as 45 minutes on medium duty jobs. This one weighs about 12 pounds, so it is a little heavier than the Greenworks trimmer, which is a downside.
As with all the other trimmers we reviewed, this one also comes with a trigger that allows you to adjust the battery output so you can extend the battery life if you are working with low and light grass.
One issue we noticed a lot of verified customers having is with the guard on the weed eater. They state that grass clippings and debris fly everywhere when you use this because the guard is not positioned in a way that makes sense.
They also state that the battery life of the DeWalt is not exactly what you would expect. Many people claim that they have a hard time getting through their entire yard without having to insert a second battery. If you are dealing with a large amount of yard work, you would want to keep that in mind and purchase a second battery.
What we like:
60V battery provides plenty of power
Adjustable trigger preserves battery
15" cutting width is larger than most
Comes with a battery and charger
What we dislike:
Awkward guard positioning
Heavier than the rest of our recommended products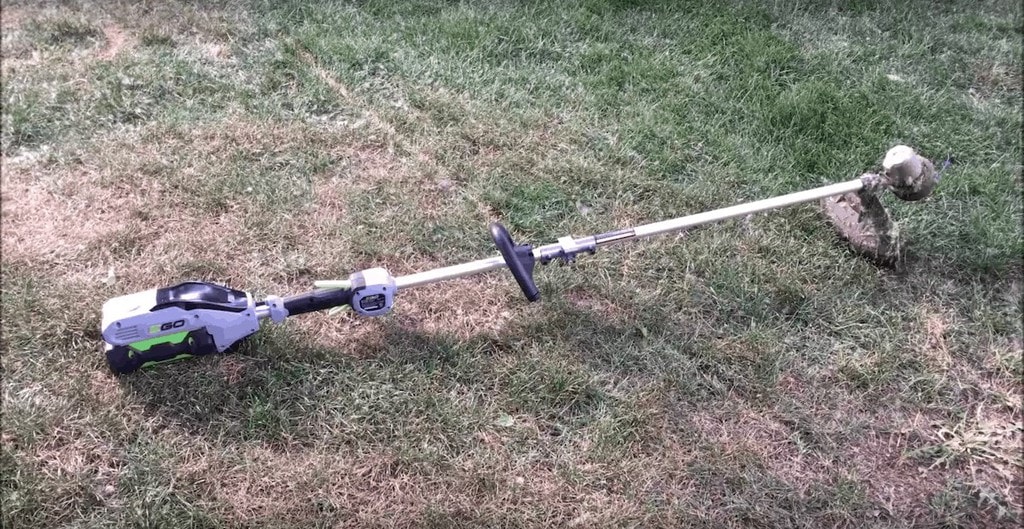 Best Battery Powered Weed Eater: Buyers Guide
Now that you've made it through our list of recommended products, we want to take a chance to tell you about your purchase. You might be unsure about which type of weed eater is the right one for you; we're here to help.
You want to make sure you choose the best battery powered weed eater for your specific needs, and that is hard to do. You might not even be sure if a battery powered one is the right way to go. Let's help you clear up any confusion you might have.
Different Types of Weed Eaters: Pros and Cons
Here are some pros and cons to think about when shopping between the different types of weed eaters.
Gas
It's no secret that gas powered weed eaters are the strongest and most powerful, but that doesn't make them the best. Not everyone needs that kind of power. Plus, in recent years, we see tons of improvements made regarding the comparison between gas, electric, and battery.
The downsides of gas are they are heavier, noisier, and more expensive to run because you need to provide gas. Since they burn gas, they also cause additional pollution if that is something that concerns you.
The bottom line is, gas is still most popular when it comes to commercial use, but we see less and fewer people using gas weed eaters for everyday yard work. They're simply too heavy and bulky to want to use.
Electric
The advantages of electric over gas are the fact that they are lighter, quieter, and they don't require a fuel source, so they are easier to use. These are more popular than gas for home use because they are easier to use and much lighter, but they also pose some apparent issues.
You have to deal with a cord being in your way, you need to have an outlet available, and you have to constantly keep your eye on how far you can go before needing another extension. Corded weed eaters are an absolute no-no for people with large yards.
Unless you have outlets all over your yard, you'll never get away with using a corded weed eater for anything larger than an acre. (if that)
Battery
Cordless weed eaters are more similar to their corded brothers, but there are some major differences. The apparent lack of a cord is the primary difference. With these, you don't have to worry about any restrictions. You don't have to worry about fuel, distance, tangling of cords, weight, or noise.
What you do need to worry about is the battery life. Some weed eaters have a short life of 15-30 minutes. (ahem, Ryobi) Some of the ones we recommended above run for as long as 45 minutes, and you can adjust the output on the battery based on the level of attention your yard needs so they could run even longer.
More and more people are turning to battery-powered weed eaters because they are easy to use. If you don't want to have to worry about bulky gas trimmers and pain in the butt cords, you should try a battery powered weed eater.
Things to Consider When Shopping for a Cordless Weed Eater
There are a few things you want to keep in mind when shopping for a weed eater. Now that you've seen some and you understand the benefits of a cordless one, here are some additional things to think about.
Battery Life – We've preached it so far, but we'll repeat it. The only real thing that can go wrong with a battery powered weed eater is you having a low-quality battery. Make sure the battery life is at least 30-45 minutes. If you're dealing with a small yard and a brief amount of work, you don't have to worry as much.
Battery Power – Higher voltage means more power, so make sure you get at least a 40V battery. If you have a lot of work to do, you should consider going as high as 80V.
Charging Time – If you have 25 batteries lying around, no big deal. If not, you want a respectable charge time of about 30 minutes. Some batteries (ahem, Ryobi) can take as long as two hours to charge fully. You'll be inside asleep on the couch by the time it's fully charged.
Weight – If you're going for a battery powered weed eater, weight should be paramount. Look for something under eight pounds unless you need a heavy duty one then use 10 pounds as your benchmark.
Best Battery Powered Weed Eater: FAQs
What causes my
weed eater line
to break?
If its wound too tight or you're working with bricks, rocks, or cement. All these factors could cause it to break.
Should I get a two in one?
It all depends on the level of work you are looking to accomplish. The cost of a two in one is almost the same as a standalone trimmer so it could be worth it if you have trim work to do.
What brand is best for weed eaters?
There is no right or wrong answer to this question, but we always believe in going with the most reputable brands. Black and Decker, Worx, Toro, and Dewalt are all renowned brands.
How long do I need to recharge my batteries?

The amount of charge your battery requires depends entirely on the manufacturer. Make sure you research and learn as much as you can about the charge time on your batteries.
Our Verdict
Whew, you made it! By this point, you should have a thorough understanding of the best battery powered weed eaters. Maybe you even decided on which one you like the best.
We recommend going with the Black and Decker if you are doing light-duty work around the house. If you need something with a bit more power, we would go with the DeWalt. Both of these weed eaters should have no problem getting the job done.