Crafts are a great way to get into the Thanksgiving spirit, and you will have some adorable decorations to display in your home. These Thanksgiving crafts for kids are quick and easy to make. You don't need any special tools, you can use items you already have around the house. These crafts are great fun for the entire family!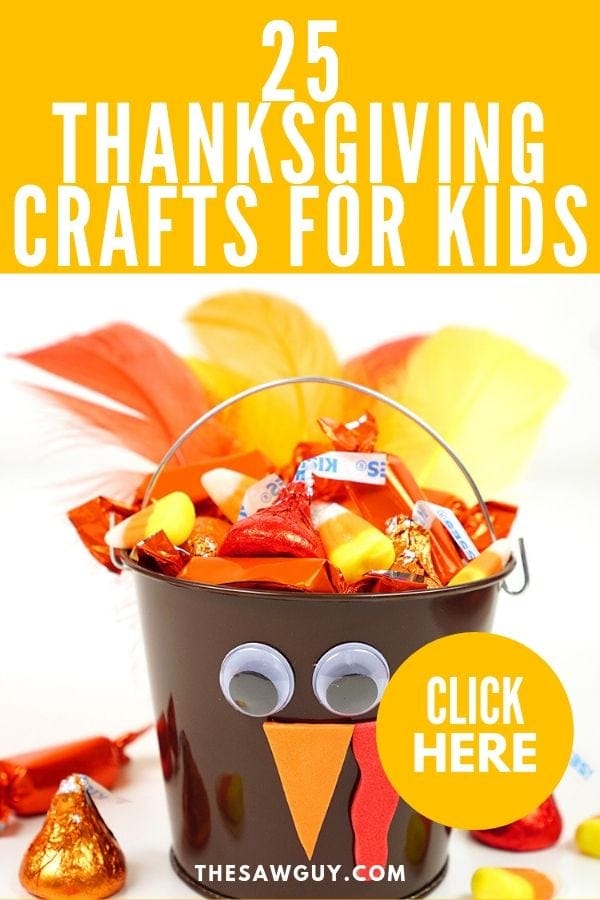 1. Indian Corn Made From Bubble Wrap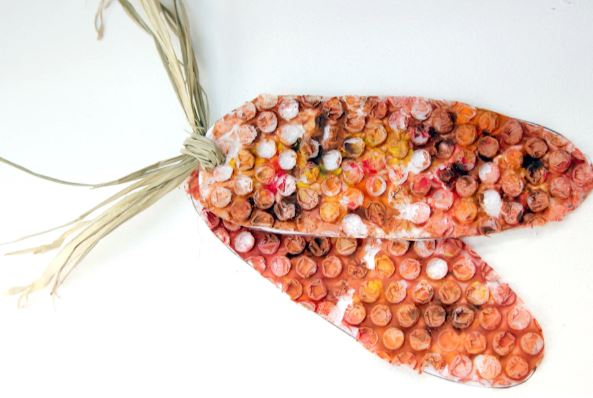 This craft is a colorful and adorable idea. It is made mainly from cardstock, bubble wrap, and raffia. These would be great gifts to family members, or you can simply hang them up around the house to add some Thanksgiving spirit and some color!
2. Corn Husk Headband
This project is great because it requires very little materials. All you need is old corn husks, paint, a headband. and glue. That's it! This craft will give you and your kids a great accessory to wear when celebrating on Thanksgiving day!
3. Scarecrow Mason Jar
This craft is one of the more challenging ones, so you may have to help your kids assemble it. However, these are so fun to put together your kids won't mind you helping. Another great thing is that there are so many ways you can customize these jars. The possibilities are almost endless.
4. Turkey Pudding Cups
Are you looking for an easy snack idea to bring to a Thanksgiving get together? If so, these pudding cups are perfect for that. They are so simple to make, they look really cute, and you can easily lay them out when it's time for dessert!
5. Pilgrim Hats
This craft is great for anyone who has kids that love to color and craft! These hats are great because they are a functional decoration. You can store your kids are supplies like crayons and pencils, or you can use them yourself as centerpieces or you can even store things like keys, spare change and more.
6. Pinecone Animals
Are you looking for different decorations to display around the house? These pinecone critters are adorable and will be a different change of pace than the turkeys and pilgrims.
7. Turkeys Made From Egg Cartons
Do you have empty egg cartons lying around after making all your Thanksgiving desserts? If so, instead of throwing them away save them to create these adorable egg carton turkeys! These turkeys are adorable and will make great decorations almost anywhere in the house.
8. Fall Bookmark
This craft is a great way to get your kids to get ahead of any reading due over the break or just getting them into reading in general. All you need to make this is a popsicle sticks, felt, and glue. Easy, right?
9. Turkey Windsocks
Do you need a quick and easy Thanksgiving craft? If so, these turkey windsocks are the way to go. These windsocks made from a recycled tin can, ribbon, glue, googly eyes, feathers, and paint. These are all supplies that you can easily find around the house making this craft hassle-free!
10. Birdseed Wreath
This birdseed wreath will not only be a hit with your family but it will also be a hit with the birds. With this wreath, you and your kids can view the birds filling up and it's a colorful addition to your yard!
11. Paper Leaf Table Runner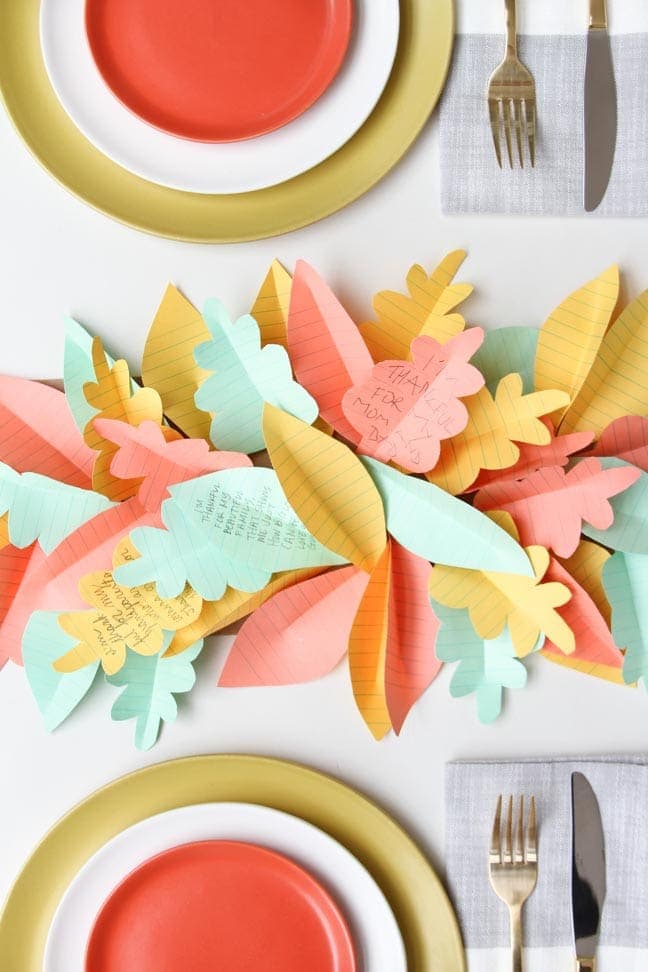 Are you looking for a fun and creative piece to add to your dining table for Thanksgiving? If so, this table runner is perfect for you. This table runner is made from colorful construction paper cut into different leaf shapes. It is a pretty simple project. This is one of our favorite Thanksgiving crafts for kids because you can have your kids write individually on each leaf what they are thankful for. It is such a cute idea!
12. Pumpkin Handprint Greeting Card
Sometimes you can't see all of your relatives during the holidays but you can still show your love and thanks for them with this pumpkin handprint greeting card!
13. Thankful Tree
This is a craft that will encourage everyone in your family to get into the Thanksgiving spirit. It is a very simple project but it has so much meaning because everyone in your household writes down and displays what they are thankful for, which is what Thanksgiving is all about.
14. Hand Turkey
This craft is probably one of the most well known Thanksgiving crafts. It seems like everyone has done it at least once. It's great for anyone who needs a more last minute craft.
15. Turkey Cookies for Teachers
Thanksgiving is a great time of year for you and your kids to say thank you to their teachers. These cookies will do just that! All you need to do is create your cookie of choice, wrap the cookies in plastic wrap, construct a turkey face and feathers out of paper, glue the features on, write something nice, and you're done!
16. Paper Corn Wreath
This wreath will definitely capture everyone's eye, it's colorful and creative. You can hang it on your door or in your kitchen or living room. If you're not to keen on hanging it you can even incorporate into your dining table by making it a centerpiece.
17. Turkey Treat Buckets
Are you looking for a craft idea that everyone of all ages can complete? If so, these buckets are perfect for you! These can be used as decorations or you can give them as gifts, filled with some great goodies to say thank you to the people in your life.
18. Fingerprint Tree
This is a great project to have if you're going to a Thanksgiving get together. This is because you can ask everyone to place their fingerprint somewhere on the tree, making it a very special piece to have. You can have your kids design and create the tree ahead of time.
19. DIY Window Clings
Everyone loves window clings. They are fun to hang up and they have to be one of the simplest decorations out there. So why not make your own?
20. Paper Gourds
These paper gourds will look great spread around the house in groups. They are super easy to make and require no glue, so you don't have to worry about your kids making a sticky mess.
21. Turkey Paper Fans
This is another great craft that will add some Thanksgiving flare to your home, and your kids will have so much fun making it.
22. Turkey Napkin Rings
Do your kids want to help you set the table but they're not quite old enough yet? Tell them they can help by creating these napkin rings. They'll be happy to create these because they are so cute!
23. Turkey Finger Puppets
This is a great craft that kids can work on by themselves while you're working on Thanksgiving dinner. Kids will have endless fun making these as well as after there done because they will be able to put on fun puppet shows!
24. Turkey Thank You Card
This craft will help your kids their penmanship since they'll be writing notes to friends and family. It will make family and friends happy to receive these thank you cards!
25. Turkey Headband
Are you looking for a fun and easy craft for your kids to make? This turkey headband is just that, and it's really fun to wear! This headband celebrates Thanksgiving's feathered friend.
There are 25 Thanksgiving crafts for kids! We hope these crafts help inspire you to start creating some adorable decorations. The great thing is you can create whatever you want! Have you ever created any Thanksgiving crafts? If so, what have you created? We would love to hear your thoughts, please feel free to leave a comment! For more projects check out 26 of the best woodworking projects for kids.