2X4's can be found almost anywhere. They are dependable, sturdy and inexpensive. They are great for DIY's and other projects because they can be cut down into smaller sizes or used as-is to things of all sizes. Here are 21 things you can build with 2X4's.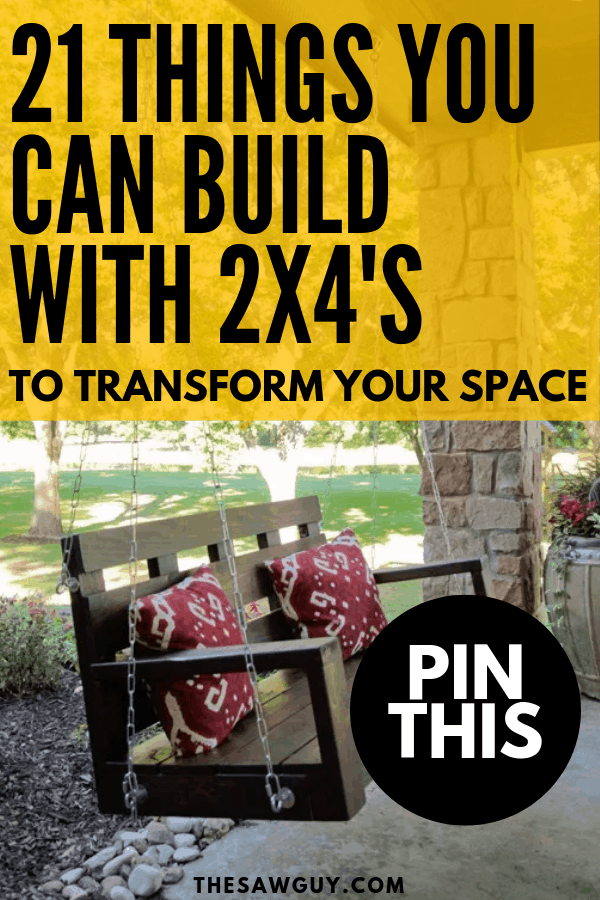 1. Create Giant Jenga from 2X4's
Jenga is a fun and competitive game for people of all ages. The only downside is, it's so small! Fortunately, we have a fix for that. You can easily build a giant Jenga set with 2X4's!
2. Create a Modern Bench from 2X4's
This modern bench is a pretty easy, straightforward project. You will be able to seal and stain this bench which means you'll have a bench that you can use indoors and outdoors. A table saw is really useful for this project so if you need one or are looking at upgrading, check out The Best Table Saw – Complete Buyers Guide & Reviews.
3. Create Modern Looking Bar Stools from 2X4's
These bar stools are built from 2X4's and are assembled with lap joints. It is a pretty simple project. The best thing about this project is you get to choose the height, dimensions, and color! The finished look is more eye-catching than most stools that you'd buy. If you're looking for more DIY furniture ideas, check out 27 DIY Pallet Furniture Ideas.
4. Create a Unique Floral Centerpiece with 2X4's
This floral centerpiece is different than most store-bought floral centerpieces. The frame of the centerpiece is made from 2X4's, but there are individual holes drilled all around the sides to fit test tubes. These test tubes are used as individual vases for your flowers.
5. Create a Phone Charging Station Easily from 2X4's
This charging station is great because it is so inexpensive and looks just as great as the charging stations you can buy at the store. This project requires you to cut a piece of 2X4, measure and cut a hole to fit your phone, and lastly, stain it. That's it!
7. Create a Modern Looking Coffee Table from 2X4's
This coffee table uses 2X4's that are stacked in an alternating zigzag design. It has a modern touch because of the design but the hairpin legs add to it as well. If you're looking for another way to create a coffee table, check out how to make a coffee table from pallets.
8. Create a Bike Rack Easily from 2X4's
If you or your kids have bikes, you know it's easy for bikes to get bumped and knocked over. Here is an easy fix for that. You can build this bike rack to store your bikes easily and it will keep your bike safe.
9. Create a Nightstand Easily with 2X4's
This nightstand is easy to build and it gives off a rustic feel. You don't need many 2X4's to make it either. This nightstand is so much cheaper than a store bought one. You will get a great piece for your home for way less of a cost.
10. Create a Classic Console Table with 2X4's
This classic console table is a great addition to any home. It gives off a rustic feel. Console tables are great for adding style to your home, and even better they don't take up much space. This console table is mostly made of 2X4's. This is one of our favorite things to build with 2X4's because it looks great, it's sturdy, and it's budget friendly.
11. Create a Shelving Unit out of 2X4's
These shelves are great for storing boxes, equipment, tool boxes, etc. Since this is a DIY project you can customize the size depending on what you need the shelving for. Doing so will ensure that you don't waste any space.
12. Create a Vertical Plant Wall with 2X4's
This plant wall made of 2X4's is a great way to utilize your building materials. This project doesn't require much, all you need is 2X4's, screws, burlap bags, plants, and soil. Don't worry about it falling over either because once you build it you secure it to a wall.
13. Create a Workbench for Cheap with 2X4's
If love woodworking this workbench is definitely a project you should consider making. Creating this will give you a solid workbench that will get the job done for much cheaper than the ones you can buy in store. If you're looking for some woodworking inspiration, check out the 27 easiest woodworking projects for beginners.
14. Create a Sturdy Pair of Sawhorses with 2X4's
Every workshop needs a pair of sawhorses. Fortunately, you can create some easily. This project mainly requires 2X4's. The only other thing you will need is nail or screws.
15. Easily make Wall Storage Shelves with 2X4's
You can never have enough storage in your garage or shed. These wall storage shelves will save you space and help keep you organized.
16. Kitchen Island Made with 2X4's
Kitchen islands are great for people who need more space in their kitchens. Islands give your home a more modern look, and they're a great utility for your home.
17. Farmhouse Kitchen Table Made from 2X4's
This project is a pretty easy build. This kitchen table is great for entertaining. The best thing about this project is you'll save hundreds by building it yourself instead of buying it. Unfortunately, these tables in stores are not cheap.
18. Create these Modern Hexagon Wall Planters with 2X4's
If you want something really unique you should consider building these hexagon wall planters. These planters hold mason jars, where you can put of fresh flowers, herbs, succulents, etc.
19. Create a Cute Flag Block Decor Piece with 2X4's
You can display this project all year round. However, this is a great DIY project to create to celebrate the Fourth of July. Just like the candle holders, you can use 2X4 scrap wood to create this project.
20. Create a Picture Frame out of 2X4's
In no time at all, you can turn 2X4's into picture frames. These frames are perfect for giving your space a rustic feel and displaying your favorite pictures beautifully.
21. Easy Porch Swing Made from 2X4's
Porch swings are really relaxing. However, the price of porch swings in stores are anything but, they can be really expensive. Fortunately, you can make a porch swing pretty easily with 2X4's. If you're looking for other outdoor furniture ideas, check out easy & unique outdoor furniture ideas.
There are 21 things you can build with 2X4's. We hope these builds inspire you to create some cool projects out of 2X4's. There is something really satisfying about making custom pieces for your home. Have you created anything out of 2X4's before? If so, what was it? What're your favorite builds from this list? We would love to hear from you so please feel free to leave us some comments!