Does your scrap wood pile keep getting bigger? Do you not know what to do with it? Fortunately, there are tons of scrap wood projects out there are creative, fun, and useful. If you're looking for wood projects you can do with your family take a look at quick wood projects you can do with your family at home. These projects are great if you want some great decor but don't want to spend a fortune. We have compiled a list of 15 easy scrap wood projects that will inspire you and use up some of the spare scrap wood you have.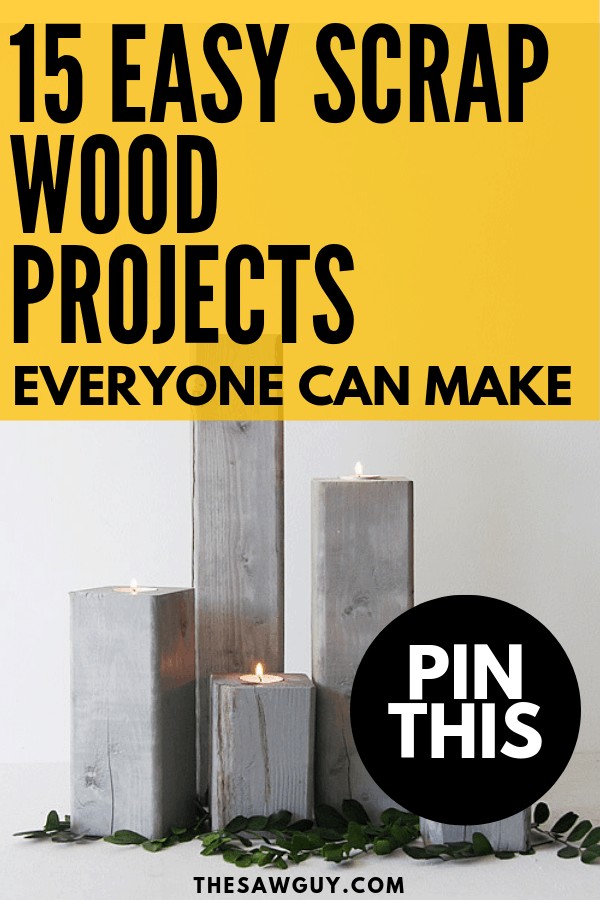 1. DIY Drawer Dividers
Keep things organized can be tricky, especially drawers. Drawers quickly become cluttered because we just absentmindedly throw things into it if we're in a hurry. Fortunately, there is a fix for that. These DIY Drawer Dividers can help you organize your things.
2. DIY Lap Desk
Lap desks are great for many reasons. Lap desks allow you to work efficiently from your bed or couch. These desks also help with your posture to prevent physical pain and improve your physical health.
3. DIY Fruit and Vegetable Storage Bin
This scrap wood project is really easy, and it is a great way to use up any scrap wood pieces you have. This item is really useful because you will be able to organize your fruits and vegetables since there is a divider.
4. DIY Pallet Wood Toilet Paper Holder
Now, this may seem weird but this toilet paper holder is actually really cute, and it has a little shelf! This toilet paper holder is rustic looking, it's also pretty functional. It holds toilet paper but the little shelf can be used for a variety of things as well. You can store a candle, bathroom spray, little pieces of decor, etc.
5. DIY Cat Scratching Post
This is a project you and your furry friend will love! Cat's love to scratch, and unfortunately sometimes they will scratch up furniture and other parts of the house. Fortunately, there's a way to stop this. Giving them this scrap wood project will make them happy and save your furniture.
6. DIY Scrap Wood Lanterns
These lanterns are a great addition to any home. They give off a rustic and antique feel, while also looking modern with the geometric shaped frame. You can use these as night lights or ambient light on your patio. These lanterns would also be a great gift because it's personal, stylish, and useful. If you're looking for other gift ideas, check out our list of DIY gifts for friends and 29 creative DIY gifts.
7. DIY Easy Wooden Chalkboard Sign
This easy wooden chalkboard sign is a fun DIY Project. You can create these for holidays, events, or just everyday life. You can create a Christmas countdown like in the picture below. they can be used for games at a family event, or you can just use it to keep everything in order like your schedule, grocery list, etc.
8. DIY Skyline Wall Art
This skyline wall art is more like a craft than it is a DIY project, that's how easy it is to make. You create this from old wood scraps, feel free to be creative since the wood is scraps you will be able to cut and find various sized pieces. This means you can make the skyline of your favorite city!
9. DIY Wood Candle Holders
This is a very simple project to make. It doesn't require many materials. The wood gives off a rustic, comfortable, and outdoorsy feeling. You can stain the wood holders whatever color you like but the grey color gives off a minimalistic and classy feel.
10. DIY Pallet Wood Silverware Holder
This silverware holder is made from old pallets. This project is unique because you normally see silverware stored away in a drawer. This project doesn't have to just be for storing silverware. You can store office supplies, plant herbs, etc.
11. DIY Rolling Plant Caddy
Are you someone that finds moving your indoor plants a pain? If you answered yes to that, we have something that will make moving your plants a breeze. A rolling plant caddy makes it super easy and quick to move your plants. Another plus is it is super easy to make!
12. DIY Wall Art
This scrap wood project is really easy to make, but the best part about this project is the customization opportunities are endless. You can make it as colorful as you want, as big as you want, you can write inspirational words or sayings, etc. It's a super simple way to add some flair to any space. This is a favorite scrap wood project of ours because to take something like scrap wood that is so simple and dare I say boring and being able to turn it into a creative piece of art is really cool.
13. DIY Scrap Wood Coasters
This wood coaster can be made within an hour. They are a beautiful accessory to add to your home, and they will protect your tables from any moisture being released from cups. Fortunately, you don't need to buy any fancy wood to create these coasters. You can use scrap wood that you have lying around. If you're looking for a more rustic and intricate looking coaster check out our tutorial on how to make rustic drink coasters from scrap wood.
14. DIY Hand Tool Organizer
Your woodworking space can get crowded very quickly and it's easy to lose things when that happens. With this DIY hand tool organizer, you can keep track of all your tools. You also get a cool piece of decor. Another DIY you might love is creating a cutting board. If you're interested feel free to check out our post step by step: how to make a cutting board.
15. DIY Pallet Pet Bed
Are you looking for a pet bed that is just as unique as your furry little friend? Look no further, this DIY pallet pet bed is made from scrap wood and has wheels so it can be moved easily around the house.
There are 15 easy scrap wood projects. We hope this inspires you to create some cool projects out of the scrap wood you have laying around. There is something really satisfying about making custom pieces for your home. Have you created anything out of scrap wood? If so, what was it? What're your favorite projects from this list? We would love to hear from you so please feel free to leave us some comments!