In this post, we are going to focus on 10 coffee table plans to help you find the perfect coffee table. Doing so can be pretty overwhelming with all the types, and styles out there. There are modern coffee tables, rustic coffee tables, simple coffee tables, heavily detailed coffee tables, and so on. We have gathered the top 10 coffee table plans to help you find the perfect coffee table for you!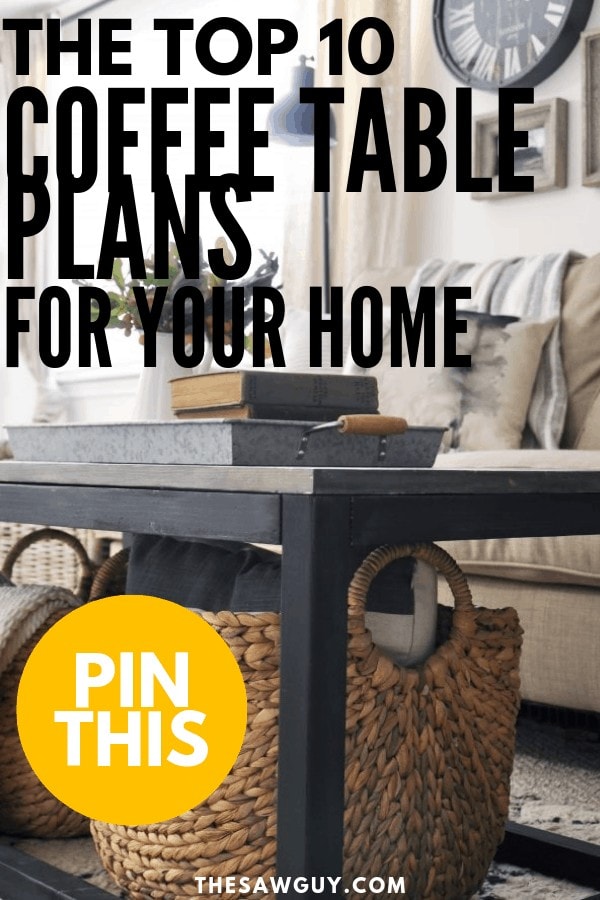 1. Rustic Coffee Table
Rustic coffee tables normally consist of solid wood. This is because solid wood is resilient, sturdy, and it has a look that adds a homey and warm vibe to every home. This coffee table will work well in a modern home or a home that has all rustic decor. This is because of its design and light color. That's one of the best things about this coffee table.
2. Coffee Cart Table
Are you looking for a coffee table that will impress everyone that walks into your home? If so, this coffee cart table is perfect for you. This coffee cart table stands out because it is different. The next best thing about this table is it can roll. This means you don't have to break your back if you want to move your coffee table just simply roll it to wherever you please.
3. Glass-Topped Coffee Table
Are you looking for a more classic coffee table? If so, this glass-topped coffee table is the way to go. When you add glass to the top of a coffee table it turns into a very stylish piece. You can upgrade a new table by adding glass or if you have an old table laying around you can also upgrade that one with glass.
4. Coffee Table Made From Sawhorses
Are you looking for a coffee table that will fit any style home? This coffee table from sawhorses is perfect for that. The style is so simple that it will fit anywhere. You get to choose the type of wood you use, stain and or paint. This gives you the opportunity to decide what you want the coffee table to look like and decide what will look best in your space.
5. Hairpin Coffee Table
Are you looking for a more modern table? If so, this hairpin coffee table is a great choice. These tables have become increasingly popular over the past couple of years. These tables are simplistic so they fit into almost any space. They're also pretty easy to make the tables consists of a thick piece of wood that sits on top of hairpin legs. That's it! This is one of our favorite coffee table plans because of how simple it is.
6. Geometric Hairpin Coffee Table
This is another hairpin coffee table, but this one is slightly different. This table has a geometric pattern on the top of it. Just like the previous hairpin coffee table, this one is easy to make. The only part that's slightly more challenging is creating your geometric pattern. If you're looking for a modern table with some detailing this table is perfect for you.
7. Coffee Table with Storage
Are you looking for a coffee table that will allow you to store your things? If so, this coffee table is perfect for you. This coffee table is partly made from crates which gives it a pretty unique look. The best thing about this coffee table is the storage. You will be able to keep your living area clean and organized. Store things like magazines, blankets, pillows, etc. You can also customize this to fit your style, you can use wood that best suits the style of your home, and you can paint the coffee table to fit the color scheme of your home.
8. Farmhouse Coffee Table
Are you looking for a coffee table that will work in modern, rustic, and farmhouse homes? This table is perfect for that. This table is simplistic and it allows you to store baskets or other storage containers underneath it. It has an industrial frame which makes it pretty strong. This is a great project for beginners since it is easy to make. It also won't take you very long to complete this project. This plan doesn't have any intricate cuts or details, you just need to know how to use power tools and you'll be all set to start creating this.
9. Rhyan Coffee Table
Are you not a fan of the other coffee tables with storage? Maybe this coffee table is better for you. This coffee table has a more classy and expensive look compared to the others. This coffee table has three drawers underneath and has space between the drawers and top of the table for even more storage. This space is great because you will still be able to store things that can't fit in drawers, like large pillows and blankets. This coffee table looks best in households that have a more rustic style.
10. Mahogany Coffee Table
This final coffee table is a beauty. It's very simple but has a few details that really make it a beautiful piece. The table is made from mahogany wood which gives it a lighter color. It has curved legs that give it a very elegant design. That minor detail doesn't seem like much but imagine if the table had straight legs. It would look significantly different and not as elegant. The rest of the table is very simple so it would look best in a home that is a modern or country style.
There are the top 10 coffee table plans! We hope these plans helped you. Whether you found one in this list that you love or maybe they helped create your perfect coffee table in your head. Have you created a coffee table before? If so, what did you make? Did you find it challenging? Do you have a favorite plan from this list? If so, are you going to make it? We would love to hear your thoughts, please feel free to leave a comment. For more coffee table plans check out 21 clever DIY pallet coffee tables for your living space. \
Are you thinking of purchasing instead?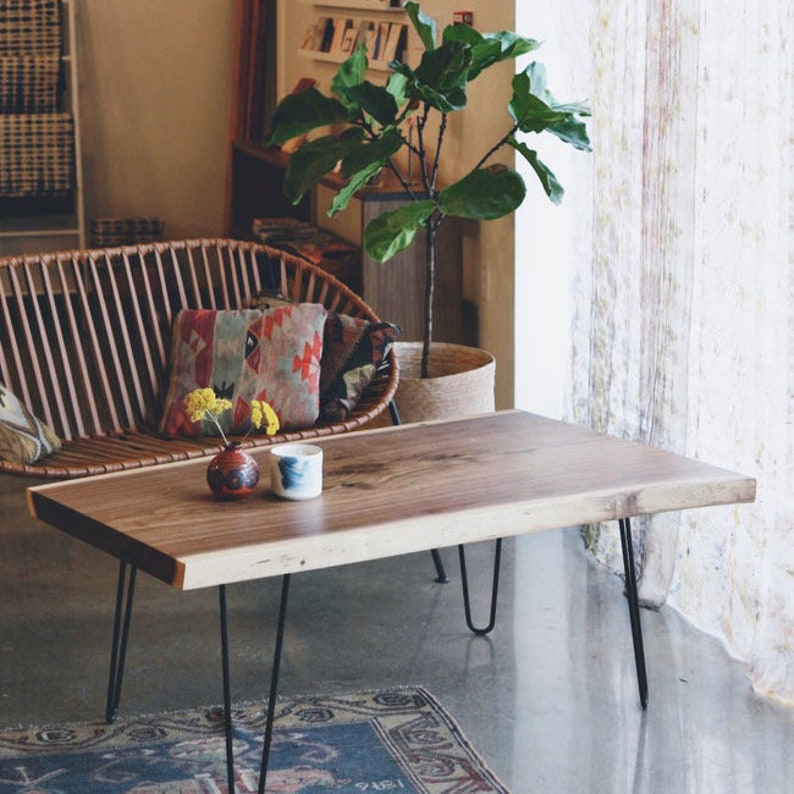 If you would rather pick up a high-quality but reasonably priced coffee table check out Artisan Born's amazing line of coffee tables available on their Etsy shop: Wood Slab Walnut Coffee Table, Customizable Solid Walnut Coffee Table, Live Edge Black Walnut Coffee Table, and Live Edge Walnut Coffee Table.