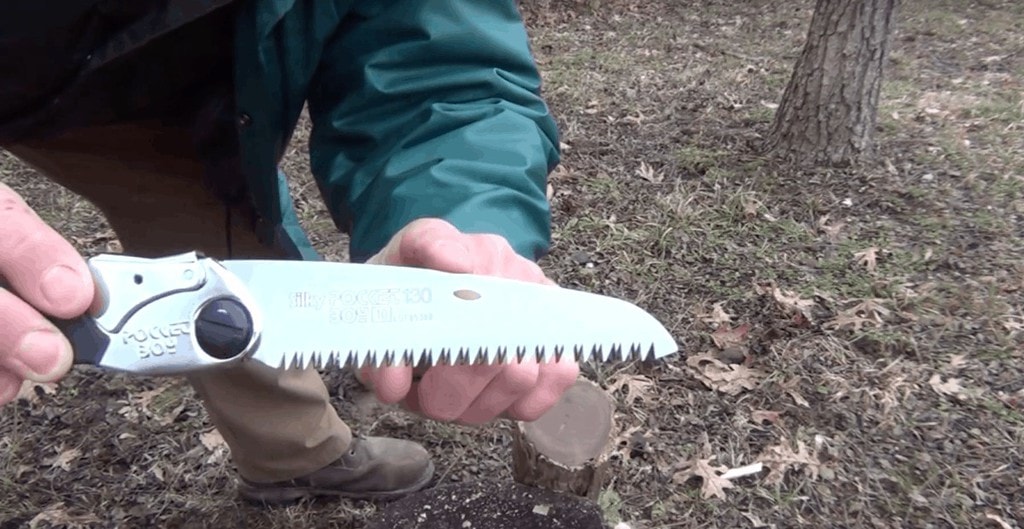 Whether you're a homeowner with lots of trees to take care of or an outdoor enthusiast that needs to blaze a trail through thick saplings and underbrush, a Silky saw can be worth its weight in gold.
Silky saws make quick work of heavy tree trimming and clearing jobs, and there's no shortage of quality saws on the market. But, with so many great options, it can be challenging to find the perfect saw for your needs.
Today, we'll cover five of the best silky saws and show you everything you need to know before buying.
Top Silky Saws of 2019
We've tried saws from virtually every popular manufacturer on the planet, and after our exhaustive search, we've narrowed the field to our five favorites. Here they are:
TABOR TOOLS TTS13 Pruning Saw
For those of you looking for a quality Silky saw that would make quick work of your pruning tasks without breaking the bank, the TTS13 from TABOR TOOLS is a wise choice.
This saw features a 13" curved blade with medium-coarse teeth, so it's ideal for making quick work of larger limbs and branches. These three-sided teeth are impulse hardened and coated for a long life without needing to sharpen the blade.
The three-dimensional edge of the saw teeth makes for surprisingly quick work, and you'll be able to saw through thicker limbs with ease in less time.
The large pistol grip style handle feels comfortable in any size hands, and a thumb rest provides extra comfort. The handle is made from an extremely dense rubber that offers just enough give to help reduce hand fatigue as you work.
What We Like
Affordable
Comfortable pistol grip handle
Three cutting surfaces on each tooth
What Could Be Better
Doesn't include a sheath
Only cuts on the pull stroke
Tarvol 14" Heavy Duty Pruning Saw
Another solid option for those looking for a quality saw on a tight budget is this 14" beauty from Tarvol. Despite the low price of this saw, there's plenty of performance-minded features that make this saw a strong performer.
This saw features a 14" curved blade with 7 TPI, and it's able to cut on both the push and pull stroke, allowing you to complete jobs in half the time.
The pistol grip handle is relatively comfortable, but it may be a bit difficult to manage for those with larger hands, as it's a bit undersized. However, the smaller handle is likely to be ideal for people with small to medium sized hands.
The saw includes a safety sheath with belt hanging loop so you can easily stow the saw away when it's not in use. Tarvol offers an impressive lifetime money-back guarantee on this saw, so you'll have peace of mind knowing you can return your saw for a full refund if it doesn't meet your needs.
What We Like
Affordable
Cuts on push and pull stroke
Includes sheath
Lifetime warranty
What Could Be Better
Handle isn't especially comfortable
Silky BIGBOY 2000 Folding Pruning Saw
Interested in stepping up to the industry standard pruning saw? In that case, the Silky BIGBOY 2000 may be right up your alley.
This folding pruning saw features a slightly curved blade which provides the ease of use of a straight saw with the cutting power of a curved edge. The 14" blade folds into its handle for safe and secure storage. The 5.5 TPI of this saw is ideal for making quick work of thicker branches and underbrush. With its 1.8mm blade width, the saw feels sturdy as you cut.
It's a bit large to stow away in your pocket, but it's an ideal size for throwing into a backpack when you're on the trail. Silky also has a holster available, which is sold separately.
One thing that separates this saw from competitors is the MIRAI-ME tooth technology, which allows you to make quick work of heavy tree limbs without dulling the blade prematurely. As the saw becomes duller over time, it can either be sharpened or replaced entirely, as Silky offers a wide selection of replacement blades.
The handle of the saw is large enough to be comfortable in anybody's hand, whether their hands are small are large. But, it doesn't offer any additional padding, so some fatigue is to be expected during longer jobs.
Silky offers a lifetime warranty on all of their saws, and if your saw ever breaks, Silky will replace it at no charge.
What We Like
Blade is replaceable
Industry-leading warranty
Folds for easy storage
Cuts like a hot knife through butter
What Could Be Better
Doesn't include a holster
Some hand fatigue can be expected during longer jobs
Corona Clipper Company RazorTOOTH Pruning Saw
With its familiar pull-saw styling, and it's ergonomic D shaped handle, the RazorTOOTH pruning saw from Corona Clipper Company is one of the most comfortable and easy to use saws available.
This saw features an extra-large 18" blade with 6 TPI for maximum cutting power, and each saw tooth is triple ground to provide a multi-faceted cutting surface. The teeth are impulse hardened, and the entire blade is heat treated and finished in chrome for added durability and sharpness.
The RazorTOOTH features a familiar handle design that's sure to feel comfortable in anyone's hand. The D-shaped handle is dual molded with a softer rubber insert to reduce hand fatigue during long cutting sessions.
Thanks to the large blade and comfortable handle, you'll be able to make quick work out of large branches up to 10" thick.
While this saw isn't as easy to store as other models which fold up or feature a carrying sheath, it more than makes up for this design issue with its powerful cutting action and comfortable handle.
What We Like
Large blade cuts quickly
Triple ground teeth for added cutting power
Comfortable handle
Affordable
What Could Be Better
Silky HAYAUCHI 390 Telescoping Pruning Saw
Handheld pruning saws are great for quickly pruning trees or clearing a path. But, what about the branches that are too high to reach? Thankfully, a telescoping pruning saw, or pole saw can help you make quick work of those hard to reach branches, without the help of a ladder.
The HAYAUCHI 390 from Silky is the most popular telescoping saw on the market, and it offers solid construction and the razor-sharp cutting power that professionals and homeowners alike have come to expect from Silky.
This saw features a telescoping handle that extends from 8-21 feet. The telescoping poles are made from aluminum and are exceptionally lightweight – the whole saw comes in at a lean 6.9 pounds.
The extension clamps provide positive locking functionality anywhere along the length of the saw, so you can rest assured the poles are locked in place regardless of how far they're extended.
The blade itself just over 15" long and 1.5mm thick. At 5.5 TPI, this coarse saw makes quick work of even the thickest branches. A sharpened hooked tip on the blade allows you to quickly remove suckers and hangers that get stuck in the tree.
The blade is made from SK4 high-carbon steel, and like all of Silky's other saws, the blade is replaceable should it become dull or damaged. An ergonomic rubber handle helps to reduce fatigue so you can tackle big jobs with ease.
Keep in mind that working with a telescoping pruning saw can be dangerous – always exercise caution and wear a hard hat and proper safety equipment when using one.
What We Like
Perfect for clearing hard to reach branches
Lightweight and comfortable to use
Replaceable blade
Incredibly smooth cuts
What Could Be Better
Not practical for use on lower branches
Difficult to store
What to Know Before Buying a Silky Saw
Whether you opt for one of the saws we've covered above, or you're planning on blazing your own trail with a saw we didn't cover, there are a few important factors to consider before selecting your saw.
What is a Silky Saw?
Before we move on further, we should clarify what a Silky saw is. A Silky saw is really a pruning saw. Meanwhile, Silky is a brand name.
Silky has become so ubiquitous in the category thanks to the bulletproof reputation they've built over the years that their brand is synonymous with the saw itself – kind of like how if you walk into a hardware store and ask where the handheld oscillating tools are you may get a funny look. "Oh, a Dremel!" is the reaction you're likely to get.
But, that doesn't mean that you need to buy a Silky brand saw to tackle your tree trimming and brush clearing tasks. Today, there are a handful of amazing brands that produce great products, many of which we've profiled above.
Types of Saws
When it comes to Silky saws, they fall into two basic categories.
Pole Saw
A pole saw, or telescoping pruning saw, features a long blade attached to an extendable handle. The blade is usually curved to allow for extra leverage, and these saws are ideal for cutting high branches without the help of a ladder. But, they're not as practical for cutting lower branches.
Handheld Saw
Handheld versions are the most popular type of Silky saws. At first glance, you may mistake a Silky saw for a machete, as they're roughly the same size, shape, and profile. However, unlike a machete, which features a plain edge, a Silky saw has a serrated edge.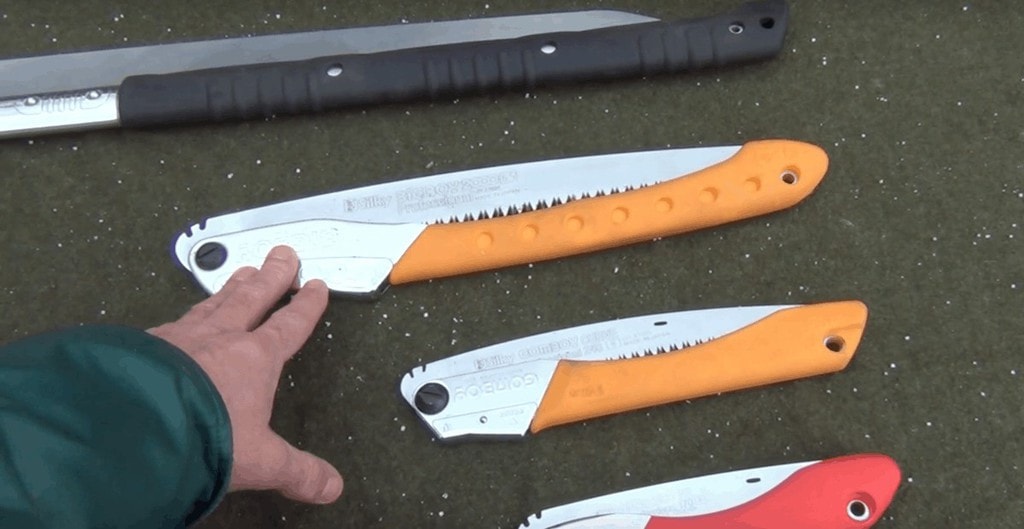 Types of Handheld Saws
From there, handheld saws break down into two categories; straight blade and curved blade.
Straight Blade
A straight blade saw features a long, straight blade which extends from the handle. These saws are preferred for clearing brush, saplings, and green wood. They typically feature a pistol grip style handle, which makes them more comfortable to use, especially during bigger jobs.
Curved Blade
A curved blade saw features a long, slightly curved blade which extends from the handle. Depending on the particular saw, the curve may be very faint or pronounced. The curved blade makes it easier to get more leverage, and they make fast work of even thick branches.
Curved blade saws are the most versatile handheld models, as they can tackle jobs both big and small with little difficulty.
Features to Look For
Saw Teeth
The type of teeth a saw has is an important consideration to make. Saws with finer teeth allow you to work more precisely, and they're better suiting for tackling smaller jobs, like saplings or thin branches.
Meanwhile, coarse teeth allow you to quickly saw through thicker and denser woods. A blade with coarse teeth is preferred for these kinds of heavy-duty projects.
There's also a happy medium – blades with teeth that aren't nearly as fine as a fine tooth blade but aren't quite as coarse as the heavy-duty options. This allows you to enjoy the best of both worlds.
Saw teeth are measured by the number of teeth per inch (TPI). The higher the TPI, the finer the blade.
Handle
Perhaps the most important thing to consider is the handle of the saw. Sawing through tree limbs is hard work, and it takes the greatest toll on your hands. If the handle isn't comfortable to you, you're going to fatigue quickly, and your work becomes much more of a chore.
Pistol grip and saw grip style handles are very popular, but how comfortable a saw will feel in your hand boils down mostly to how ergonomically designed the handle is, and what material it's made from. If possible, look for a saw with a rubber grip insert which can help reduce hand fatigue.
Frequently Asked Questions
Q: Can the blade be sharpened?
A: Yes, dull blades can be sharpened, although it can be a difficult and monotonous task. Some brands, like Silky, offer affordable replacement blades that can be changed out instead of going through the work of sharpening. Keep in mind, by cleaning your saw blades regularly, you can also prolong the life of your saw.
Q: Do Silky saws cut on both the push and pull stroke?
A: Some do, while others don't. The majority of pruning saws cut only on the pull stroke. But, there are also several models available which cut on both strokes, cutting your working time in half.
Q: Are straight or curved blade Silky saws better?
A: Both blade styles certainly have their purpose. For most tree trimming applications, a curved blade allows you to work quicker and with less fatigue. Your mileage may vary, and if you find a straight blade to be more comfortable, that's what you should go for.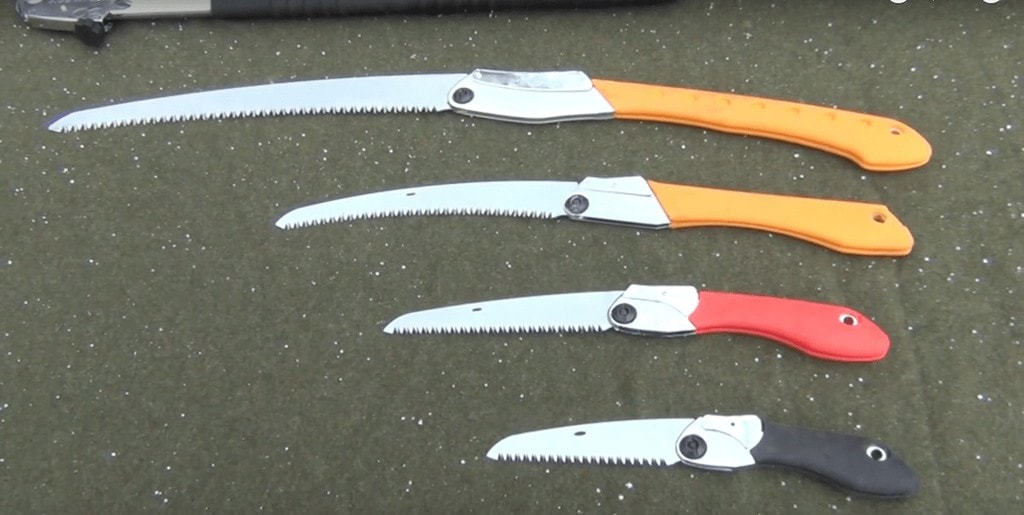 Final Word
Each of the Silky saws we've covered today is a strong choice for anyone looking to quickly and easily trim branches or clear a path. But there can only be one winner, and we select the Silky BIGBOY 2000 as the best Silky Saw available today.
This saw blends reliability, performance, and an industry-leading warranty to deliver you the most capable and easy to use Silky saw on the market.
If you're not quite sold on the Silky name, you can also do quite well with Tarvol 14" pruning saw, which offers similar functionality for less than half the price.