Well, mason jars have officially come a long way from your grandma's stewed tomatoes. Now, people have started making amazingly cute gifts out of these classic jars. Here are several creative ideas to gift to someone special on any occasion.
#1 Spa and Pampering in a jar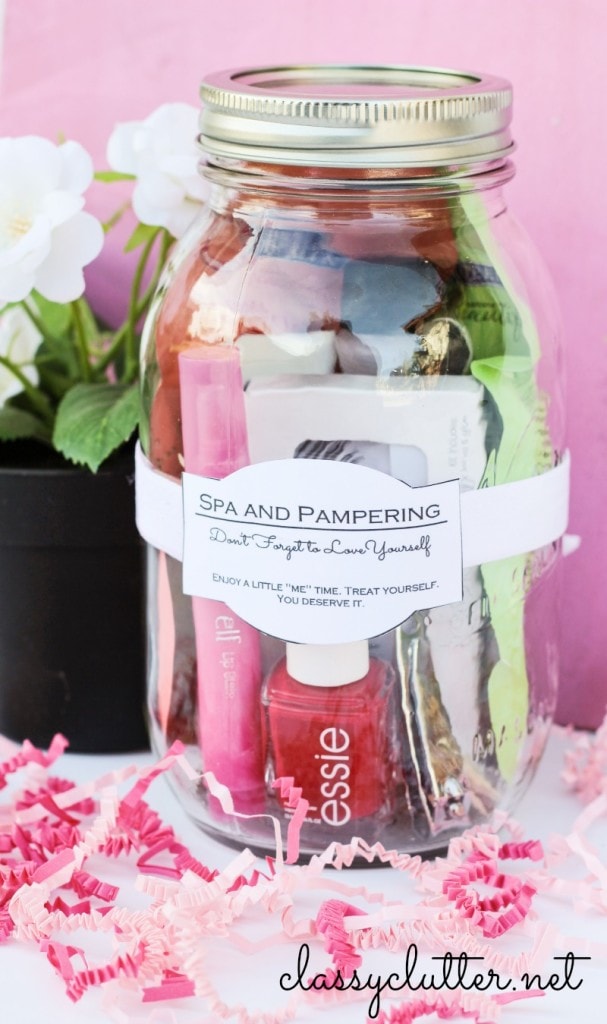 Mallory from Classy Clutter shows us how to spice up our gift giving. For a Bride to be, a Sweet 16, a simple gift for a best friend, this spa jar is sure to be a winner.
Check out the easy-to-follow tutorial here.​
#2 Mommy Survival Kit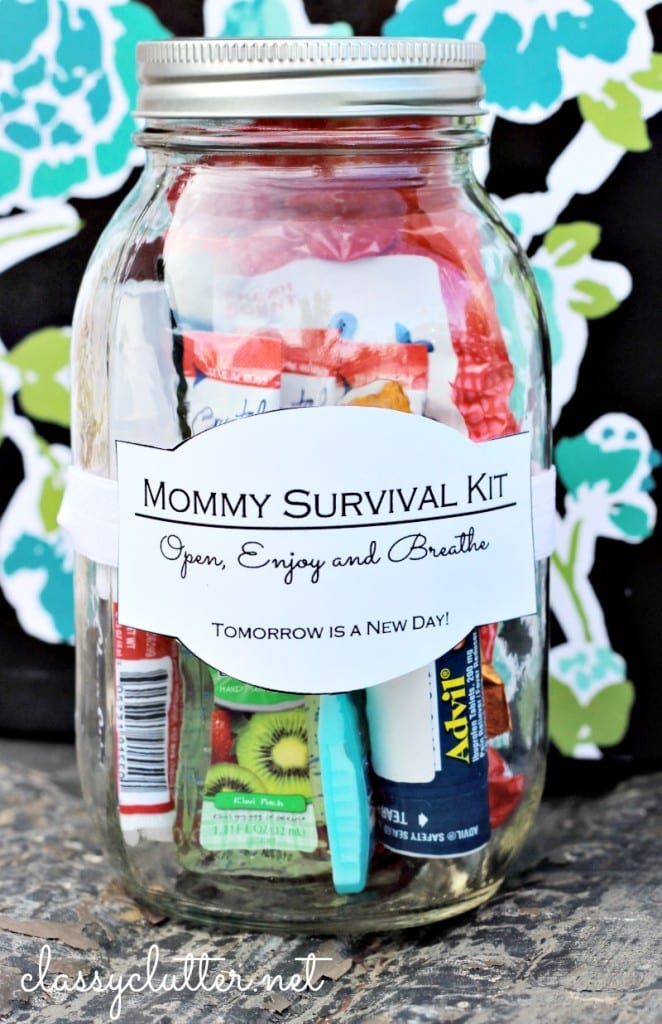 Classy Clutter also has this great idea for the stressed out mom. New moms get very little sleep and need a "go-to" jar for all their needs. Having all these things in one location makes life less stressful.
See the full tutorial of what to include here.​
#3 Tea Time Mason Jar
Tonia, from The Gunny Sack, is a lover of food and life. She thinks this would make a great gift for anyone in your life who loves them some tea!
Check out the full idea here.​
#4 Brownies in a Jar
This idea is simply beautiful and a great way to say "welcome to the neighborhood". This edible gift idea says that you care about the person you are giving it to.
Linda gives step-by-step instructions for what goes into the jar here.​
#5 Mason Jar Pancake Mix
Jamie cooks this right up – homemade pancake mix. This mix keeps for up to 3 months in the jar and makes about 5 batches.
Check out her full instructions here.​
#6 Punny Candy Jars
Rebecca says that some people are difficult to buy for because they have everything. Why not give a cute, edible gift that's sure to bring a smile?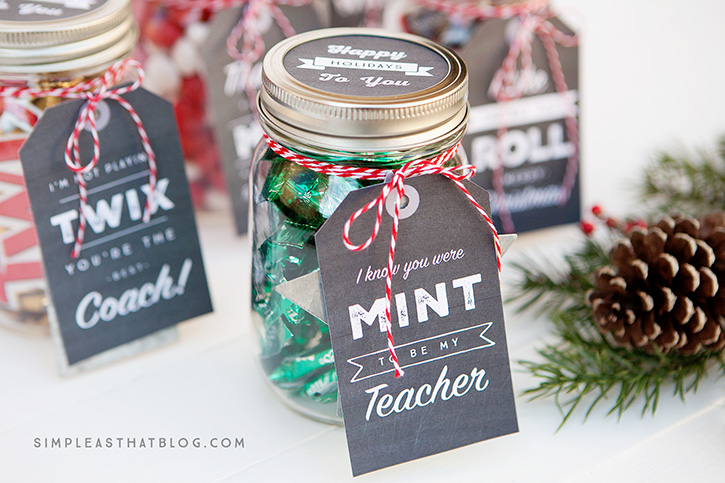 Check out all of her ideas (with printable tags) here.​
#7 Reindeer Mason Jar Gift
Melissa shows us how to make this adorable teacher-gift for the holiday. This is an inexpensive, cute way to say thank you to people you appreciate, yet can't spring a lot of money for.
#8 S'mores in a Mason Jar
The next time you have kids over for a campout or are going camping with other folks, you could hand these out as gifts for the bonfire you're sure to have. Jamielyn said it's pretty easy to "whip up" lots of these in a quick amount of time.
She shows us how by giving full instructions here.​
#9 Sewing Kit in a Jar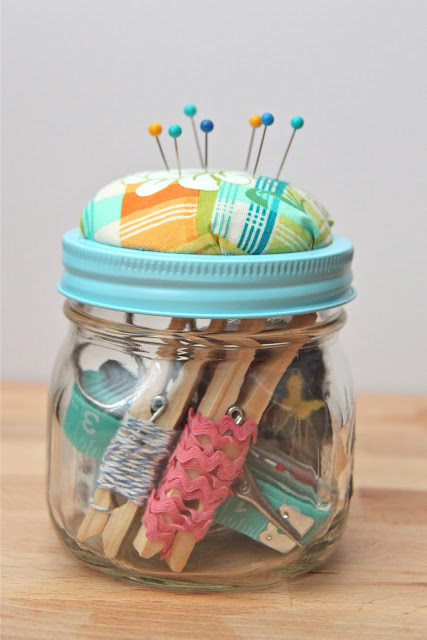 If you have someone in your life who is interested in sewing, this small kit will be everything they need to get started.
Maggie shows us everything that needs to be included in this adorable gift here.​
#10 "I'm Nuts about You" Mason Jar for dad
Malia has a great idea for Father's Day or Dad's birthday. She loves making things fast and cheap.
She gives a full set of instructions here.​
#11 Play Ball Mason Jar Gift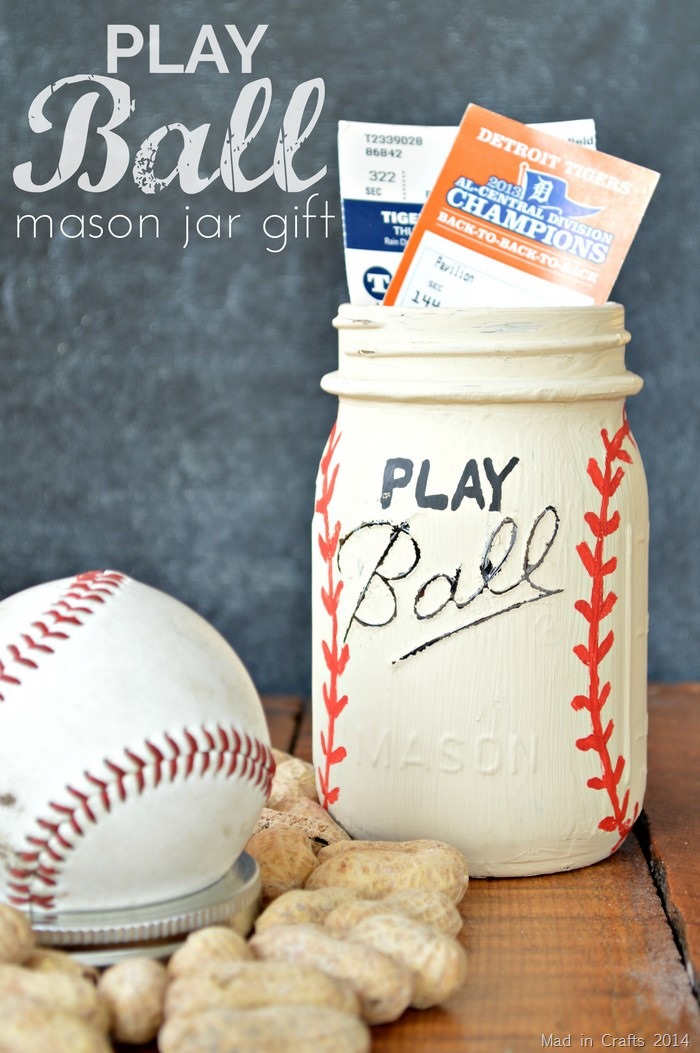 Jessica used this for a teacher appreciation gift, but this would also be a great gift for a special man in your life.
Check out her full tutorial here.​
#12 Mini Golf Date in a Jar
Holly hosted a guest on her site from The Gunny Sack. This date-in-a-jar is a creative way to spice up the fun and romance in your life.
Check out the full tutorial here.​
#13 Gingerbread Playdoh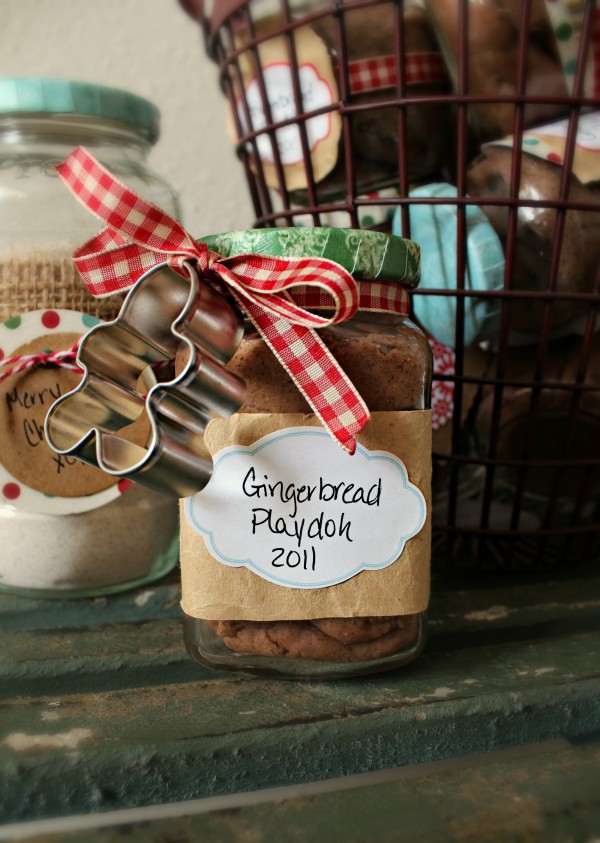 The author of Sweet Sugar Belle offers a great rainy day idea for you and the kids, or a great gift for someone in your life who has young kids.
The easy to follow instructions are here.​
#14 Summer Cocktail Gift in a Jar
Going to a pool party or to someone's house for a cook-out? Take one of these as your gift for the host! What a fun idea for the summer months.
Jennifer gives the full tutorial for what to include here.​
#15 Mason Jar Herb Candles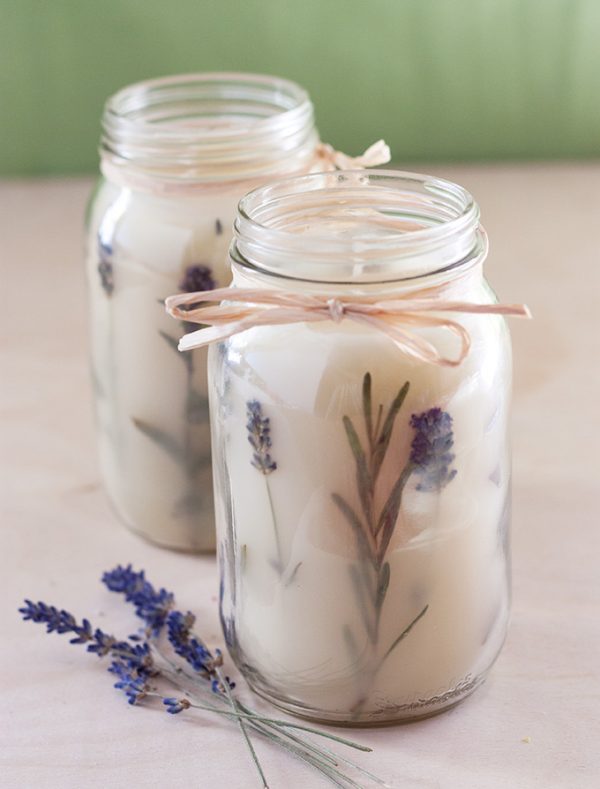 Since evergreens are always available, Stephanie says these candles are perfect any time of year. The herbs in them put off a nice nature-like smell, and these candles will make a great gift or a great centerpiece at a wedding.
See the full instructions here.​
#16 Individual Cupcake Holder
#17 Holiday Survival Guide Mason Jar Gift
Jamie says this is a great sort of girlfriend gift idea for surviving the holidays.
Check out how to make it here.​
#18 Girls' Weekend Gift in a Jar
Jamie enjoys her annual girls' weekend away, and surprises her friends with goody bags. This new idea, however, sure had everyone smiling.
Check out how it came to be in this tutorial.​
#19 Build a Sock Puppet in a Jar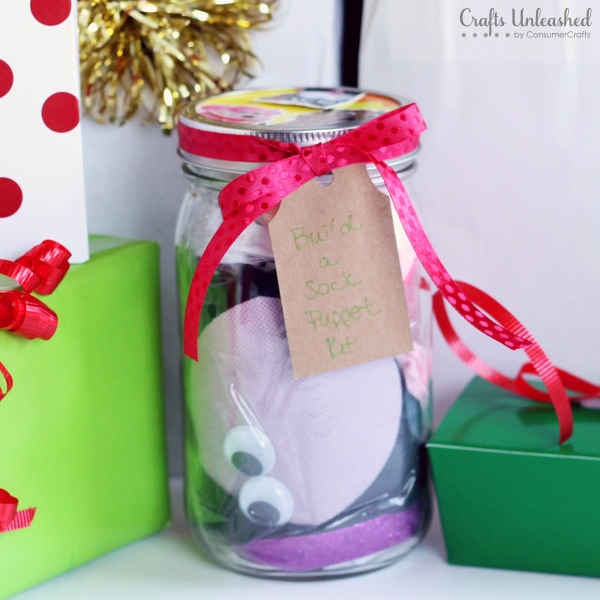 Angie spoils the kids in her life by making them these adorable sock puppet kits in a jar. What a cute idea! Each jar has enough stuff for the kids to make 3 sock puppets.
Check out how to do it in this tutorial.​
#20 Graduation Gift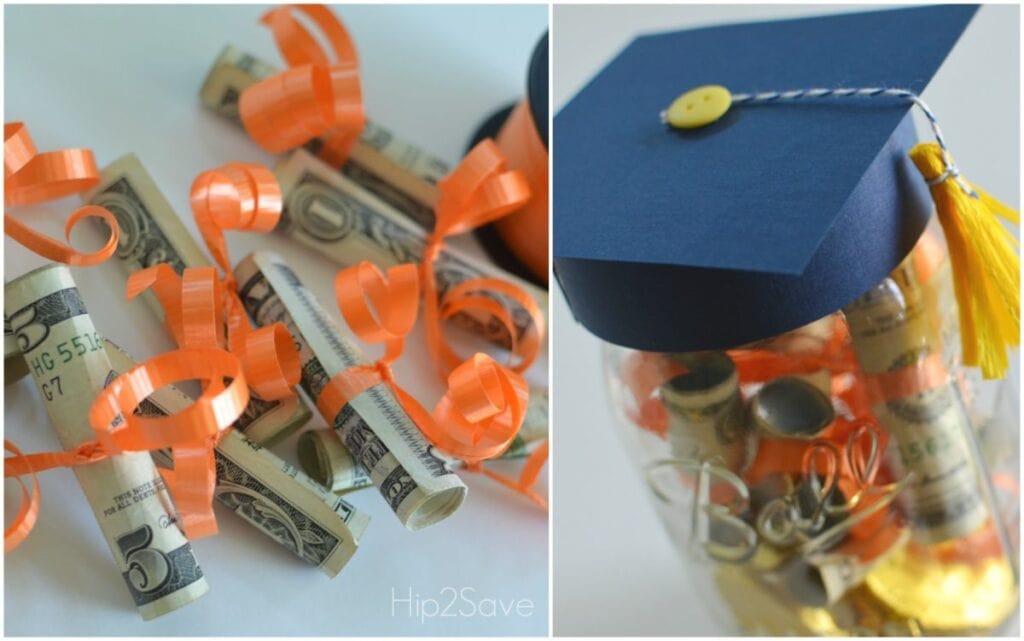 In May and June, there are lots of graduation parties to attend. This idea is sure to be a hit. You can give little "diplomas" of rolled cash filling this jar.
Check out how to do this on Hip 2 Save. ​
#21 Planter Gift
Jessica has a brilliant way to say thank you to someone in your life. This would make a great teacher-gift or Mother's Day gift.
Check out the tutorial here.​
#22 Pencil Teacher Appreciation Gift
Kimberly has some great ideas to show appreciation for teachers in the lives of your kids. This idea beats a real pencil any day.
​Check out the tutorial here.
#23 Apple Dip in a Jar
Teachers love apples, right? Well, let's jazz up the apple gift this year by adding some tasty dip.
Cathy Churilla provides a full tutorial here.​
#24 One Sharp Teacher Gift in a Jar
Jennifer's baby recently went to school for the first time. Typically teacher gifts come at Christmas or at the end of the year, but this idea is different. Why not bless a teacher in August with supplies that he/she will need?
Check out this idea here.​
#25​ Back to School Teacher Gift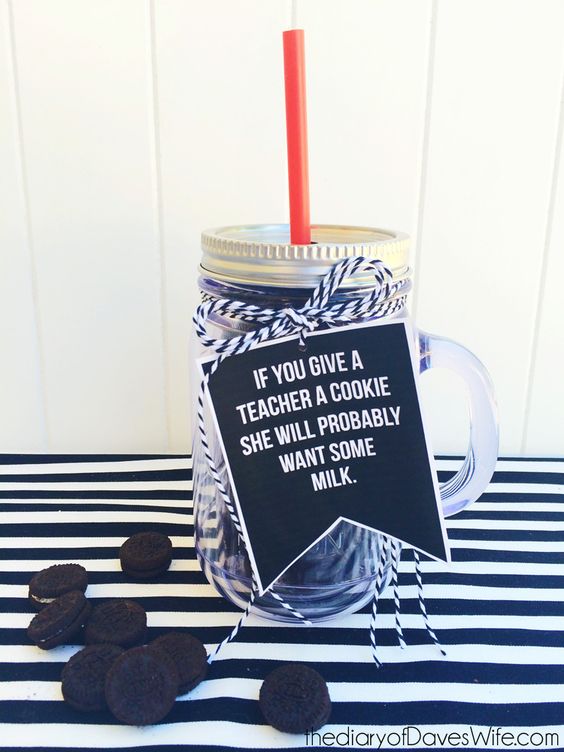 Jodi and Jen are expert teacher gift-givers! They also know their Children's Literature with the whole "Give a Mouse a Cookie" themed jar gift. Check it out!
​See the full tutorial here.
I think we've pretty much covered every occasion. Which one are you going to put together for your next gift?