A welcome to the block is a great way to start off when a new neighbor rolls into town. If you aren't sure what to do with a new neighbor moving in, no fear, I have great ideas for you below. Check out these diy housewarming gifts that would be perfect for anyone.
1. Aged Copper Pot With Succulents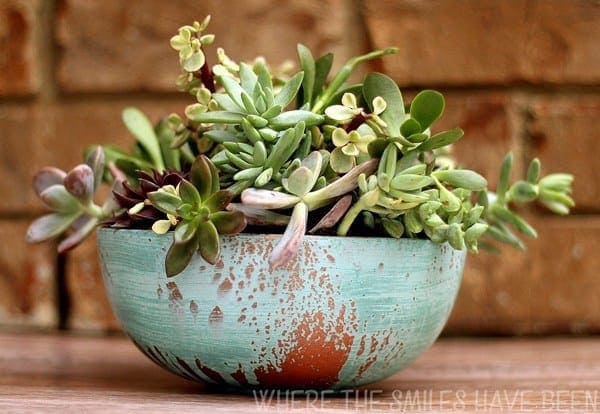 Where the Smiles Have Been created this faux aged style copper succulent pot that truly would be a perfect housewarming gift. Everyone loves plants and they could place this indoor or out. Check it out here.
2. DIY Welcome Home Jar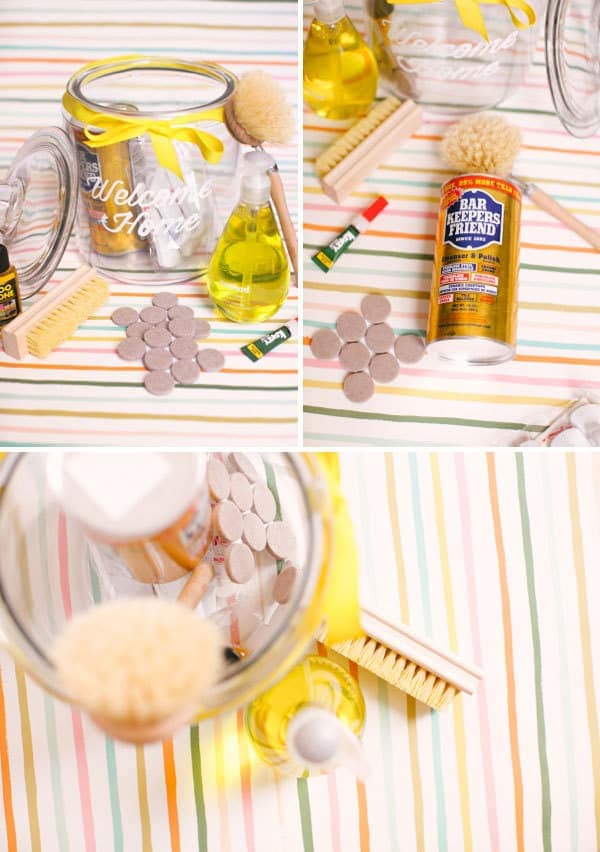 A very useful housewarming gift is what Oh Happy Day shares. Put items that will be handy for cleaning their new home, and a neat jar to display with cookies or something else in. See how she made this jar.
3. Welcome To The Neighborhood Basket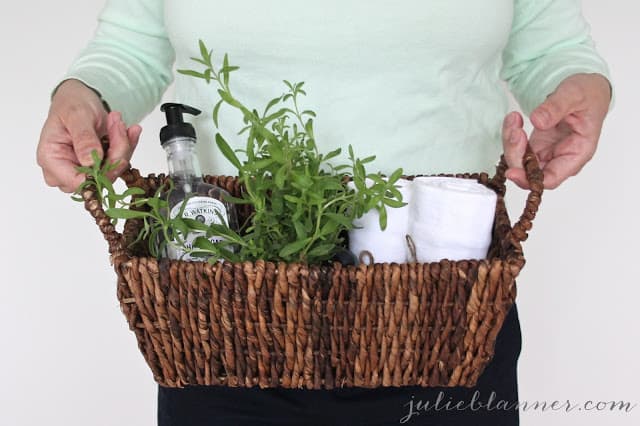 Julie Blanner shares how they made this really stunning basket. A handsoap, towels and a lavender plant. This is a very simple and easy to make basket but very thoughtful. Learn to make one of your own.
4. DIY Dollar Tree Mitts and Towel Gift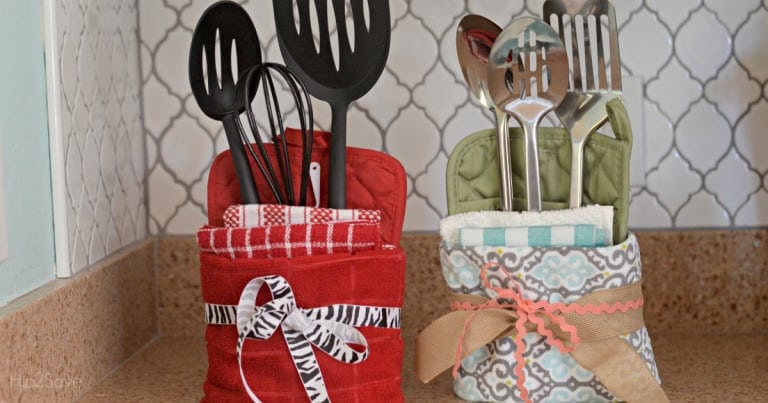 Hip2Save had a great idea that is very affordable. Give some oven mitts, towels and utensils to your new neighborhood in a fun way. Check it out here.
5. Flower Bouquet With Printable Housewarming Gift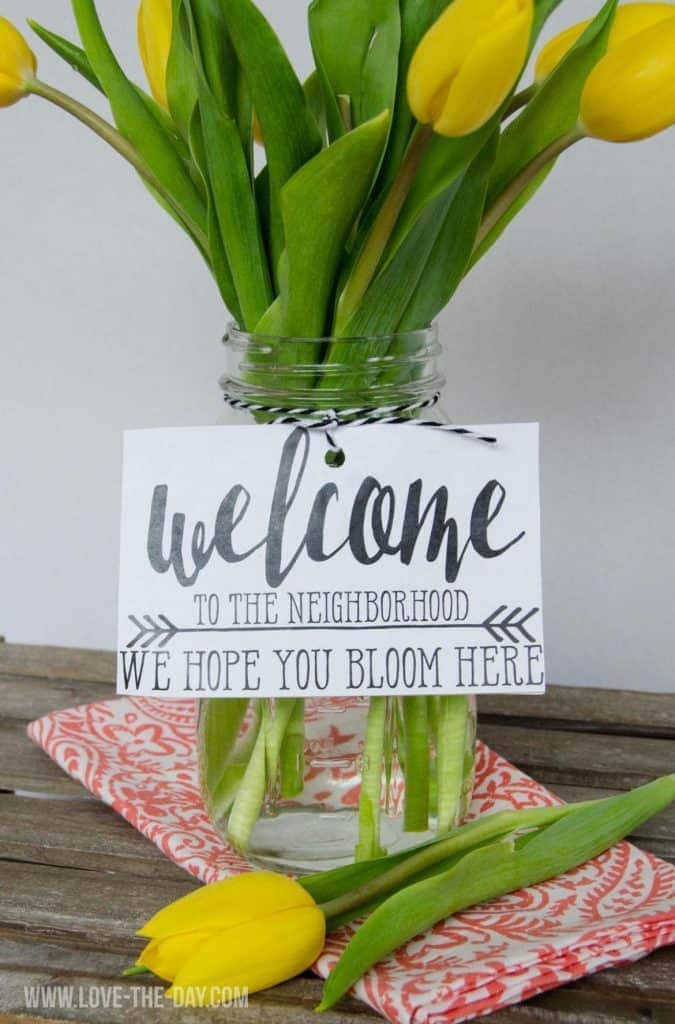 Love The Day had a great idea of creating a bouquet of flowers with a printable tag to welcome the new neighbors. This is a very simple but creative gift. Print your free printable here.
6. Welcome Home Crate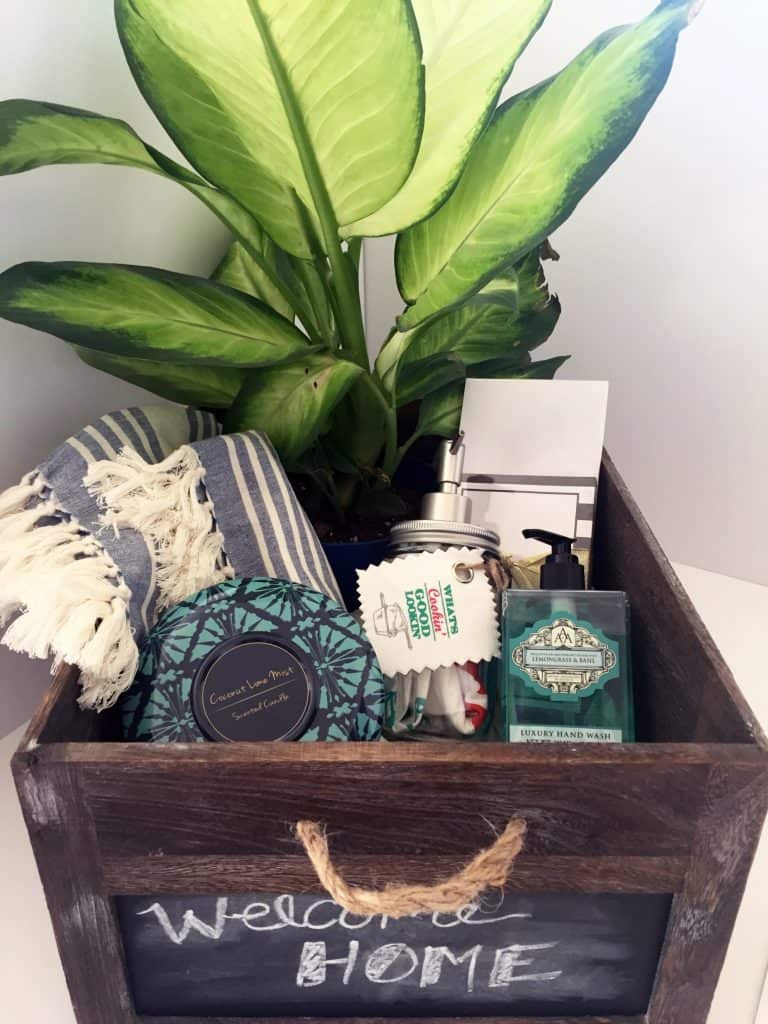 Here is a great diy welcome home crate to give to a new neighbor or a friend who moved. Town Life and Style Design shares how they created this wonderful gift crate. Check it out here.
7. DIY Succulent Wreath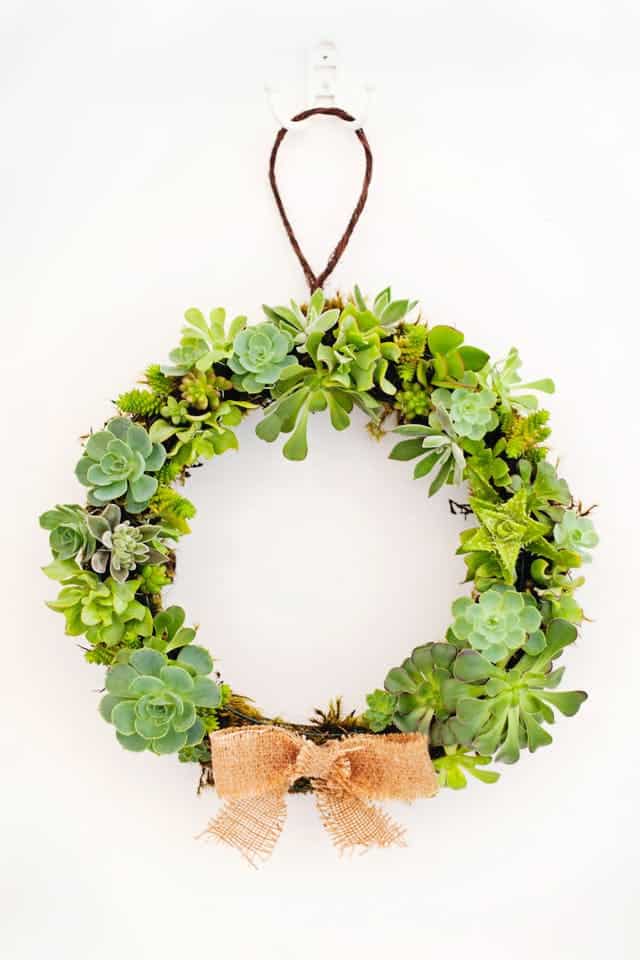 Apartment Therapy has created a succulent wreath that would be a wonderful diy to make to give to a new neighbor! I really like the rich green with the pop of burlap. Learn to make your own.
8. Hand Soap Dispenser With Etching DIY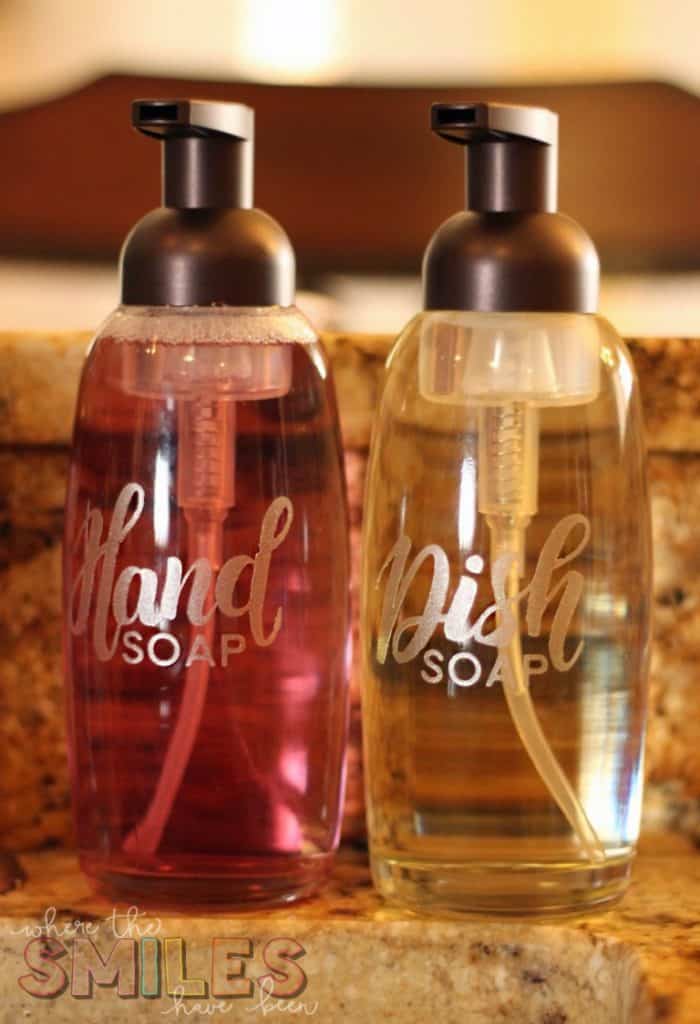 Where the Smiles Have Been shares how they created these unique dispensers. It wasn't that hard of a craft to do, and a great gift idea for welcoming new neighbors to your block. Head over here to see the tutorial.
9. Useful Housewarming Gift Basket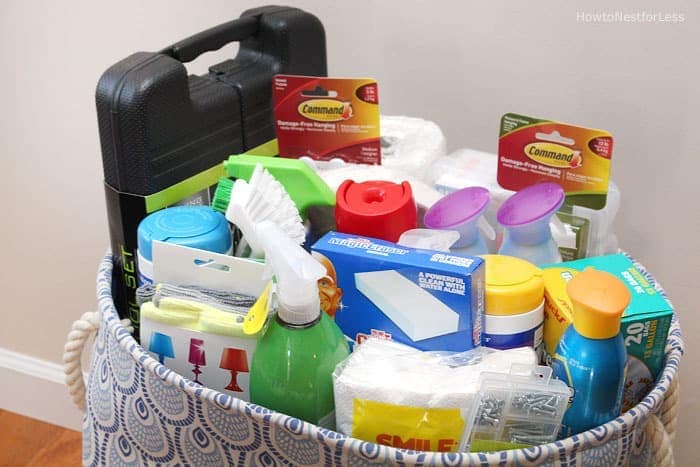 How to Nest For Less shares a very practical and useful diy. It is a reusable tote full of home good items like cleaners, paper goods and more. When you move into a new home you know it is a lot of buying random items. Check out all they put in the basket.
10. Unique Reverse Canvas Print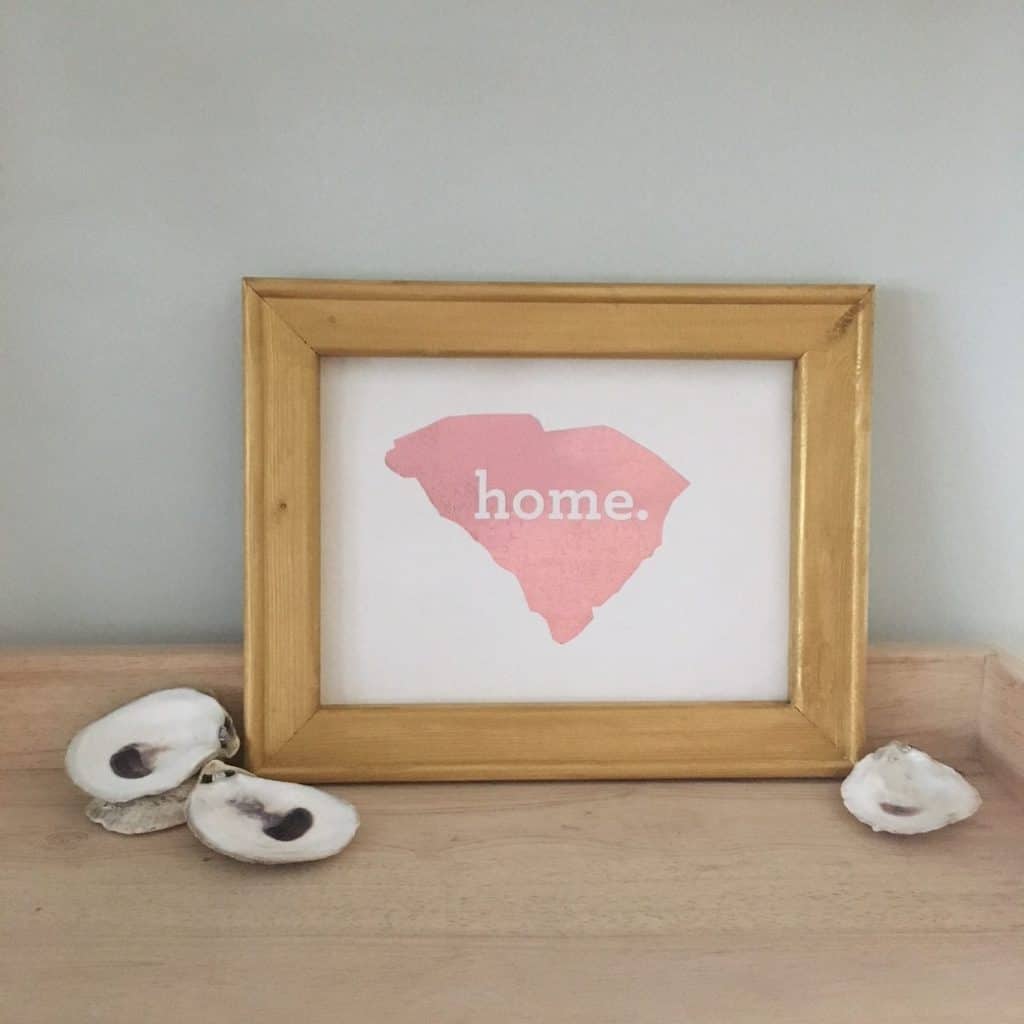 Coaster Kelder reversed a canvas to create this home sign that would be great for a new homeowner. You can make one like it. Just head here to follow the tutorial.
11. Colorful DIY Welcome Mat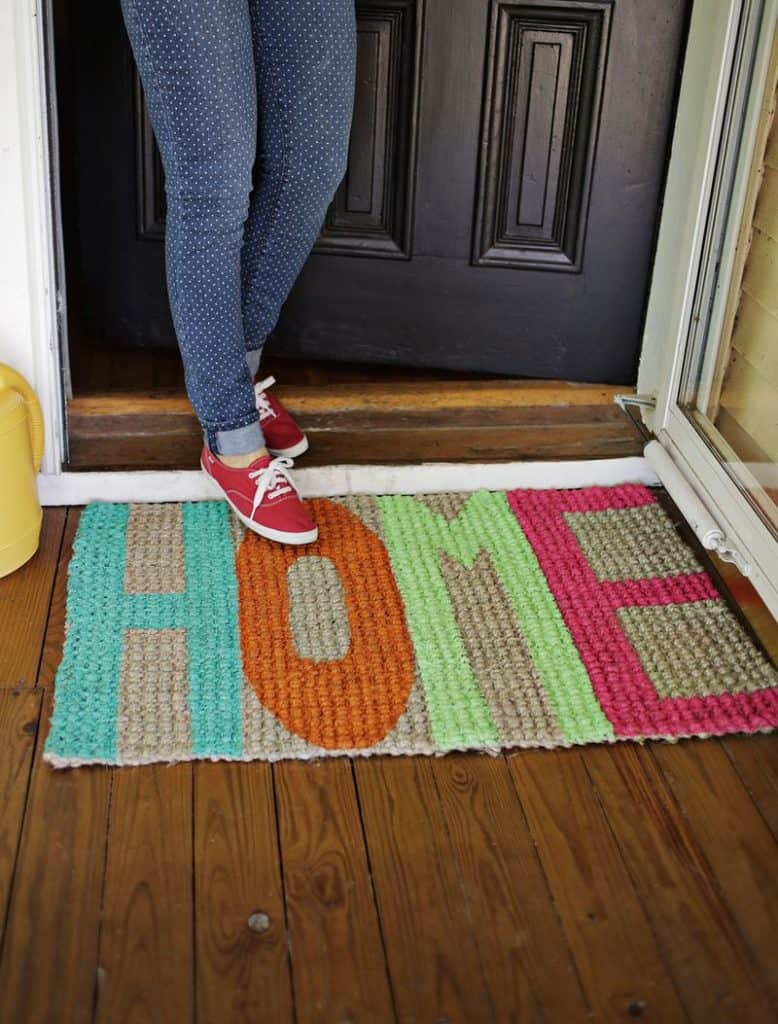 A Beautiful Mess used a plain mat and transformed it into a bright and vivid welcome mat. This would make a great gift for a new neighbor. Check it out here.
12. Welcome to Neighborhood DIY Basket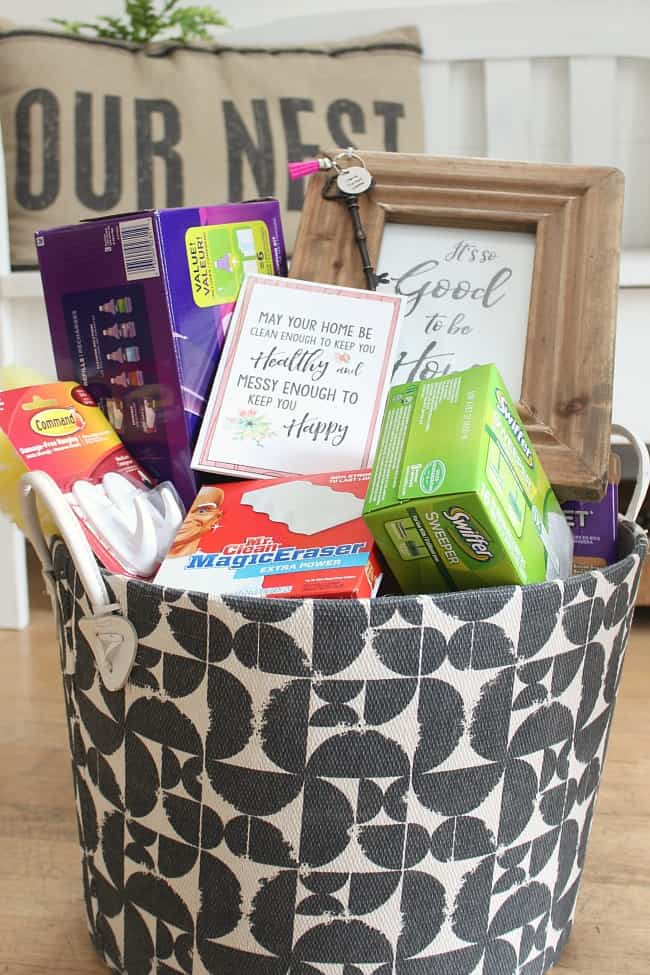 Clean and Scentsible created a fun and useful basket. From cleaning supplies and a home decor item to add to their new home. Learn how to make a basket like this.
13. Teacup Candle DIY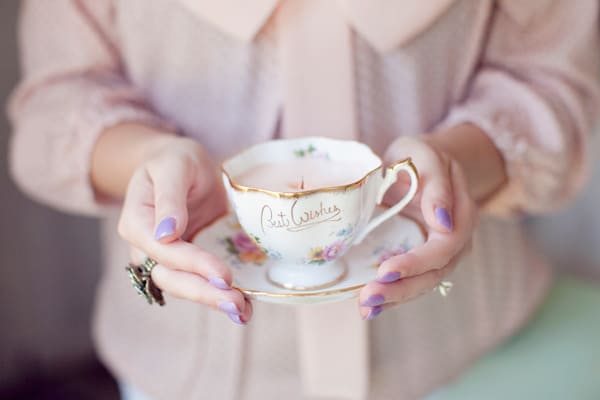 Rhiannon Bosse used a vintage teacup to create this candle. It is a beautiful display piece to give to a new neighbor or a friend who is moving. See how to make it.
14. Bundt Cake Housewarming Gift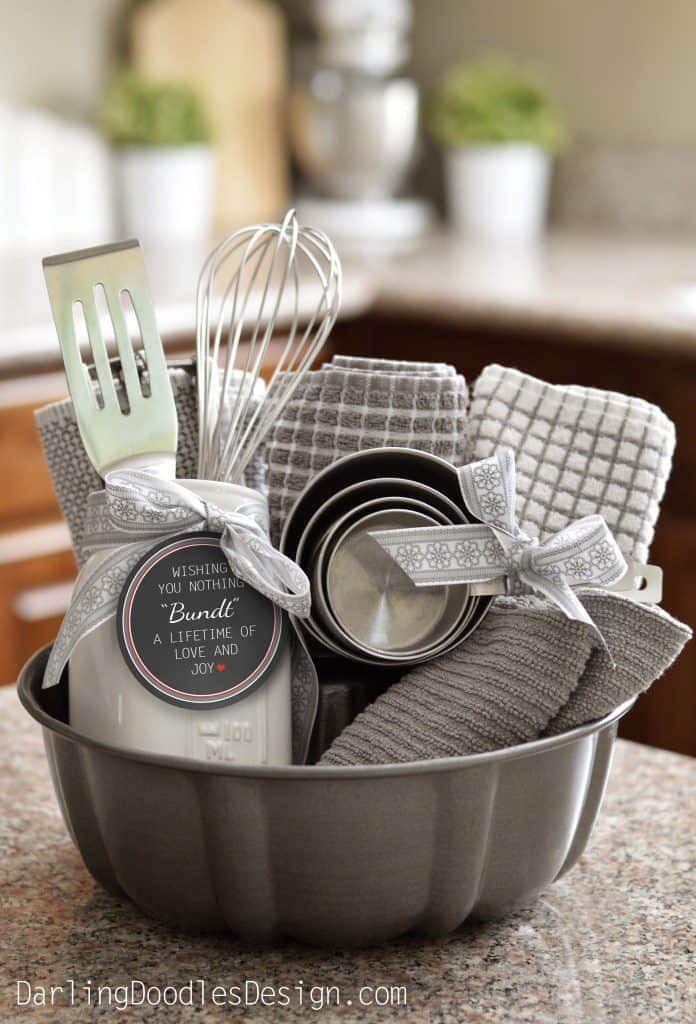 Darling Doodles Design shares a great housewarming gift idea. This is perfect for making a delicious bundt cake in a jar, utensils and more. Check it out.
15. DIY Ice Cream Sundae Kit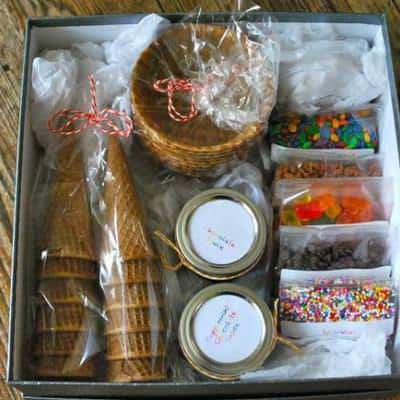 Tip Junkie put all the items you might want for an ice cream sundae into a box as a gift. Wrap in little bags and tie with ribbon for a perfect welcome gift. See it here.
16. Lemonade DIY Gift for Welcoming Neighbor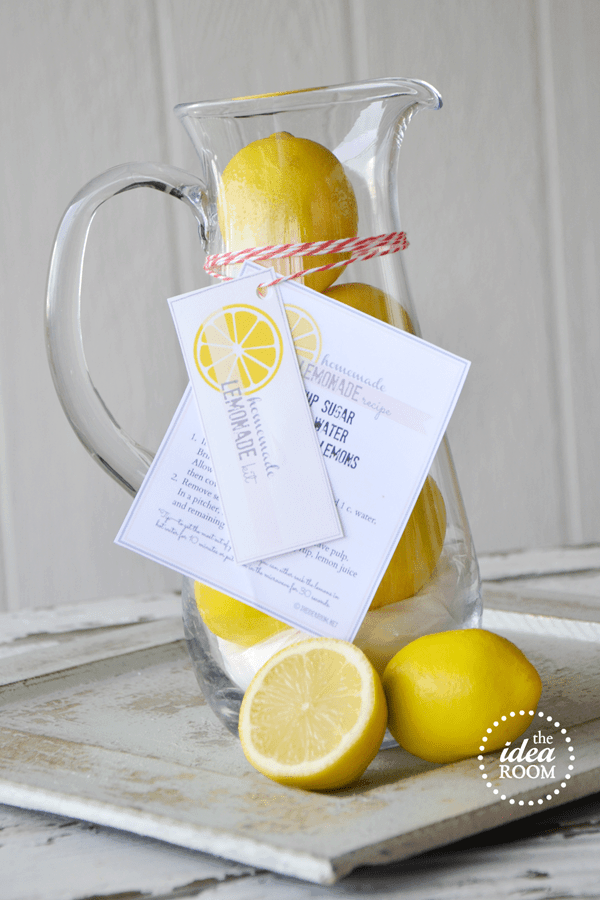 The Idea Room found a very stunning gift that doesn't cost much to make. A glass pitcher, lemon, sugar, and more to create the perfect housewarming gift. Make your own here.
17. Mug Herb Garden DIY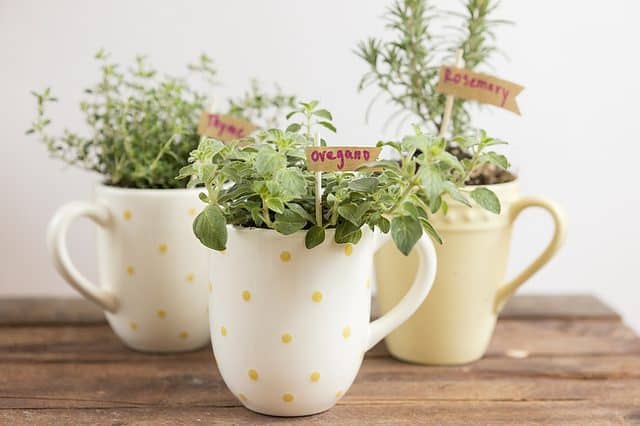 Gillian from eHow has a great idea, make an herb garden with mugs. This is a pretty easy diy but offers wonderful presentation when you give to a new neighbor. Check it out here.
18. Mason Jar Plant DIY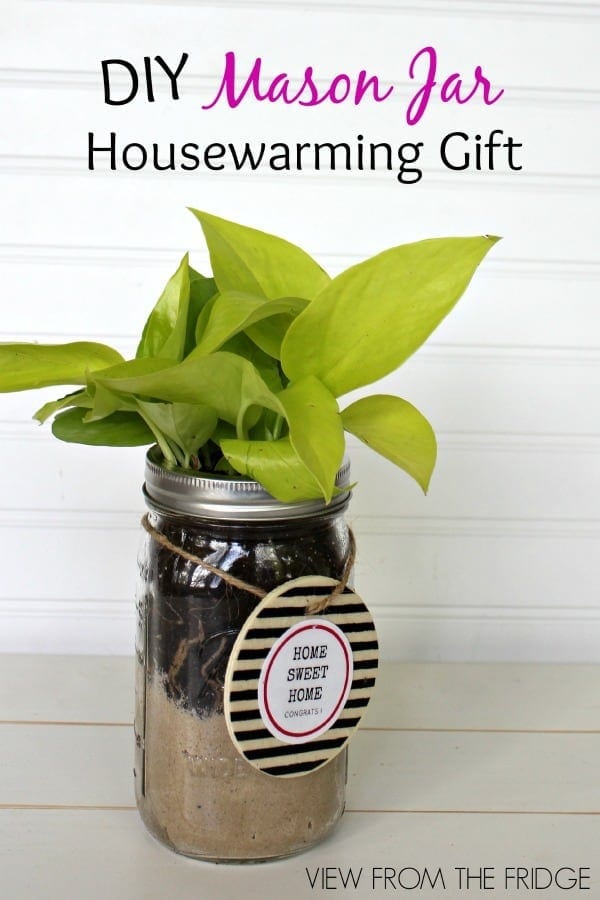 Juggling Act Mama shares a great idea on how to use a mason jar to create a pot for a plant. Plus she has a free printable that is perfect for new neighbors. See it here.
19. Handmade Clay Pots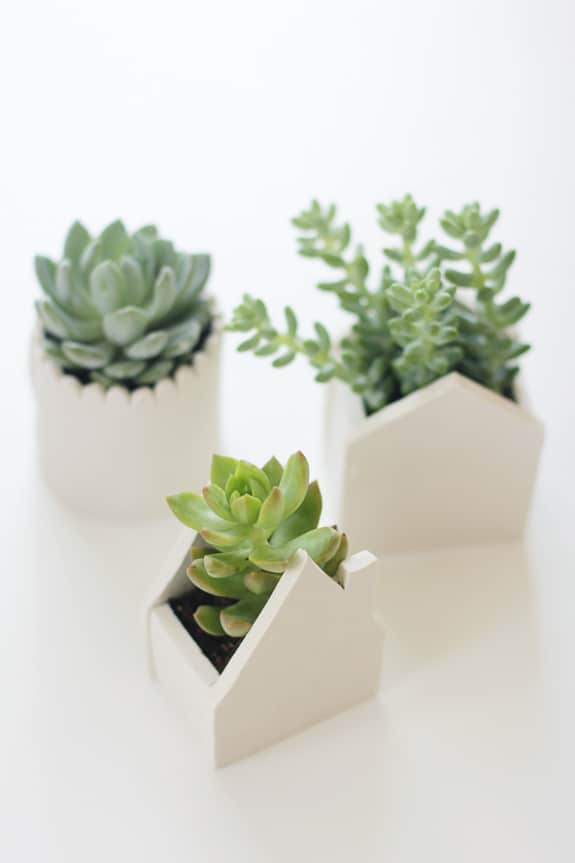 Say Yes got super created with these handmade clay pots that would make a great gift. Put in some succulents or little budded flowers and give a gift of kindness. Make them here.
20. DIY Lemon Air Freshener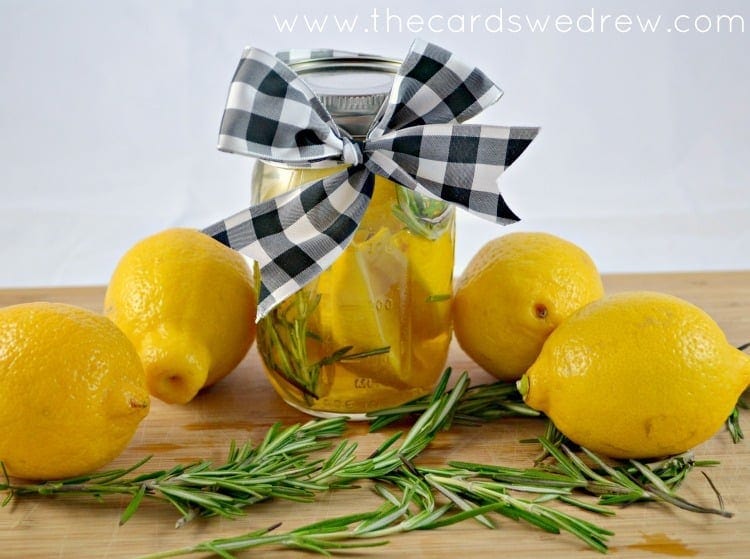 The Cards We Drew shares a homemade air freshener that is great for new homeowners. You always have a smell of new home that you want to get rid of and this is a great gift to give. See how to make it here.
21. Infused Olive Oil Housewarming Gift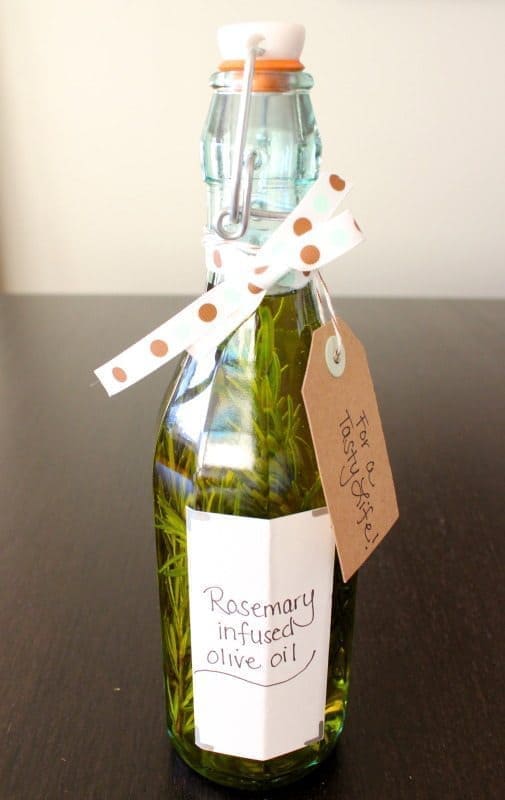 If you love spending time in the kitchen make this infused rosemary olive oil that Miss Buttercup made. It makes a great gift for anyone who is moving in and will have a great oil to use in their next dish. Make your own here.
22. Wooden Cutting Board Welcome Gift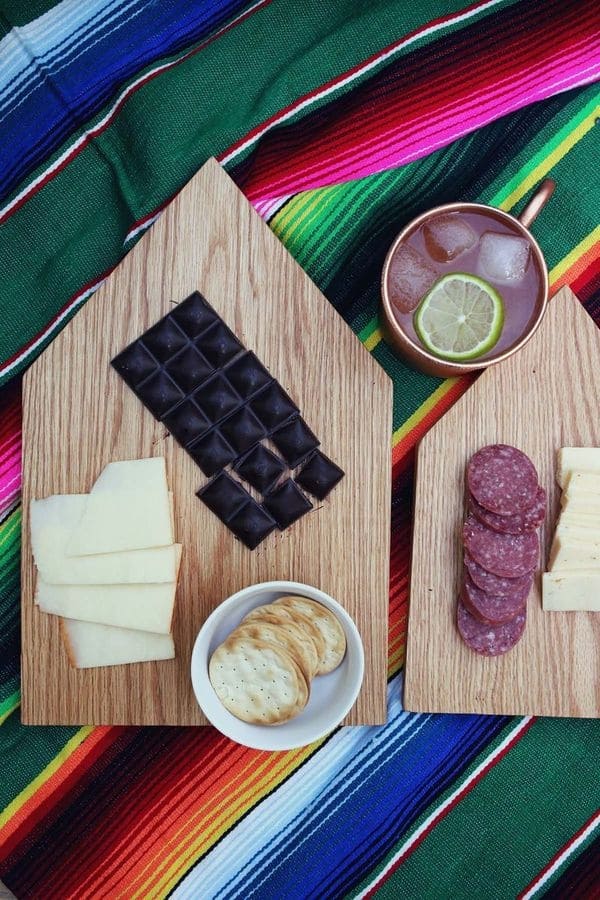 Man Made shares how they made this wooden cutting boards. Traditionally wood is a gift that is given when someone moves in, so this is a great one to give. Learn how they made it.
23. Homemade Cookies Welcome Gift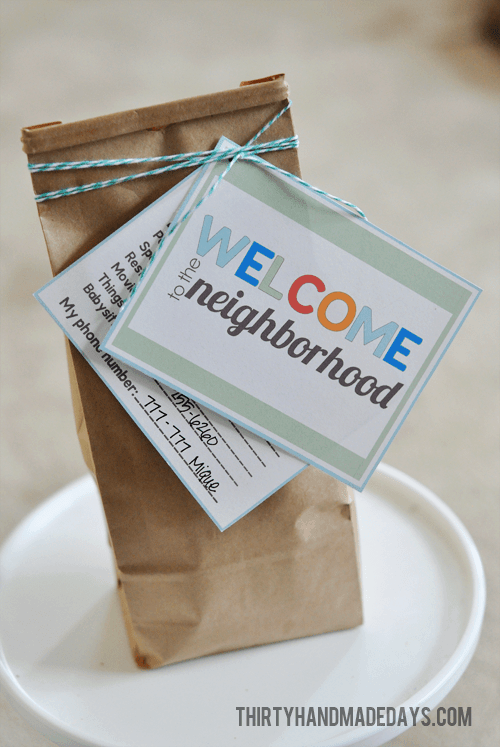 Thirty Handmade Days is sharing a wonderful and affordable gift. Handmade cookies in a bag with a free printable. Quick and easy and very fun for the new neighbor to snack on. Check it out here.
24. Cozy Slippers With Goodies Inside Gift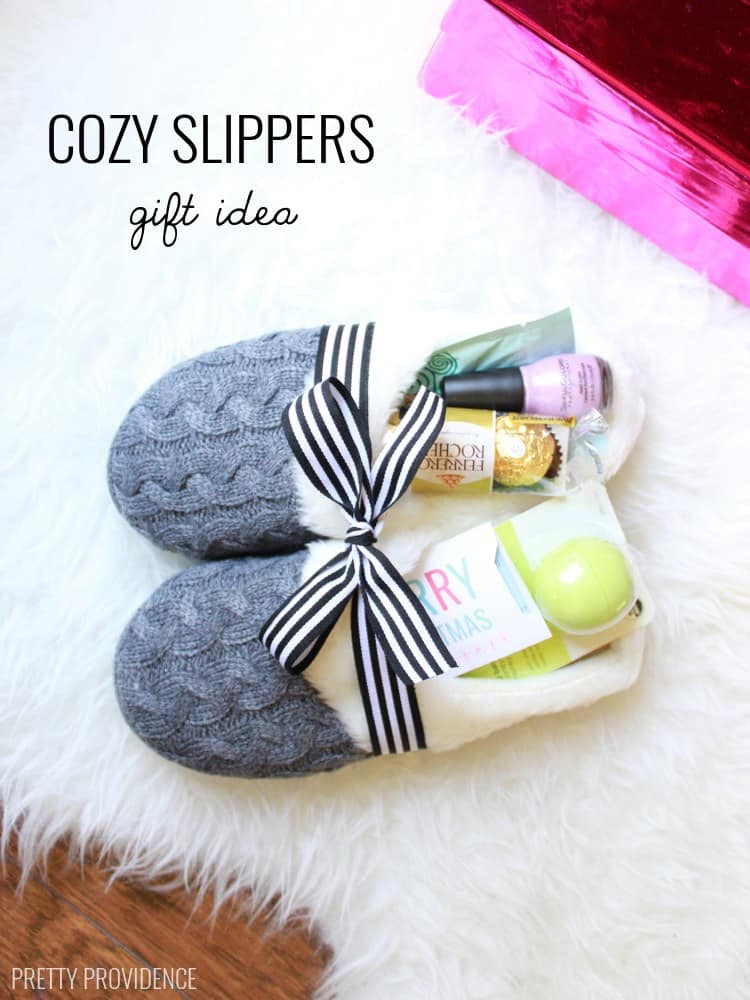 Pretty Providence shares a cozy gift idea for new additions to your block. Fuzzy slippers with lots of tasty and pampering goodies inside. See what all is inside here.
Lots of wonderful welcome to the neighborhood gifts are above. Find one or gain inspiration to be neighborly and tell your new neighbors you are excited they are here.