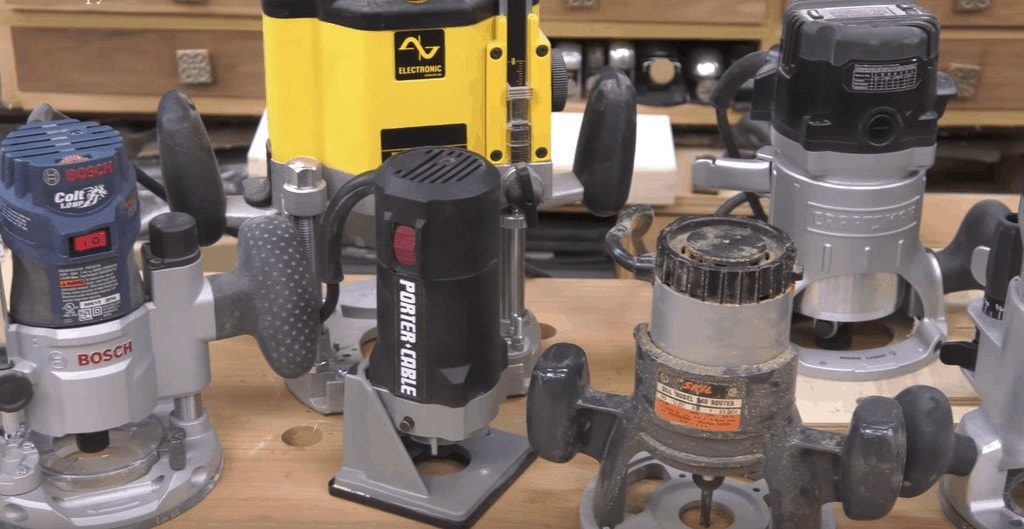 One of the most versatile tools in the woodshop, the woodworking router is capable of turning even the most amateur project into a respectable finished piece.
A router is a handheld tool that hollows out a piece of wood or other material. Commonly used in cabinet and furniture making, this tool also creates fine finished detail on edges or panels.
Routers are just large electric motors in your hands. The type of bit you put in the router chuck will determine how it is used.
Routers can range from very large and powerful, to fitting in the palm of your hand. This buyer's guide will help you choose the best woodworking router for your needs.
Top 5 Picks for the Best Woodworking Router
DeWALT DWP611 1.25 HP Max Torque Variable Speed Compact Router with Dual LEDs
This compact router is small but powerful enough at 1.25HP for most routering applications. This router, weighing about the same as a cordless drill, can be operated with one hand, if necessary. The unit itself is narrow and less than a foot tall, making for easier handling and more precise cuts.
The collet accepts ¼" router bits, and the depth can be set up to within 1/64", up to 1.5". At seven amps and up to 27,000 rpm, this compact router can mill metal, lightly, in addition to wood and composites.
Mounted on the unit are two LED lights and a clear sub-base that ensure all your cuts are visible. The base is only 4" in diameter, making cuts in compact spots much simpler. As well, the d-shaped sub-base gives a flat edge for use up against flat edges.
Things we like:
Compact size provides you with more control, while still maintaining decent power with a 1.5HP motor
Quiet operation compared to full-sized models
Allows for excellent visibility of cuts with the LED lights and clear sub-base
Things we don't like:
The power might not be adequate for more demanding tasks, such as dado cuts in certain hardwoods or milling particular kinds of metal
Bosch GKF125CEN Palm Router – 1.25 HP Max Torque Variable Speed Compact Router
This Bosch router is another compact option that still packs power with a 1.25 HP, 7 amp motor. One-handed operation of this router is feasible, and it fits comfortably in the average person's grip.
A feature of this router is the micro-adjustment feature. There are two dials near the base of the router that allows for macro and micro depth changes to precisely determine the depth of your cut. A depth gauge sits directly above the base and is easy to read as you adjust the dials.
With a max speed of 35,000 rpm, this router can handle most applications. There is a 1" collet and will accept bits up to 1 ⅝" in diameter. However, if using large diameter bits, be careful not to overload the motor with harder materials.
Things we like:
Micro-depth dial helps achieve precise depth on your cuts
Powerful motor for a compact router and only weighs 4 lbs.
Quick shaft lock mechanism negates the need for using a wrench on the collet
Things we don't like:
The base is not clear, and the unit has no LED light, which makes seeing your cut difficult while using the tool
PORTER-CABLE 690LR 11-Amp Fixed-Base Router
For bigger jobs, a compact router will not be able to make some cuts. This PORTER-CABLE does not have that problem. At 1 ¾ horsepower and 11 amps, the motor is powerful. But, unlike compact models, you will need two hands to keep control.
The all-aluminum base and housing make this router rugged. As well, you can adjust the depth to 1/128 of an inch for absolute precision. The tool comes with collets that accept ¼" and 1⁄2" shafts.
While this router isn't light, at around eight pounds, it is manageable with two hands. The molded grips make it easy to hold and move steadily. This PORTER-CABLE is useful if you want to use it regularly for heavy-duty cuts, not precise, finish cuts.
Things we like:
The motor is powerful and can handle most types of wood at 1 ¾ HP, spinning at up to 27,000 rpm
Micro-adjustment dial is easy to read, and simple to use
Price is affordable compared to other routers on this list
Things we don't like:
The single-speed motor is not ideal for use with large diameter bits or precision cutting
Lack of a clear base or LED light make the visibility of cuts more difficult
DeWALT DW618 2-1/4 HP Electronic Variable-Speed Fixed-Base Router
Another non-compact router, this is a full-sized and powerful router for heavy-duty jobs. If you are looking to cut through the hardest wood, like hickory or ash, then this is the router for you.
The motor is a 12 amp, 2 ¼ horsepower beast that tops out at 24,000 rpm. As well, this router allows you to switch cord positions depending on the direction of your work.
You will also like the variable-speed option on this router, which allows you to use large diameter bits at lower rpms. The clear base makes it easy to see all cuts, although there is no LED light to illuminate your work.
Things we like:
Variable speed motor allows for versatile router use – you won't need to buy a more compact model
Alternative cord placement keeps the cord out of the way regardless of the direction of your cut
The tool-free bit installation and extraction speeds up the pace of more complicated jobs
Things we don't like:
This DeWALT router is slightly heavier than other models in this guide
Lack of an LED light makes accurate cutting, even with a clear base, more difficult
Makita RT0701C 1-1/4 HP Compact Router
Another compact router model, this is one of the lightest on the market at less than 4 lbs. The motor checks in at 6.5 amps and 1 ¼ horsepower, which is standard among most compact routers. However, it can put out 30,000 rpm, which is at the top-end for most routers in this guide.
One of the great features of this router is the unique rack and pinion fine depth adjustment. Unlatching a hook and turning a large dial is all you need to do to change depth precisely.
This router is a good option for experienced woodworkers who will use the tool for a variety of tasks. The variable speed setting encourages use with a broad range of bits. The base also fits standard, third-party templates, further increasing the flexibility of this router.
Things we like:
Makita 1-year warranty guarantees the craftsmanship and durability of this router
The rack and pinion micro-depth set feature works well and is very easy to use
The top of the router is flat, which makes turning it upside-down to switch out bits much easier
Things we don't like:
This router does not offer tool-free collet adjustments
Like other compacts, this router cannot handle most heavy-duty applications, such as routing hardwoods
What a Woodworking Router Does and Why You Might Need One
As Steve Ramsey says in this video, nearly every finished wood surface in your home, apartment, or office was finished, at least in part, by a router. Edges, cabinet panel features, joints, inlay, and more are nearly all done with a router.
A router works in one of two ways: held in the hands or mounted under a table. While this guide focuses on hand-held versions, table-top routers are just as popular.
The difference between the two depends on the type of job you are going to do. If you want to make your baseboard molding for the entire house, you'll want a tabletop router because it will accomplish the task faster. On the other hand, handheld routers are better for more complex, finishing tasks that require frequent bit changing.
A woodworking router is also great for beginners looking to get into woodworking. Making simple picture frames or crafts for friends is a breeze with a simple round over bit and a compact router.
Why might you need a woodworking router? If you are considering doing any woodworking project, you'll likely want a router. Let's say you want to make a picture frame. Without a router, the best you can do is a simple square or rectangle of wood. With a router, you can achieve, without much effort, something like this.
How Woodworking Routers Work
A woodworking router is a straightforward machine. It is an electric motor you hold with your hands. On the bottom is a collet that holds a router bit. When you pull the trigger, the motor spins – fast.
Routers have a collet – a large nut – that tightens around the bit to hold it in place. Then you turn a dial to adjust the depth of the bit. The max depth varies per router, and some routers have two dials for more precise depth measurement.
Cutting with a router is simple, but caution is necessary. Router bits, spinning at high rpm's, will sever a finger if you aren't careful.
Using the router, hold it flush on top of the piece of material you are cutting, with the bit against the edge of whatever you are cutting. Slowly and steadily move the router along the piece to achieve an even cut. Watch Bob Vila show you how a pro routers, here.
Many routers will come with guides that attach to the router base, which assists with cut accuracy. As well, you can buy various jigs to work with a router. Creating dovetail joints, mortises for door hinges, and other joints often require a jig with the router.
Finally, many handheld routers have plunge attachments, often sold separately. A plunge router is simply a handheld router that can move up and down by pushing it. Plunge routers are useful when applying designs or lettering on a panel. When a job requires you to pick up and put down the router frequently, the plunge router makes the job much easier.
Things to Look for in a Woodworking Router
Depending on your woodworking needs, you'll want to consider the following important factors before purchasing a router:
Compact vs. regular size. The type of router you purchase depends on what type of project you want to complete. A compact router will suffice for projects that require decorative or rounded edges. However, you'll need a regular sized hand-held for deeper cuts such as a 1" dado or mortise cut.
Table-top vs. hand-held. Although I only reviewed hand-held routers, table-top routers are great for high volume routering. As well, you can use your hand-held router with a router table. Most brands will sell a router table to go along with their routers, like this one from Bosch.
Plunge vs. fixed. While the routers in this guide are all fixed base, many have the option of having a plunge-base accessory. A plunge router, or one affixed with the plunge accessory, is helpful when making precise cuts in the middle of a panel. Fixed base models are better for projects that require a consistent depth of cut, like edging or dados.
Power. The amount of power your router has will determine the type of materials and depth of cut you'll be able to make. Compact routers, at less than 2 HP and eight amps, won't be able to go much more than ½" deep, consistently. As well, they will struggle with harder woods like oak or maple.
Also, the max rpm's of your router doesn't indicate the overall power. Amps do. It is important to note that ¼" shafts won't handle large diameter bits at moderate to high speeds. A 3" diameter bit actually spins much faster at the tip of the blade than at the shaft itself, sometimes over double the rpm! Thus, limit jobs with a compact router to smaller bits and shallower depths.
Woodworking Router FAQ
Q: What bits do I need to go with my new handheld router?
A: Most routers will not come with any bits. If they do, it might be only a small drum bit. Therefore, you'll need to pick up a basic set of bits. Every home improvement store sells them. Once you get comfortable with your new tool, then you can look at more job-specific bits, like these.
Q: Are routers safe?
A: Routers can be one of the most dangerous tools in the woodshop. The motors are extremely powerful, and your fingers sit only a few inches away from steel blades moving at 30,000 rpms. Careful, slow use of the tool is critical. Going too fast could result in hesitation or bumps, and that's when fingers can get chopped.
Also, the huge rpm's of the router means wood chips come flying out at a high rate of speed. Safety glasses are an absolute must, and a dust mask.
Q: I'm new to woodworking. Can I handle a router?
A: Absolutely. Compact routers are a great introductory tool for beginning woodworkers. Rounding over edges or making molding is totally within the grasp of the beginner using a compact router.
Beginners should acquaint themselves with routers as soon as possible. Once you get the hang of the machine, you will realize how many different jobs you can accomplish like an entire set of kitchen cabinets or decorative woodwork.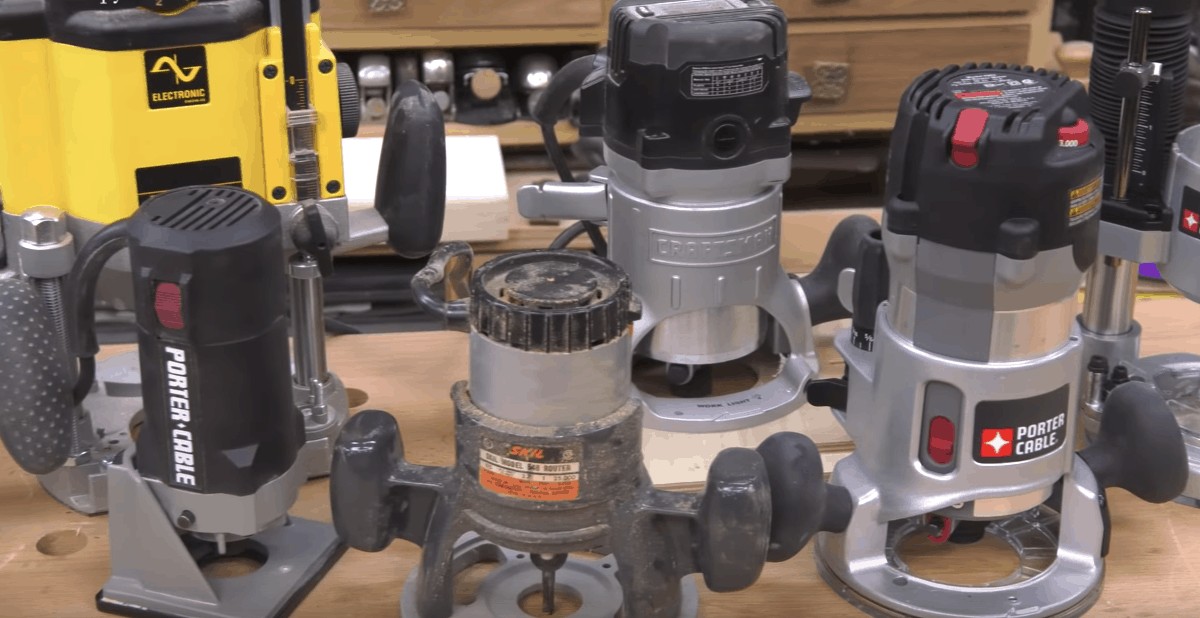 Wrap Up
The DeWalt DWP611 is one of the better compact routers, especially for beginner woodworkers. The clear base and LED light features make it see your cuts as you go, important for those learning how to use the tool properly. While the 1.5 HP motor is average for a compact, the price range is reasonable for any budget.
A more professional solution is the DeWalt DW618 Variable Speed Fixed-Base Router. This non-compact handheld router is powerful enough for deep cuts and hardwoods, at 2 ¼ HP. The variable speed feature sets it apart from many other routers in the full-size category. As well, the option to switch cord placement is hard to find in any other brand. This router is a good, affordable full-sized option.
While the price is always top of mind for anyone looking to buy the best woodworking router, knowing what you will use the router for is more important. Some jobs require a compact router, while others need a full-sized router. This guide will help you determine the best wood router for your next woodworking project. Are you looking for a guide on plunge routers? Check out, The Best Plunge Router – Complete Buying Guide & Reviews.