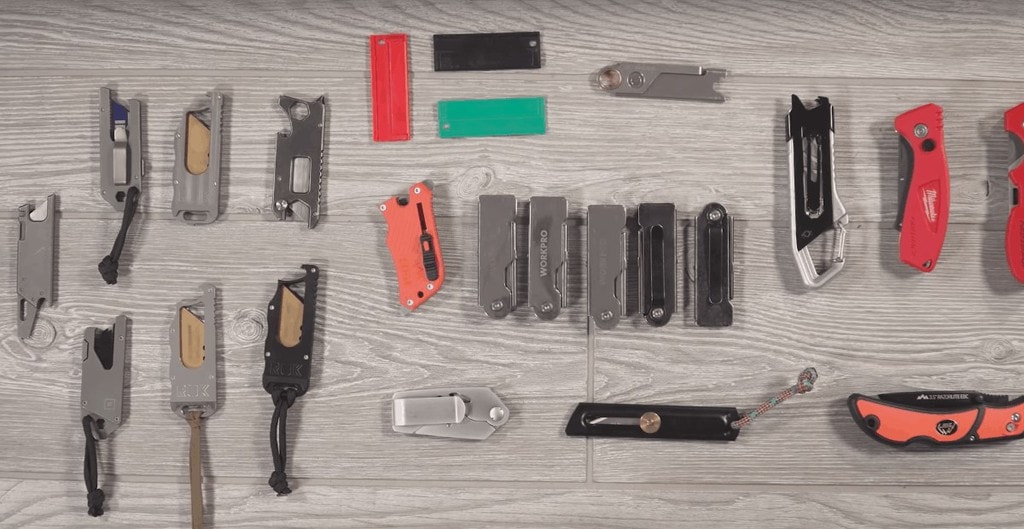 Whether you need it for your outdoorsmen activities, jobs around the house, or as a last effort emergency weapon, the best utility knife is a versatile tool. You can use a utility knife to cut cardboard, drywall, shingles, carpeting, and hard to open plastic.
If you don't have a utility knife or you can't find the one you buried in your junk drawer underneath the Chinese takeout menus, don't worry. We're reviewing the best utility knives to help you make the best buying decision.
Top 5 Picks for Best Utility Knife
The best way to know if a utility knife is right for you is to read reviews and educate yourself before you buy. Based on our research, here are our five picks for the best utility knife.
Kobalt Utility Knife and 11 Blades
Kobalt is a popular home improvement and DIY brand. This knife is a quick-change folding lock back knife, so it's meant for all-purpose cutting. It comes with an easy to remove and change blade feature and 11 blades included with your purchase.
The knife features aviation-grade aluminum on the handle and a stainless-steel belt clip and blade release. We found this blade is useful for cutting everything from cardboard to tile and the blades stay sharp for a while. Even after two weeks of consistent use, you may not have to change them depending on what you're cutting.
Lastly, we find that this knife is smooth and easy to close and open, which is ideal if you aren't too interested in cutting yourself all the time.
What we like:
The knife is easy to fold and open
Has a rust-resistant aluminum and stainless steel build
You can cut a variety of different things with this knife
Blades are extremely sharp
What we dislike:
Blade release is stiff in the beginning
Some customers received the wrong model
Sheffield 12113 Ultimate Lock Back Utility Knife
The Sheffield knife features a patented quick change blade design with a 3.5" lightweight aluminum textured handle. The knife comes in three different colors, all available for the same price, but they do not throw in any extra blades with your purchase.
It comes with a pocket clip, fold out blade housing, and simple to use snap lock and sliding mechanism. You can use this knife for cutting a variety of different things from cardboard to tiles. The only problem that a lot of customers have is that the knife is difficult to open and close. It also doesn't clip into place when you close it, so there is the risk of it opening in your pocket.
What we like:
Combines features of a utility knife and lock back knife
Easy to change blade mechanism
Durable aluminum housing
Features a non-slip aluminum handle
What we dislike:
The knife is difficult to open and close
It doesn't come with any extra blades
Husky Folding Sure-Grip Lock Back Utility Knives (set of 3)
This is in our best utility knife roundup for a variety of reasons. First off, you get three knives for an affordable price. Second, the knife comes with a clean design featuring a textured handle that gives you greater control over the knife even if you are working in wet or slippery conditions.
Something else we like is that it comes with a lanyard loop and a belt clip. You can keep this knife on you even if you don't have pockets which could be essential for some people who are working.
The knife is simple and easy to fold and open, and they offer three new blades with the purchase. Overall, this is a great utility knife from a company that everyone knows and recognizes.
What we like:
Ready to work right out of the box
Simple and easy to fold and open
Durable locking mechanism to prevent the knife from opening in your pocket
Comes with a lifetime warranty
What we dislike:
Some defected models don't close all the way
Knife and blades are too small for some jobs (the knife is 6.5" long)
FC Folding Pocket Utility Knife
This knife is made using anodized aluminum and an anti-slip grip. It's meant to be lightweight and more durable than the competition. The knife features heavy-duty carbon steel blades that stay sharp longer and you can fold the entire knife with the push of a button. It has a lock-back design that safely locks the blade in place when you are not using it.
This knife accepts standard sized blades, and they include five new blades and a knife holster with your purchase. They built-in a quick-change mechanism like all the other knives that make it easy to remove and install new blades.
The company offers a 100% risk-free money back guarantee so if you are not satisfied, they will give you your money back.
What we like:
Locks well into place
Easy to operate and work blade safety
Good for one-handed opening
Comes with five extra blades
What we dislike:
The knife doesn't appear to close all the way
The included holster is low-quality, and most customers threw it away
Milwaukee 48-22-1903 Fastback 3 Utility Knife with 4 Blade Storage
This brand is well known for its power tools and DIY products. With this knife, you'll get a wire clip so you can safely keep the knife on you at all times. You'll also get built-in blade storage so you can keep up to four extra blades inside the knife at all times.
With this knife, you have the option of locking it in two different places. You can keep it open entirely like a standard utility knife, or you can lock it at 45 degrees, which gives you added leverage and the ability to work in tight spaces if necessary.
The knife also has a wire stripping compartment for 12 gauge wire, and it has a gut hook compartment so you can quickly cut things without even having to open the blade.
What we like:
Comes with blade storage
Has a wire stripping compartment and gut hook section
Durable and solid feel
Easy for one-handed opening
What we dislike:
Awkward location of the blade release causes the blade to pop out when cutting sometimes
Some customers we unable to get the blades to fit properly
The Three Different Types of Utility Knives
In general, utility knives are the same. They have a lot of the same features regardless of what type of knife you are looking at. The only different thing is the way you present the blade and the type of blade you have in the knife. Let's take a look at some of the different kinds of utility knives.
Fixed Utility Knives
If you're thinking about a fixed utility knife, you could closely compare this type of knife to a "switchblade." These blades are in a fixed position, and you cannot slide them in or out. When you flip the knife closed, the blade gets concealed; when you flip the knife open, the edge gets entirely exposed.
The primary downside of this kind of knife is the fact that there is no way of concealing the blade during cutting. A lot of utility knives have a safety that automatically retracts the blade if it comes in contact with something blunt. These knives do not have that, so there is an obvious safety concern.
The one advantage of fixed utility knives is their durability and strength. These knives are most useful for heavy-duty jobs like cutting through linoleum or shingles. You can also use these for many big DIY jobs because you get a lot more blade for your money. Instead of having a small one-inch knife sticking out, you can sometimes get as much as four or five inches of cutting area.
Retractable Utility Knives
Now we're on to the most popular and best utility knife for most people. The retractable utility knife will get the job done for most DIY projects, and it's easy to take this knife with you wherever you have to go. You can carry it in your toolbox or keep it in your pocket without having to worry about it opening up and cutting you if you sit down.
The retractable utility knives come with a button or slider that allows you to pull the blade back up inside the knife to offer maximum protection. These utility knives are best for smaller projects or even jobs with children because they provide the most safety. Many retractable utility knives even offer different settings so you can decide how much of the blade you want to expose given the job.
If you are only using the knife to cut boxes, you might not require as much blade area to get the job done compared to if you were cutting tiles.
Retractable knives have their apparent upsides, but there are some obvious downsides as well. These knives are more prone to wiggle and move around because they are only held in by a small piece of plastic or metal, and they operate on a spring. Since they are not welded or screwed into place, you'll find that they move around a lot as they wear down.
One great feature we find a lot with retractable knives is a safety feature that retracts the blade automatically if it comes in contact with a blunt surface.
Breakaway Knives
Breakaway blades are less standard than the previous two, and they are used for lighter duty jobs. The difference here is, the blades are broken into segments so when one wears down, you can break off the blade you are using, and you'll have other blades sitting behind it. You can then use those blades until those dull and repeat the process.
The clear danger with these is the possibility of the blade breaking off unexpectedly during a job. That reason is why these knives are typically intended only for light-duty use like cutting boxing or slicing through insulation. You would never want to use a breakaway blade for cutting linoleum or shingles because the blades would break.
These knives are also usually made with a cheaper plastic instead of reinforced aluminum. With enough pressure, you could also break the knife itself, adding additional risk.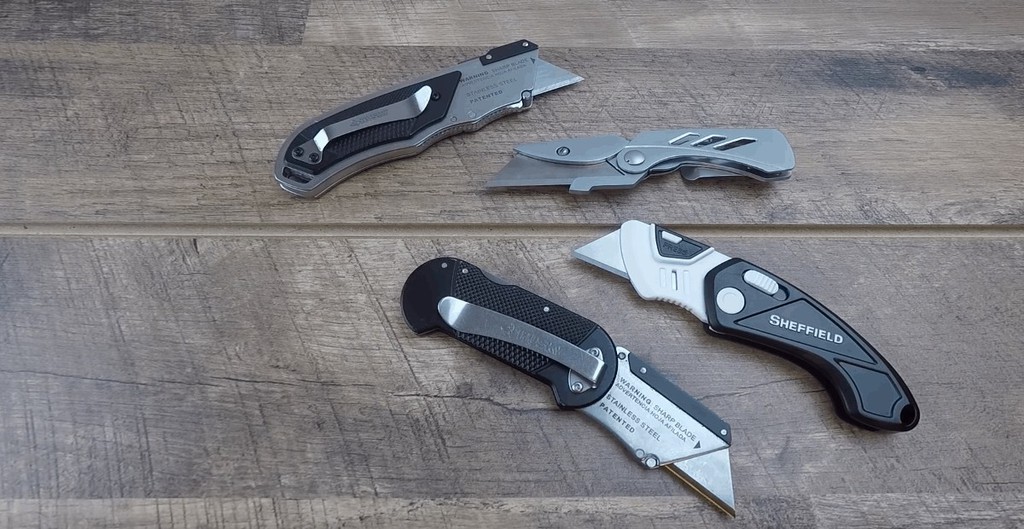 What About the Handles?
Since we're getting into the nitty-gritty here, let's talk about handles. You want to make sure you have the right handle for the jobs you'll be doing with your utility knife. The right handle adds comfort and flexibility to the job, so don't overlook this minor concern. Here are the handles you should look for on the best utility knife.
Metal and Fiberglass – Whenever possible, you want to choose a utility knife that has either a metal or fiberglass handle. Much of the time with retractable utility knives and fixed knives they will always have a metal or fiberglass handle because the entire knife is built using one piece.
If you skimp and go for a cheap knife, you'll end up with a plastic handle that will quickly crack and break under any pressure. The last thing you want to worry about is digging the blade into your hand. If you don't choose a durable handle, you run the risk of injuring yourself.
Ergonomic Handle Shape – The best utility knife will have a handle shape with a design that fits the shape of your hands, simple as that. Some retractable knives have finger indents where you are supposed to put your hand. If nothing else, you want to make sure the knife at least has an indentation that prevents your hand from sliding forward towards the blade.
Regardless of the design and comfort of the handle, you need to make sure always to protect yourself. Wear cut-proof gloves if you are doing any heavy-duty work.
Features to Look For in the Best Utility Knife
A utility knife is a relatively simple tool that doesn't usually have a lot of features. That doesn't mean you should settle for a cheap knife from the dollar store. There are some exciting things to look out for when shopping around. The most important things you should look for with your utility knives are things that make the job easier and more convenient.
Blade Compartment – We're finding this more common in the well-known brands like Husky and Milwaukee, but we imagine the smaller companies will jump on board soon too. Many knives feature a safe storage compartment built-in to the knife. This feature allows you to store your extra blades so you can quickly grab them and throw them in when your current one goes dull.
Quick-change Mechanism – You used to need to carry a bunch of tools with you at all times to change the blade in your knife. Today, we don't have to deal with that because most popular utility knives implement the "quick change" design. These usually have a slider or button that you press that quickly releases the blade and you keep holding it down as you add the new one.
There are some downsides to this because some users report that the blade pops out unannounced. Some also say that the location of the button or slider makes it too easy to accidentally pop the blade out. With every improvement comes another challenge, so be sure to shop carefully and only choose utility knives with the best reviews.
Special Blade Accommodation – A great feature to look out for is a knife that allows you to switch up the blades. There are blades out there for specific jobs like cutting carpet for example. Some knives will enable you to use these specialty blades in their all-purpose knives. If you perform a lot of different jobs with your utility knives, you might find this useful.
Best Utility Knife FAQ
Q: How to sharpen utility knife blades?
A: If you use a retractable and breakaway utility knife, you don't have to sharpen the blades, and it's recommended that you don't. They are disposable, and you can hurt yourself if you try to sharpen them. For a "built-in" you can buy a knife sharpener on Amazon.
Q: Can I use a utility knife to cut carpet?
A: Most retractable utility knives would be the best choice for cutting carpet. You can expose the amount of blade you want to cut through the carpet without cutting the subfloor underneath.
Q: How often should I change my utility knife blades?
A: You'll know. It depends entirely on how often you use the knife and for what purpose. Once you start struggling and you find that you are tearing things rather than cutting through cleanly, it's time to change the blade.
Final Thoughts
After going through this article, which knife do you think is the best? We would recommend the Milwaukee 48-22-1903 Fastback because it offers by far, the most features and it's from a reputable company.
If you're not interested in all the fancy features and you want a sharp knife for DIY jobs, then you might want to go with the Kobalt Utility Knife. This one comes with 11 extra blades so at least you don't have to worry about buying blades for a while.
For the price and features, we would go for the Milwaukee Fastback knife. For more information and instructions on how to purchase click here.