If you're looking for tools that will help you to put together electronic components by hand then you're in the right place. The best soldering station is responsible for getting you an accurate connection for any of the projects that you're trying to accomplish. This is crucial to getting your electronics to work right and look sleek at the same time.
Best Soldering Stations
X-Tronic Model 3020
This sleek and elegant soldering station has a 75 watt soldering iron that offers an ergonomic grip to make it even easier for you to get just what you're looking for when it comes to great lines. Not only that but it's going to be great to hold for longer projects. It has a stainless iron holder, a solder roll holder, a brass sponge tip cleaner and cleaning flux.
When you're done or pausing between projects it has a 10 minute sleep timer that offers an LED display and has C/F function. There's temperature stability to ±3.6°F which will provide you with a cleaner line every time, with temperatures between 392°F and 896°F.
The tip to ground voltage is <5mV-AC110V/60Hz and the entire thing comes with a 1 year warranty that covers parts and labor in case of any kind of damage to the unit from manufacturing. There's also a 30 day money back guarantee that says you're going to love it or you can send it right back. Plus it has Proportional Integral Derivative Technology that cycles every 20 milliseconds to make sure the temperature is right where you want it to be.
Things We Like:
PID technology
75 watt iron
LED display
Stable to ±3.6°F
1 year warranty
Things We Don't Like:
Not ideal tips included
Slides somewhat during use
Wider iron
Weller WLC100 Soldering Station
This soldering station doesn't look fancy, but you're getting a great deal with it. The variable power control can operate between 5 and 40 watts to get a small amount of power or a larger amount. It also has a lightweight iron that fits like a pencil in your hand to give you more comfort and versatility while you work.
The foam grip in that handle has a replaceable heating element and there's an easy to use on/off switch that has an indicator light to let you know that it's up and running. Included in the set is an iron-plated copper tip, safety guard iron holder and a natural sponge tip cleaning pad.
You'll have everything you need to get started right off the bat. This small unit is great for beginners including hobbyists and students. It uses an ST3 iron-plated 1/8 inch screwdriver tip and has a built-in stand for the iron when you're not using it. Not to mention it's compatible with Weller's other tips so you can get a variety of different uses out of the unit itself. This lightweight unit gets ready to go in just a few minutes.
Things We Like:
Variable wattage (5-40 watts)
Large number of compatible irons
Foam grip for handle
1 year warranty
Ideal for smaller tasks
Things We Don't Like:
Tip can be too large for normal electronics
Takes some getting used to
Not ESD safe
Hakko FX888D-23BY Soldering Station
This station is actually really small and lightweight, which means when you're done with it you'll have no problem putting it away somewhere and keeping it ready to go for next time. It's not going to take up much space in your garage or workshop. The colors, bright blue and yellow, can be fun and the handle for the tip is comfortable to hold for an extended period.
It features adjustable temperature control and comes with the soldering iron, tip, iron holder, sponge and cleaning wire. It operates at up to 70 watts and 120 volts and provides excellent thermal recovery of up to 30% compared to other options. It can recover to 350°C 20 seconds faster than similar units and reduces temperature drop if it's being used continuously.
This ESD safe unit can be used very quickly after you take it out of the box and heats very quickly without the grip getting too hot. For beginners and those working on smaller projects this is a great choice.
Things We Like:
Up to 70 watts
30% better thermal recovery
Small and lightweight
Comfortable handle
Comes with everything you need
Things We Don't Like:
Difficult to change temperature used
Takes time to get used to
Too easy to change temperature calibration
Anbes Soldering Iron Kit
This kit actually comes with everything you should need to get started on just about any project and it does that with a very low price. You'll get the welding tool itself and 5 different soldering tips, as well as a desoldering pump, soldering iron stand and tweezers, but that's not all. There are actually 14 different pieces included in this set.
You'll be able to put everything you need into the convenient carry bag so you can take it with you wherever you go and always be ready to get on with your next project. The soldering iron itself operates at 60 watts and 110 volts, with a temperature rating between 200°C and 450°C.
Small in size, it's still easy enough to hold onto and to get exactly where you need it so you'll be able to accomplish higher level projects and electrical jobs as well as try out your new favorite hobby. This ESD-safe unit offers adjustable heat settings so you can get it just where you need it for the current project without having to worry about overheating or underheating the materials that you need.
Things We Like:
Adjustable temperature
Works for smaller projects
Everything fits in bag
Everything is included to get started
ESD safe
Things We Don't Like:
Doesn't always heat to level advertised
Not ideal for higher end projects
Iron holder can be a bit flimsy
Weller WES51 Soldering Station
This soldering station is actually one of our few analog options and it provides a lot of features at a moderate price. It's a little larger than some of the others, but it does have everything you'll need to get started including the holder, a comfortable and slim tip and a sponge.
The tip and handle are designed to be lightweight and easy to hold even for more extensive projects and the tip can be changed out to a variety of compatible options. It is also easy to reset the temperature to fit each tip being used. It operates up to 120 volts and has precise control for the temperature of the unit. If it goes without being used for 99 minutes it actually has an auto shutoff feature that helps protect you and save the life and longevity of the unit itself.
It even includes a temperature lockout to keep you from turning the temperature up too high for your project. There's an LED built in that lets you see whether the unit is locked or unlocked and what mode it's currently in as well. This helps you get the job done right and fast.
Things We Like:
ESD safe
99 minute auto shutoff
LED with information
Analog style
Variety of tips compatible
Things We Don't Like:
Larger and heavier than some options
Bulky and awkward design
Does not come with extra tips
Features to Consider
When you're looking for anything you want to make sure you're getting the right one and that's why we've come up with these features that you should at least consider when you're looking at a new soldering station. Once you know these you'll be able to look at as many options as you want to get your projects done the right way.
Digital vs. Analog
This is really about your own personal preference because some people like an older, analog design better, believing that it gives them more control over what the unit is doing. On the other hand, some people prefer a digital system.
With either one we're talking about the temperature controls and the way that you adjust the setting that you want your unit to work at. An analog system uses dials and knobs while a digital system uses buttons that go up and down. In general, however, a digital system is more accurate but also more expensive.
ESD-Safe vs. Non-ESD-Safe
ESD means Electrostatic Discharge and it's extremely important if you're going to be working on electronic gadgets. What it means is that the unit itself does not built up static electricity, which can then be passed on to the unit that you're working on.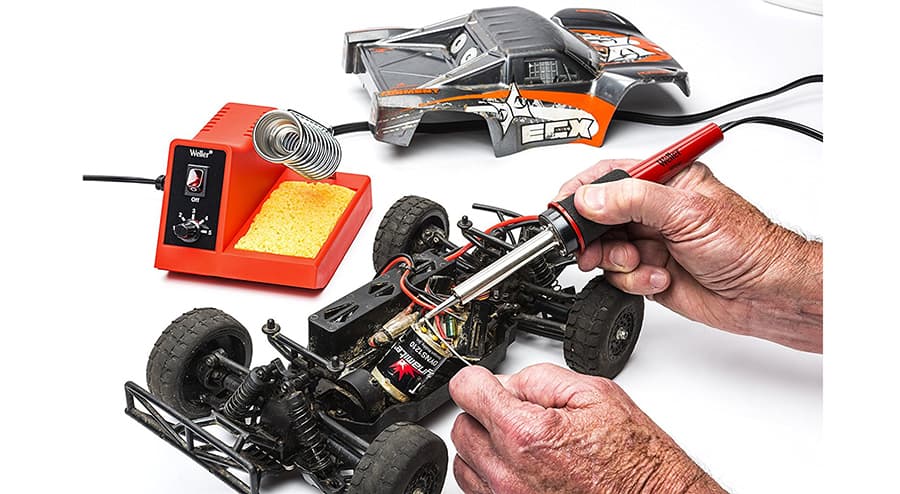 If you're even considering working with electronics it's definitely an important thing to look for. If you're not then it's up to you whether you want to get a unit with this bonus feature or possibly save yourself a few dollars. But know that if you use a non-ESD safe system on electronics you could easily destroy them.
Variable Temperature
You definitely want something that has temperature variability because that's how you're going to get different types of projects done. If your system only has one temperature you're going to have very little flexibility and you'll end up with projects that aren't done right, that are damaged or that can't even be attempted.
The wider the range of temperatures that the system can operate at the more things it's going to be capable of doing for you, so keep an eye on what it has to offer. Temperature controlled units have a thermostat that will turn off the heater if you reach the temperature that you're looking for as well.
This is another important feature that will help you get just the right amount of heat without getting your project too hot. With non-temperature controlled units the iron continues to heat constantly and that can mean that it gets too hot to accomplish a specific project. It's something you'll want to take a close look at when you start looking for your own.
Components
You're going to need specific components to get your unit to even work for you (or at least to make it convenient). The first thing is of course the soldering iron itself. You'll also want a tip that lets you get started right away. A sponge to clean off the solder as you go is a great bonus and so is a holder for the iron when you're not using it.
Each of these things are not necessarily required in any set you buy and many have to purchase them separately, but they'll make the whole thing a lot easier if you pick up something that has it all.
Wrap Up
When it comes down to it you want a soldering station that can get the job done and give you some great features to go along with it, right? You want something that will work on a range of different projects and will continue to provide you with the excellent aspects that you really want.
Our opinion is that the best you're going to get is the X-Tronic Model 3020. It offers 75 watts of power as well as a wide range of variable temperatures and very good temperature stability. You're going to get a whole lot done if you use this unit. Of course, maybe it's just not quite what you're looking for. After all, it's a digital station and not everyone wants that.
So, if you're thinking you want an analog option instead we recommend the Weller WLC100 Soldering Station. This station still provides you with some great features and capabilities, but it's a little bit less capable and it's analog vs. digital. It's up to you which of these is the best option for you.