If you're working on just about any type of project you're going to need saw horses because they help you keep everything right where you need it. Getting easy access to what you're working on, at a height that's comfortable for you, is definitely going to be the most important thing and with any of these sawhorses, you're not going to have to worry about that.
That's because each of these can help you get the job done a whole lot faster. Going through all the different options when it comes to saw horses can be a hassle. That's why we've gone through the trouble for you. We've done all the research and we've found 5 great sawhorses that are going to help you get any job done quickly. That way you don't have to spend all of your time going through the options.
When you have the right sawhorses you'll be able to work on more than just your favorite woodworking projects. You'll actually be able to do just about anything and the support from the right saw horses can make all the difference. Just make sure you're paying attention to all of the important features, but if you're not sure what those are there's no reason to worry, we can make sure you know what you're looking for.
Whether you want something made with wood, metal or plastic we've found plenty of options here and we're definitely interested in helping you to figure out which one is going to work out best for what you're trying to do. There's no reason to sacrifice when you can always find so many great options and you can definitely make sure that you're prepared for different projects no matter what your skill level is. This is going to be a great tool to add to your collection.
HICO Sawhorse
This set of 2 saw horses actually has handles to make them even easier to carry around with you whenever you need to transport them. You'll have no problem getting anything you need to be done either because it can adjust between 25″ and 40″, giving you plenty of height options in between to make sure that you can reach anything or hold up your projects however you need.
They even have built-in mounting holes that can help you use it with a bench top to create a work table, a picnic table or anything else you might need. The pieces themselves each have cross braces that help them to support even heavier loads, up to 1200 lbs. each, and yet they're super lightweight when you need to move them, coming in at only about 18 lbs each.
Made to fold up, you'll be able to easily carry them with you or put them somewhere that they can be out of the way while you're working on other things. They even come with a non-slip rubber mat that keeps them more stable and makes sure that you have plenty of comfort and support in your workspace.
Facts and Features
Set of 2
5 height adjustments 25" to 40"
Fold easily for storage and transport
Support 1200 lbs. each
Weigh 18 lbs. each
Includes rubber mat for support
2×4 Basics
If you're looking for a basic set of saw horses this is the way to go. Not only are you getting something inexpensive, but you're getting something that's durable. You will need to supply your own 2×4's to put it all together, but you'll get all of the braces and supports that you need to keep your new saw horses in great shape.
This DIY set is super simple to complete and you can make it up to eight feet long and four feet high by adding whatever length of boards you're looking for. Just pick them up from the local hardware or home improvement store and you're ready to go. With everything put together, you'll be able to support up to 2000 lbs. between the two saw horses and you'll be able to get two different levels, which means that you can hold more than one thing at a time.
The pieces that you get are high quality and durable, so you know they're going to last a long time and you won't have to worry about anything breaking or falling apart while you're using it. Included in the set are four brackets and eight stabilizer feet. You also get a two-year warranty so you can be sure that you have something high quality.
Facts and Features
Includes brackets and stabilizers
2-year warranty
Supports up to 2000 lbs.
Two levels of support
Made to fit your height or length needs
Worx Clamping Sawhorse
With this set, you're getting something that's definitely going to give you plenty of features because these two saw horses are made with a thermoplastic polymer that can support up to 1000 lbs. together. They include detachable bar clamps for each saw horse and can be attached vertically or horizontally so they fit any kind of project you might need.
Not only that but you'll have cord hooks that make it easy to hold onto wires and cords that you're using if you need your saw horses as a work table. When you're done with them you'll be able to fold them down flat so they can be stored out of the way or carried along with you wherever you want to go.
Fully assembled when they arrive, they are heavy duty enough to take on just about anything and can be used with plywood or any other type of sheeting to create a table to work on. Complete with a three-year warranty, so you know that they are durable and strong enough for anything, these sawhorses are definitely going to work for beginning DIYers or for those who need tools for more extensive work.
Facts and Features
Holds up to 1000 lbs. when used together
Included detachable bar clamps
Included cord hooks
Thermoplastic polymer design
Fold flat for storage
Stanley STST60952 Jr. Sawhorse
With these saw horses, you're getting something that's made by a company we all know for their tools these sawhorses are inexpensive and can support up to 800 lbs. when used together. Even better, they are lightweight and fold down easily, which makes them simple to transport anywhere you may need to go.
When you unfold them there's even a tray to hold all of your tools and other belongings so you'll be ready to go whenever and whatever you want to do. Just pull them open and you're ready to go in no time at all. Made in the USA, these sawhorses have an integral V groove that makes it easier to hold pieces that you might be working on.
When you're done for the day you can fold them flat and store them out of the way or take them with you wherever else you may need to go. Designed to stand at 31″, these sawhorses can even be used with a board to create a durable work table or surface for anything else that you might need.
Facts and Features
Two saw horses included
31" total height
Made in the USA
Support up to 800 lbs. per pair
Integral V groove to hold pieces
Dewalt DWX725
With this system, you're going to have something that can fold up small and easily, which means you'll be able to take it wherever you need without having to worry about space. You'll be able to support up to 1000 lbs. each with these saw horses and you get handles on each that makes them even easier to carry around with you.
Since they're made with a lightweight aluminum you don't need to worry about the individual weight either becomes it comes in at only about 15.4 lbs. This makes them easy to carry on your own when folded or move when they're not. The leg lock levers mean that you can set them up easily and then trust that they'll stay right where you put them.
You'll also be able to rely on the support that they provide either as saw horses or with a piece of plywood as a work table. Complete with a 3-year warranty you're definitely going to have something that you can rely on when it comes to these saw horses.
Facts and Features
3-year warranty
Weigh 15.4 lbs. each
Support up to 1000 lbs. each
Fold small for each transport and storage
Lightweight aluminum construction
Features That Matter
Height
The overall height of the saw horses that you use is important but it's also important to look at whether the saw horses themselves can be adjusted. Will you be able to move them up and down to get the specific height that you need for different types of projects? If you don't need to adjust them there are plenty of single height saw horses out there, but if you're looking for something with more versatility you're definitely going to want to at least consider something that can move around with you.
Material
Pay attention to what your saw horses are made of. They can be made of plastic, metal or wood and each one will give you different benefits and drawbacks. Plastic is generally lightweight and easy to move around, but they don't hold as much weight in general.
Wood sawhorses are generally not able to fold down and can be heavy to move but they do tend to hold a decent amount of weight. The more weight they can hold the more you're going to be able to do with them, but note that wooden sawhorses are starting to fall out of favor.
Folding Sawhorses
If you can fold down your sawhorses you're definitely going to be able to use them more, but that's not important for everyone. If you're going to be moving around a lot, need a way to store your saw horses out of the way or want to be able to transport them, then being able to fold them up is definitely going to be convenient.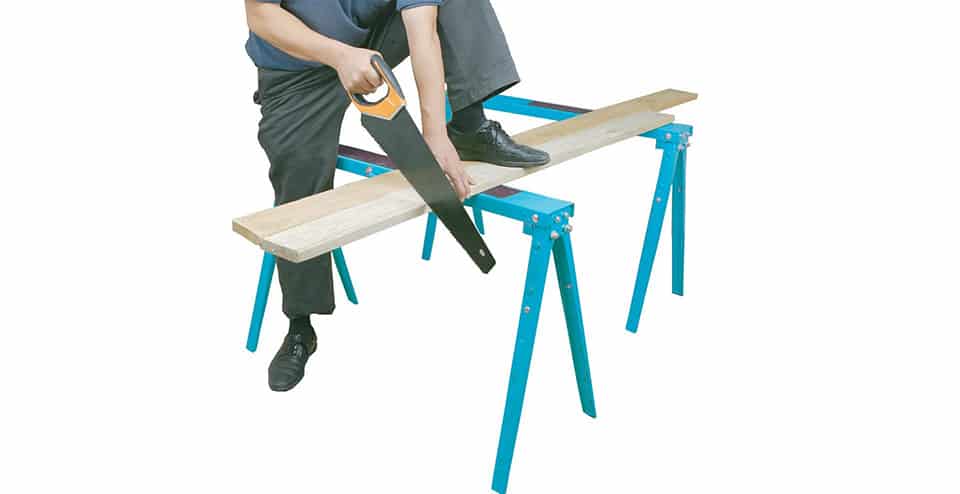 You'll be able to make them smaller and put them in more out of the way places, whether it's for storage or transport. That's definitely going to make it easier for you to get things done.
Storage Space
Not all saw horses have this but some will have a small shelf or something that makes it easier for you to hold and store your tools while you're using them. You may need this in order to keep things together or you may not care either way. It's going to be up to you whether you use a shelf or if you even care to have one, but it's something to at least think about when you're looking at all of the options.
Final Thoughts
No matter what you're planning to do with the saw horses, you want to make sure that you have something that's high quality. You want something that's going to last for a long time and stand up to whatever it is that you're going to do with them. That means durability and strength, but it also means something that has the height and weight requirements that you're looking for. Pay attention to just how your saw horses are going to be needed and then start your research from there.
These options should definitely help you get prepared for whatever you have coming up. Whether you need something for sporadic, light uses or something that's going to work for a long time and make sure it can hold anything and everything you throw at it, one of these will definitely do the trick. Just make sure that you pay attention to your own preferences before anything else, take care of the features that we have mentioned and make the best choice for yourself.