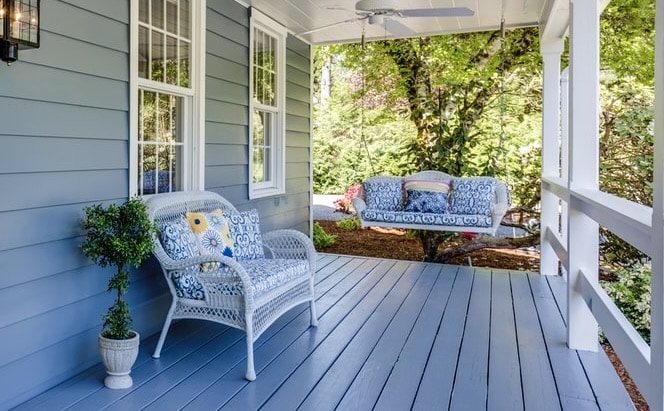 There's nothing more nostalgic than sitting on a porch swing on your front porch during the warm summer months. Porch swings are great pieces of outdoor furniture, they're not only functional but also contribute to the curb appeal of your home. If you're someone who loves spending time outside and want to make your patio/porch comfier this summer, you should definitely add a porch swing to your home. We've put together a list of the 5 Best Porch Swings you can buy in 2022!
Before we begin, are you looking for some general information on tools like miters saws, chainsaws, table saws, etc? Check out our complete resource guides on Miter Saws, Table Saws, Chainsaws, Band Saws, and Circular Saws. These guides have all the information you need. You will be able to find history, the different types of tools, the top brand sold, and more!
Buyer's Guide to Porch Swings
Why Do I Need a Porch Swing?
After a long day at school or work, you should have a spot where you can come home and relax. You may or may not already have a spot, but either way, the porch is a great place to wind down. What would make the porch an even better place to relax? A porch swing.
The porch swing offers you a comfortable place to sit all the while doing something that makes you happy. Whether it be reading a book, drinking a cup of coffee, reflecting, taking a nap, or watching the sunset after a long day. On top of this, porch swings also make a great statement piece for your home exterior.
If you're interested in buying and installing a porch swing, you may find that the options you have to choose from can be overwhelming. You can find modern to traditional options. Up next, you can find what you should consider before buying an outdoor swing.
What Should I Consider Before Buying a Porch Swing?
Material
Material is extremely important when it comes to porch swings, please don't neglect the importance of it. This is because the material the porch swing is made from affects its durability. Here are some material types to consider when purchasing a porch swing:
Wood: One of the best material choices for a porch swing is wood. A wood porch swing is sturdy and can withstand any weather it may be exposed to. You can choose from a variety of natural wood like cypress, teak, pine, and cedar.
Plastic: Plastic is another material type and you can choose between recycled plastic and synthetic resin. Recycled plastic is the ideal choice if you're looking for a plastic porch swing. This is because it's eco-friendly, they look like lumber, but are not as expensive. They are resistant to water and insects, but you may find that it doesn't withstand extreme weather conditions. Synthetic resin is commonly used in wicker porch swings. The polyethylene component makes the porch swing heat-resistant, water-resistant, and durable.
Metal: Metal porch swings are made from either wrought iron or aluminum. Wrought iron porch swings are durable even if they're exposed to extreme weather conditions. For aluminum porch swings, I recommend a cast version. This is because it allows the porch swing to be sturdy, lightweight, and malleable.
Fabric: Stuffed fabric with soft foam paired with an aluminum or wood frame can be the perfect combo for your porch swing. This type of material is resistant to UV rays and water as well.
Climate and Weather Conditions
Since you'll be hanging the patio swing outside, you'll need to consider the climate and weather conditions for your area. This will help you decide what material your porch swing needs to be. Some can withstand all seasons, while others will only work in a mild climate. It's important to note that you should be coating the swing in sealant to prolong its lifespan.
When it comes to choosing the best porch swing for you, you should consider everything. Look at both the pros and cons of the ones you're interested in the most and select the best option that fits your lifestyle and needs.
1. Amelia 2 Person Porch Swing
If you're looking for a classic porch swing, the Amelia 2 Person Porch Swing is a beautiful option. It's a two-seater porch swing that features a minimalistic design, it's available in multiple sizes and colors. You'll easily be able to find the perfect fit for your porch!
2. Tasmania 2-Person Teak Brown Wood Porch Swing
If you're looking for a stylish yet budget-friendly option, I couldn't recommend the Tasmania 2-Person Teak Brown Wood Porch Swing from Home Depot more. It's made from acacia wood, making the wood frame sturdy and giving it a classic design that will pair well with almost every outdoor setup. 
3. Brentley Porch Swing
The Brentley Porch Swing with cover makes it easy to lounge comfortably. It has a UV-resistant polyester canopy and a strong steel frame making it very durable. It's both rust and weather-resistant, so it'll last for seasons to come! The swing has a cup holder and is offered in four colors, beige, blue, navy blue, and terra.
4. Sunday Daybed Swing with Cushion
The Sunday Daybed Swing is the perfect place to cozy up in. This swing is offered in either a white or gray finish, both finishes have a slat-rail architecture. I would like to note that this swing is meant to be placed in an outdoor space that has cover. If you purchase this swing please be sure to put it in a protected spot.
5. Hanging Rattan Bench
Serena & Lily's Hanging Rattan Bench has the perfect balance of chicness and functionality. It includes industrial strength rope, so you can be sure the swing will be secure once it's in place. I would like to note that to preserve the rattan, you should avoid hanging this swing in areas that experience high moisture or humidity.
There are the 5 Best Porch Swings! We hope this buying guide helped you find a porch swing that's best for you! Do you have a favorite porch swing from this list? Do you own a porch swing already? If not, are you considering purchasing one now? Please feel free to leave a comment, we would love to hear from you!
Did you enjoy this article? Check out some other articles I have written: