In this post, we are going to focus on the top 8 horizontal wood fence ideas. The fences we're about to cover are great because there's a wide variety of choices, everyone will be able to find a fence that will fit their needs. Creating a fence instead of buying one will save you money and allow you to create the perfect fence. Horizontal wood fences are beautiful. Keep reading the top 10 horizontal wood fence ideas to find the perfect horizontal wood fence for you!
1. Horizontal Wood Fence with Gabion Wall
Are you looking for a fence that will provide privacy and make a statement? If so, this horizontal wood fence idea is for you. A horizontal wood fence with a gabion wall is a fence with horizontal wood and a section of retaining wire wall. The retaining wire wall is then filled with stones. You can create this fence with the wood, wire, and stone of your choice. However, for the stones it is recommended that you choose ones that are on the larger side. Dues to the wood and retaining wall this fence is very sturdy, so you won't have to worry about anything happening to it.
2. Horizontal Fence with Stained Planks
This fence may seem simplistic but just having the boards horizontal instead of vertical makes it unique. The most fences you see have boards that are vertical, so if you want something different but still simplistic this is definitely the way to go. You can use boards that are all the same size or boards that are different sizes. You can also stain the boards with your stain of choosing. It's all up to you. Either way, you'll get a modern-looking fence.
3. Horizontal Fence with Climber Wall
This horizontal wood fence is great looking and is another fence that provides a great amount of privacy. With this fence, you can have climbing flowers or vegetables planted at the base and they will grow up the fence. This gives them plenty of room to grow and your yard gets some free decor! However, if you're building this yourself you will want to make sure you make the fence very sturdy. Depending on what you plant climbing plants can become very heavy, and you don't want them to bust your fence!
4. Horizontal Wood Fence with Corrugated Metal
Metal may seem like a weird choice of material to use for a fence, but it can actually look really nice! Especially when paired with wood. Corrugated metal is a material composed of sheets of steel that is cold-rolled to produce the pattern seen in them. The metal provides privacy and makes it very sturdy. The wood helps create dimension and complements the metal.
5. Modern Horizontal Fence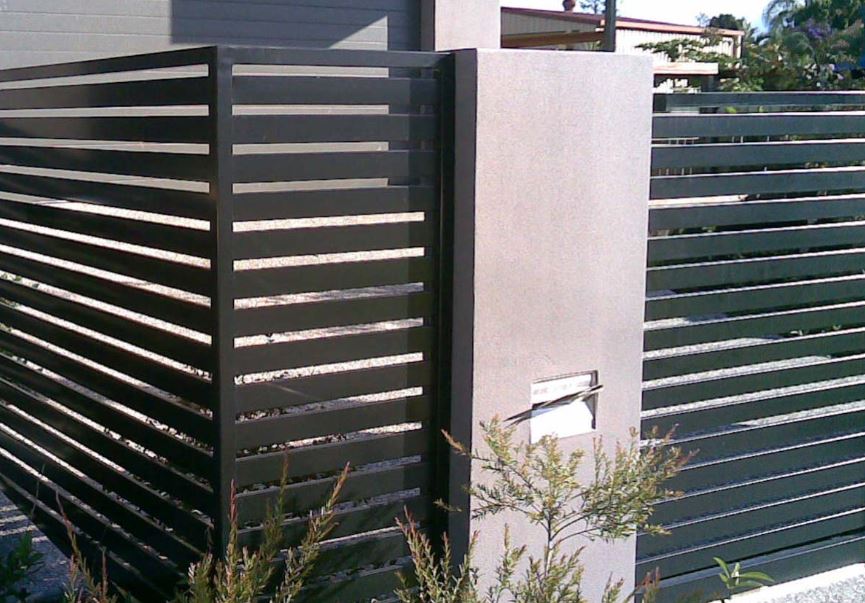 Are you looking for a modern fence for your area? This black horizontal fence is simplistic but great-looking if you have other modern architecture. This fence is a little less private than others, but it still provides quite a bit of privacy. This fence is easy to make but most likely it'll be very time-consuming.
6. Simple Horizontal Wood Fence
This horizontal wood fence is the more simplistic version compared to others. However, it still looks great! You can customize this fence with stain, paint, flowers, etc. The horizontal boards already make it look great but if you want to customize it you can. This fence gives a great amount of privacy and is pretty easy to make. The boards used are all the same size and they're just attached to wooden posts.
7. Horizontal Wood Fence with Concrete Blocks
Are you looking for a super sturdy modern looking fence? If so, this fence is perfect or you. Concrete fences are actually very common, due to the fact that they are very sturdy and safe. They are also quite beautiful and bold. If you don't like the gray color of concrete you can opt for a darker shade of concrete. The wood at the top of the fence adds dimension and allows for some openness You can create this yourself, however, it is recommended that you at least get some help if you don't want to hire a professional.
8. Pallet Fence
Using pallets is a great way to create fences. You can either use the whole pallet or you can cut off the slats and create a picket fence. Creating a fence with pallets is so easy and you can customize them as much as you want. Using whole pallets is great if you have kids or pets, they won't be able to escape through the fence. If you just want a perimeter fence you can use the slats of the pallet and attach them to wooden posts.
There are the top 8 horizontal wood fence ideas! We hope that you were able to find a horizontal wood fence that you can incorporate into your desired space. You saw a variety of styles like simplistic, detailed, modern, etc. The great thing about this is you can create almost anything. Have you ever created a horizontal wood fence before? If so, what was the hardest part of creating it? Do you have a favorite idea from this list? We would love to hear your thoughts, please feel free to leave a comment. For more DIY projects and ideas check out 15 Easy Scrap Wood Projects.