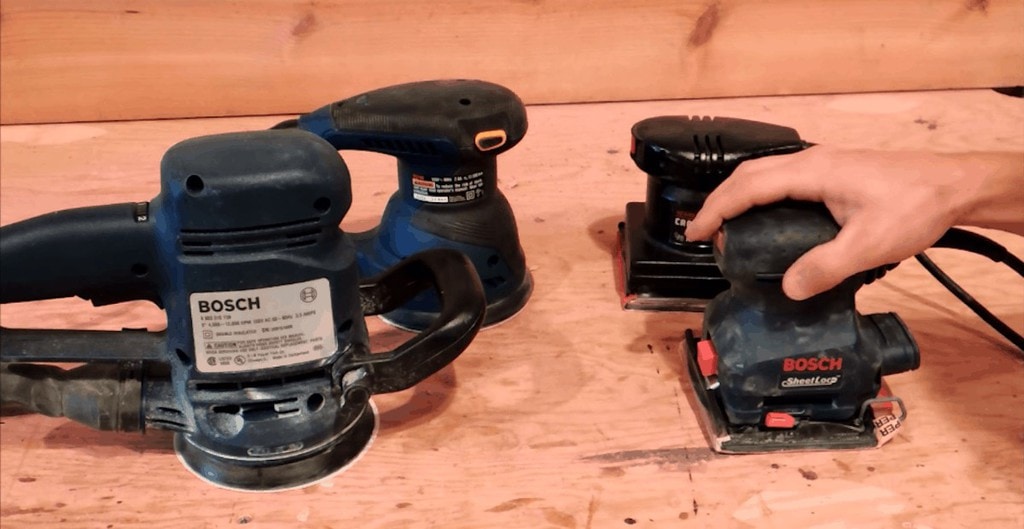 Sanding, a lot of times, can be an enjoyable and even relaxing task. It's relatively mindless, and the fruits of your labor are noticed immediately.
However, it's an even more enjoyable task when you're using the right sander for the job.
This article will go over how, why, and when to use each of the two most common types of power sanders: random orbital (RO), and sheet (finish) sanders. (We'll also touch very briefly on belt sanders, and when to use them).
Additionally, we'll review and provide some recommendations for a few of our favorite brands and models that are out there on the market today. Enjoy!
General overview: Random Orbital v. Sheets
Sheet Sanders
Just from the name alone, it's probably quite obvious what the intended use for a sheet – or finish – sander is. That's right, you guessed it – finish work.
Sheet sanders are generally a good deal less powerful than RO sanders, and are best used for providing that finishing touch – the final preparation step before applying paint, finish, lacquer, stain, or whatever else.
Also called palm sanders or ¼ sheet pad sanders, they typically use ¼ of a standard 9 x 11" sheet of sandpaper. They have a square sanding pad, and most models use some sort of spring-loaded clamp device to hold the sandpaper in place on the pad.
Because of the square shape of the pad, sheet sanders are much more appropriate to use than RO sanders for jobs where you have to get right to the edge of 90-degree angles. (RO sanders use circular pads, so it's virtually impossible to get into tight corners).
Sheet sanders are not meant for quickly blowing through and taking layers and layers of material off (this is a job for your belt sander). In fact, if you try to do so with a sheet sander, you'll probably just end up destroying lots of pieces of sandpaper, without making too much progress on your stock.
Sheet sanders move in a simple back and forth motion, which is nice if you're not wanting to sand through a lot of material at a time. However, it's also the reason that they're more likely to leave noticeable 'swirl' marks on the material, which can be annoying if you're going for an ultra-finished look.
One of the big advantages of sheet sanders over RO sanders is their cost. They're generally less expensive than RO sanders, and you can use standard sheets of sandpaper that can be picked up very inexpensively practically anywhere.
Random Orbital Sanders
Random orbital sanders are prep sanders; they're the more powerful of the two, and are a much better option if you need to take off layers and layers of rough material. (What's the difference between an RO sander and a belt sander, then? Belt sanders are needed for really rough and raw pieces of material that actually need to be evened up before they can even be prepped).
Additionally, RO sanders can be controlled and manipulated much more by the user than sheet sanders can (especially RO sanders with variable speed motors). What this means is that an RO sander can be used (by changing to fine grit sandpaper and applying less pressure) as a finish sander, much more so than a finish sander can be used as a prep sander. (If that makes any sense).
Also, as we already mentioned random orbital sanders use circular pieces of sandpaper that attach to a sanding disc (usually with velcro). The disc moves in a strange (random) motion, where it spins and orbits elliptically at the same time. Because of this unique motion, RO sanders are much less likely than sheet sanders to leave swirl marks on the material.
Unfortunately, random orbital sanders (and the sandpaper that they use), are usually a good deal more expensive than sheet sanders. In our opinion, though, their performance and range of use is well worth the additional price you'll pay.
Here's a really nice video that talks about a lot of these same points that we just mentioned – how to choose and use the right sander for each particular job.
Sheet Sander Pros and Cons
Pros:
Sandpaper is widely available and inexpensive
Best option for finish work
Great for 90-degree angles
Affordable
Cons:
Less powerful (can't take off a lot of material)
Not a wide range of use
Prone to leaving swirl marks
Random Orbital Sander Pros and Cons
Pros:
Powerful, good for sanding layers of rough stock
Wide range of use; can be manipulated to be used for some finish work
Better dust collection (paper and sanding pad have dust-collection holes)
Rarely leaves noticeable swirl marks
Cons:
More expensive
Can't reach tight corners / 90-degree angles
Sheet sanders:
Makita BO3710 ⅓ sheet sander
This is a bit expensive for a sheet sander, but it's a seriously quality tool with a great clamping mechanism, a very solid aluminum sanding plate, and a great dust filtration bag that actually works.
DEWALT Electric Sander, 1/4-Inch Sheet, Orbital (DWE6411)
Like the Makita, another no-frills, super-quality tool that has just a little more punch than your average sheet sander, with its 230W motor that operates at 14,000 orbits per minute.
SKIL Precision Control ¼ sheet palm sander with Microfiltration
This is a heck of a tool, and SKIL makes the same Precision Control series for their RO and belt sanders as well. The dust capture with the Microfiltration system is second-to-none, and the Precision Control system uses lights to let you know when you're applying the perfect amount of pressure – when you're in the 'green zone', you're sanding at maximum efficiency.
Random Orbit Sanders:
DeWalt DWE6423K 5-inch variable speed random orbital sander
We admit to have a bit of a soft spot for DeWalt tools, but it's for good reason. This 5-inch variable speed RO sander is the our favorite, hands-down. It's not absurdly priced, and it'll do as good a job or better as models with a much larger price tag.
SKIL 7492-02 5-inch random orbital sander w/ Precision Control
The RO version of the Precision Control power sander series. We've heard a lot of people say these SKIL sanders with the Microfiltration and Precision Control are just gimmicks, but with a price about half that of the DeWalt, we say it's a heck of a value buy for a good, functioning sander.