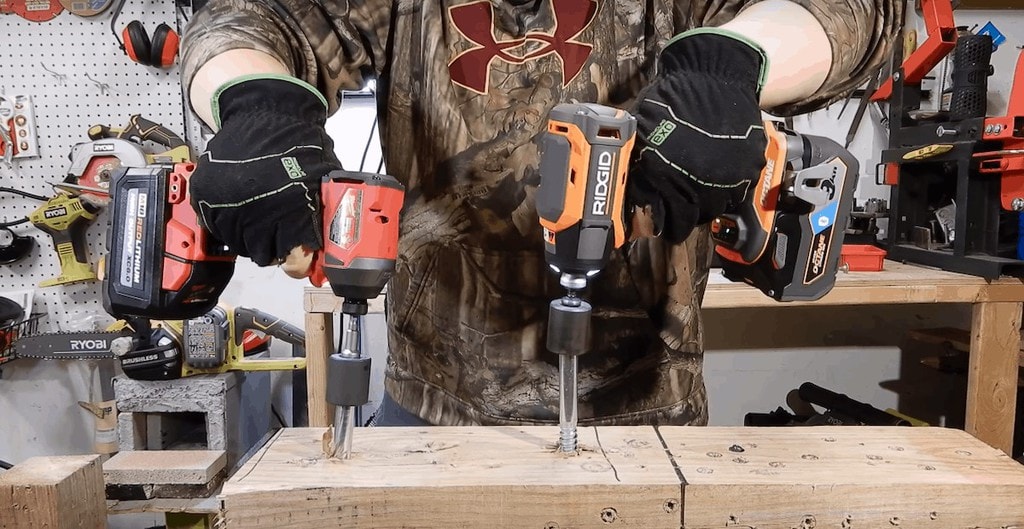 Ridgid has recently come out with their new line of Gen5X brushless cordless tools that are priced pretty darn similar to Milwaukee's renowned M18 Fuel lineup.
That's a pretty bold move; if you're going to price your tools similar to Milwaukee, they had darn well better be able to perform.
Historically, Ridgid has always been a fine cordless power tool manufacturer, even if they've tended more towards the budget side of things (i.e., competing with Craftsman, Ryobi, etc.). Nevertheless, they've always been a reliable brand that offers tools that get the job done at, most importantly, a more than reasonable price. You wouldn't see a ton of professional contractors at the job site with Rigid tools, but for the weekend/part-time DIY'er, they're usually more than enough tools.
Now that they're marketing more towardpper-spectrum of high performance, we figured it'd be relevant to really check out the Gen5X lineup and see if they're worthy of their hefty price tag.
So, if you've been trying to decide between Milwaukee vs. Ridgid, you've come to the right spot. Read on to hear what we have to say about the two brands – you might be surprised.
Ridgid vs. Milwaukee Company Histories
Ironically, both Ridgid and Milwaukee began in 1924, and both were originallywempanies; Ridgid started life in Ohio, while Milinitially knownut in, um, Milwaukee.
Ridgid Company History
Ridgid was originally known for the pipe wrench – they invented it and probably still manufacture the best that money can buy. Since they made it big time and were acquired by Emerson Electrics in the 60s, they've ventured off into every nook amarketed mainlye tool market.
As we said, they've typica brand marketed mostly to the budget crowd – quality products that were affordable to the average joe.
Milwaukee Company History
Milwaukee shared a similar chronology, although quite recently (i.e. within the last couple of decades), they've really taken off and been the representation of the upper-echelon of power tools, consistently putting out the most expensive, best-quality products on the market.
Coincidentally enough, the power tool divisions of both companies are run by the same massive conglomerate – Techtronic Industries. As far as we know, the entire lineup of cordless tools for both companies is manufactured in China.
Ridgid & Milwaukee Parent Companies
Emerson Electric Co
Emerson Electric Co is the parent company of Ridgid. They own a wide variety of brands:
Cooper-Atkins
Copeland
Dixell
EasyHeat
Fusite
Greenlee
Grind2Energy
InSinkErator
Klauke
Lumity
O-Z/Gedney
ProAct
ProTeam
RIDGID
RIDGID Software Solutions
Sensi
Therm-O-Disc
Verdant
Vilter
White-Rodgers
WORKSHOP Vacs
Techtronic Industries (TTI)
Techtronic Industries is the parent company of Milwaukee. They own a wide variety of brands:
Ryobi
AEG
Ryobi
Homelite
Empire
Imperial Blades
Stiletto
Kango
Hart
Hoover
Oreck
Vax
Dirt Devil
Product Line Depths
RIDGID Product Lines
Ridgid sells a wide variety of power tools, lights, stationery, vacuums, and more.
Here are some of the specific types of products you can purchase from RIDGID:
Cordless Combo Kits
Cordless Kits
Drills
Impact Drivers
Miter Saws
Multi-Tools
Right Angle Drill
Reciprocating Saws
Circular Saws
Belt Sanders
Finish Nailers
Random Orbit Sanders
Jobsite Blowers
Jobsite Radios
Hybrid Fans
Heaters
Portable Power Sources
Planers
Rotary Sanders
& More
Milwaukee Product Lines
Milwaukee sells power tools, outdoor power equipment, lighting, hand tools, storage, job site apparel, site lighting, and accessories.
Here are some of the specific types of products you can purchase from Milwaukee:
Cordless Kits
Track Saws
Orbital Detail Sanders
Dust Extractors
Hammer Drills
Impact Drivers
Belt Sanders
Batteries
Chargers
Chainsaws
Pruning Saws
Blowers
Hedge Trimmers
String Trimmers
Mowers
Lighting Testers
Hammers
Screwdrivers
Soft Storage
Plastic Storage
Jackets
Knee Pads
& More
Brand Reputation & Cost of Tools
RIDGID Reputation and Tool Affordability
Let's go over arguably one of the most important sections of this brand comparison. Brand reputation and cost of tools. The general consensus is that Ridgid tools are high quality. Even though this is a smaller company in comparison to other power tool companies out there, they do seem to focus on making products that are built to last.
What really seems to stand out about Ridgid products is there durability. The tools are usually built with high-quality materials, have high impact resistance, and good internal parts that aren't easily impacted by dust or moisture.
Ridgid tools are tools that you want on the job site. However, I would like to mention that even though Ridgid tools are known to be tough, you have to make sure that you take care when using them. This is especially true for big jobs. Some Ridgid products don't have the power needed to perform certain tasks that require heavy-duty tools. They're good tools but may not be for heavy-duty use.
Overall, it's agreed that Ridgid tools are very functional. They're comfortable to handle, they work well, and they don't cost much. In fact, this is one of the things that people are most surprised by. How affordable Ridgid is and the quality you get for the price.
Milwaukee Reputation and Tool Affordability
Milwaukee has a stellar reputation. They gained this high praise ever since they started making lithium-ion power tools. This brand represents only a couple of the key professional brands on the market. However, they definitely seem to go back and forth when it comes to making some of the most innovative tools in the industry.
In general, having reviewed and used literally hundreds of tools from Milwaukee, we find that Milwaukee tools average out to be just slightly higher in price overall. This mostly has to do with the company's focus on specialty trade tools. Said tools also tend to include batteries of a higher capacity in their cordless tool kits.
The tools: Ridgid Gen5X Brushless vs. Milwaukee M18 Fuel Brushless
We'll start off by saying that the Ridgid Gen5X drill and impact driver have the best torque specs in the industry (3,600 in. lbs).
In fact, the impact driver has about 750 in. lbs. more torque than the Milwaukee M18.
But – BUT – make sure and take that with a grain of salt. The thing about torque is, unless you're operating at or near capacity, it doesn't really matter if your tool has 1,000x more torque than a different one.
For example, let's say you're driving a lag bolt that requires 1,400 in. lbs. of torque (that's a lot). If you're driver has a max operating torque of, say 1,900 in. lbs., and a different one has a max torque of 2,600 in. lbs., it doesn't really matter – in theory – which one you use.
Both will drive that sucker in no problem. Now, if you're concerned about speed, what you'd want to consider more in this instance is RPM's and IPM's (impacts per minute). In this regard, the Milwaukee outdoes the Ridgid (3,600 IPM compared to 3,200 IPM).
So, is Ridgid's 'industry leading' 3,600 in. lbs. of torque really worthy of a massive hike in price?
In our mind and in our experience, no.
Like we said, we've always regarded Ridgid as a quality brand, and we still do. But for our money, you'd be much better off going with their more entry-level line of tools with the traditional Ridgid value pricing. If you're looking for primo equipment and really want to go top of the line, and don't mind spending top dollar, we'd definitely recommend going with Milwaukee.
Here's why:
Head to head: Ridgid vs. Milwaukee
The first thing that you'll notice is weight.
The Ridgid is a bulky and heavy drill. We use mostly DeWalt tools, which are renowned for their heftiness due to their all-metal transmissions, and the Ridgid was darn near as heavy as the DeWalt.
The Milwaukee felt like a toothpick in comparison – light, sleek, and super-comfortable in the hand.
Weight and bulk can play a big significance depending on how much use you get out of your tools or combo kit. We suspect this is probably a big reason why Milwaukee tools are found so commonly on professional job sites – when you're working for 8+ hours a day, you're going to want a Milwaukee tool that gives your body a minimum amount of stress and fatigue.
The Ridgid is not that tool.
The next thing we have to mention is performance.
To put it simply, the Milwaukee M18 dusted the Ridgid Gen5X. We tested both on a boat trailer with 5-lug wheels, and the Milwaukee zipped the nuts right off no problem.
The Ridgid tool also got all of them off, but with a lot more fuss. We also did the standard test of driving giant 7 ½" lag bolts through two wooden blocks, and again the Milwaukee far out-performed the Ridgid.
It was actually a fairly major struggle to drive the bolt all the way in with the Ridgid.
The last major thing you'll want to consider is battery life. Milwaukee M18 batteries are renowned for having the fastest charge times in the industry, and it's true; they'll charge from near dead to 100% in less than hour.
The Ridgid batteries were on the charger for about an hour and thirty five minutes before they reached full. Battery drainage wise, Milwaukee's line are also the best in the industry. This comes right back to performance and engineering – the Milwaukee is designed, engineered, and crafted better, which makes it perform better.
The better and more effortless the tool performs, the less strain/drain the battery is going to take.
One last fairly major thing to consider is complete tool lineups; if you're trying to build up a big arsenal of cordless tools all around the same battery platform, Milwaukee has got way more options than Ridgid does. You could build a massive cordless tool collection off of the M18 platform, whereas you'd be a lot more limited with what you can get with the Ridgid line.
What to Consider When Choosing Between Milwaukee and Ridgid
Before purchasing your next tool, here are some things that you should consider:
1. Product Warranty
Product warranties are very important. Both Milwaukee and Ridgid guarantee the quality of their products through their warranties. Most Milwaukee cordless power tools include a 5-year warranty, and some of their specialty tools have different warranties.
Like Milwaukee, Ridgid offers different warranties depending on the type of product. Ridgid power tools are covered with a limited 3-year warranty plus an optional Lifetime Service Agreement. Ridgid also offers a Full Lifetime Warranty on all their tools for material and workmanship defects.
2. Powering Technologies
Both Milwaukee and Ridgid offer a wide range of products, including cordless tools using OCTANE™ or REDLITHIUM™ batteries. Battery life is key when contributing to the quality of a product, for example, a cordless drill. Milwaukee is known for its long-lasting batteries and also provides a warranty on battery products.
3. Tool Weight
Tool weight may not seem like a big deal, but trust me it is. Heavy tools can cause hand/wrist fatigue and can be difficult to use for long periods of time. When you compare Milwaukee and Ridgid tools the Ridgid tools are heavier and bulkier. Milwaukee tools are usually lighter, sleeker, and more comfortable to hold.
Warranty Comparison
Both Ridgid and Milwaukee take great pride in their products and stand behind them with their warranties.
Ridgid
Ridgid offers several types of warranties for its products. They range from 3-year to full lifetime coverage. Which one you get will vary depending on the kind of product you purchase. The company also offers a free Lifetime Service Agreement on some items as long as you have a registration and proof of purchase.
Milwaukee
One thing that Milwaukee offers that makes them stand out from the rest is that you don't need to register the product to get warranty coverage. Milwaukee warranties also vary by product type. Repairs and replacements are free, and they cover defects in workmanship or design.
Bottom Line
So the bottom line, as you've surely deciphered by now, is that the Ridgid Gen5X is – in our opinion – not worthy of competing price-wise with the Milwaukee M18 Fuel. Granted, it is a little bit cheaper, but based on performance, we'd be more than happy to spend the extra money to pick the Milwaukee, which is an incredibly fine tool that's without a doubt one of the best in class in the industry.
Now, we'd like our final word to be that that's certainly not a knock on Ridgid tools – like we've said several times, their entry-level, value-priced lineup is still some of the best tools out there for the price. For pure top-of-the-line performance, though, we just don't think they're yet ready to compete with Milwaukee.
Frequently Asked Questions
Are RIDGID and Milwaukee the same company?
No, RIDGID and Milwaukee are not the same company. In fact, they have different parent companies.
Is Milwaukee good quality?
Milwaukee is often seen as one of the best tool brands that you can purchase today. They offer both brushless and brushed options, and the quality is great for both DIYers and professionals.
Are RIDGID tools worth buying?
Some RIDGID tool tests have found that their tools underperform when compared to other top tool brands. However, RIDGID offers great value for its tools.
Are RIDGID tools as good as Milwaukee tools?
For the most part, RIDGID has several tools that are right on par with Milwaukee tools, but there are some Milwaukee tools that are of higher quality than the RIDGID version.
Is RIDGID better than Milwaukee for cordless hand tools?
There isn't a direct answer to this question. Milwaukee tools are good quality and perform well. RIDGID tools are cheaper but can get the job done. However, one is technically better performance-wise. But RIDGID may be better for you if you're just performing tasks around the house. Milwaukee makes excellent tools for heavy-duty projects and jobs, but if you don't need that, why pay the extra money?
Do Milwaukee batteries fit RIDGID?
Although Milwaukee and RIDGID are in the same market space, they each have their own accessories, including batteries, to fit their tools. This is how companies ensure customer loyalty.