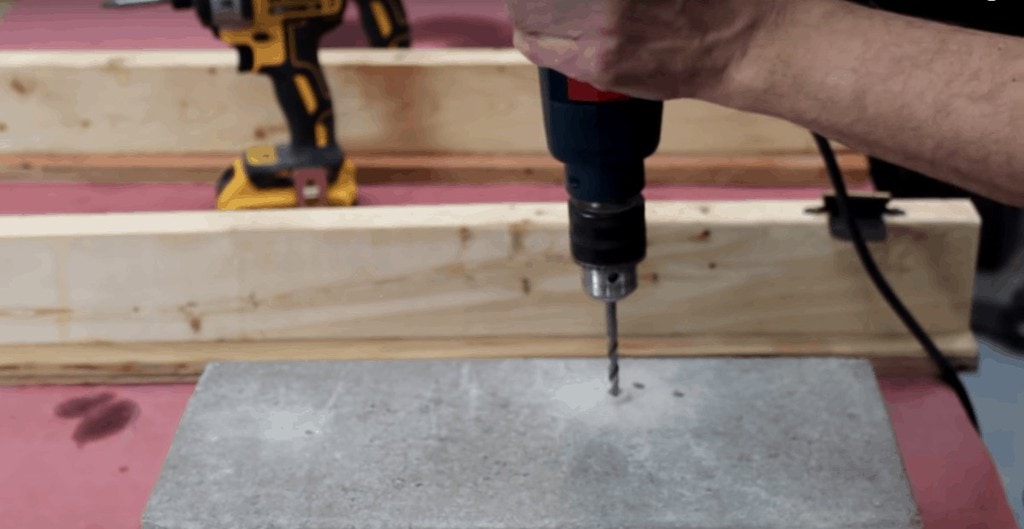 What's the difference between a hammer drill and a regular drill, you ask? It's pretty basic – a regular drill just spins; a hammer drill hammers and spins.
But what does that mean, hammers and spins?
Imagine your drill bit, as it's spinning around, also punching up and down really fast into the material you're drilling – hammering into it, if you will. That's a hammer drill.
The bit doesn't move much at all (maybe a fraction of an inch), but those fast, short, successive blows account for a significant increase in force, allowing you to drill into super hard materials like masonry with relative ease.
A regular drill, on the other hand, just spins.
This is usually all you need; for drilling into most materials (wood, plastics, even metals), a standard drill will typically suffice. Essentially, the only purpose of a hammer drill is for drilling into masonry, such as concrete backer board like Hardiebacker.
The hammering action of the bit actually breaks up the concrete, which allows the bit to drive into the material much easier (if using a hammer drill, make sure you use a masonry bit along with it).
We've covered this subject pretty thoroughly as well in our article, 'What is a Hammer Drill and Which one is Best', which you can find here.
Also, here's a really nice, helpful little video (albeit a bit geeky) that may help you visualize what's going in when a hammer drill is engaged.
Here's another good one that shows the hammer drill in action, and showcases its superiority over the standard drill when drilling into masonry. (The hammer drill he's using is a massive corded drill – you don't need something like this. There are plenty of great cordless hammer drills out there from all the reputable manufacturers, which we'll discuss below).
Do you need a hammer drill and a regular drill?
Fortunately, all hammer drills can function as 'regular' drills as well – the hammering action has to be engaged, or switched on. On pretty much all cordless hammer drills that we've seen, there's a simple button with a picture of a hammer on it that you press to engage the hammer action. Maybe the drill you've got is actually a hammer drill, and you've just never realized it?
If you're in the market and have been wondering what's the best hammer drill, take a look below at a few of our personal favorite selections. We've worked primarily with the DeWalt 20V MAX and Milwaukee M18 cordless drills, but there's plenty of less-expensive options out there as well if you're on a budget.
Top picks: A few of the best hammer drills on the market
Milwaukee M18 Fuel 18V ½" Cordless Hammer Drill
This is one of the best in class cordless hammer drills that you'll find anywhere – period.
The drill we've linked is the tool only, so unless you've already got Milwaukee's M18 battery platform, you'll need a battery (or two) and charger to go along with it.
The M18 line is truly top-notch – they're some of the leanest, sleekest cordless drills out there, they feel great in your hand, they're as powerful as anything on the market, and the batteries are incredible – easily will last all day, and charge from near dead to 100% in less than an hour.
Makita XRH01Z 18V LXT Lithium-Ion Brushless Cordless 1-Inch Rotary Hammer Accepts SDS-PLUS Bits
Another one of the best cordless hammer drills currently on the market – directly rivals the quality and performance of the Milwaukee and DeWalt.
The Makita's are a fair bit less expensive than the Milwaukee's, and they also come with a battery and charger too – definitely a better value buy than the M18 Fuel. In our experience, the performance is just a tad less than the Milwaukee line (mostly in the form of battery life), but with a substantially lower price tag, this is a drill we highly recommend.
Best value buys: Cheapest Hammer Drills
Ryobi 18V ONE+ 18V Cordless Hammer Drill
If you're strictly concerned with price tag, and are looking for the best cheap hammer drill, we've gotta say this is the ONE (see what we did there??) It doesn't perform nearly as well as the Milwaukee or Makita, but for the price if you're looking to add a hammer drill to your arsenal you won't really find a better one than this one for less.
If you're into the corded varieties (we don't think corded tools get enough recognition anymore), take at look at these options – great tools that perform awesome, and are substantially less expensive than premium cordless hammer drills:
SKIL 6445-04 ½" Corded Hammer Drill
Definitely not the best performer out there, but the price is unbeatable, and you'll get much more power and durability out of this than you would with the Ryobi 18V.
DeWalt DW511 Corded ½" Hammer Drill
A much better option than the SKIL, if you're willing to spend about twice as much. This drill will offer more punch and more power than any cordless one you'll find, and is still less expensive than the Milwaukee Fuel or the DeWalt 20V MAX. If you don't mind being burdened by a power cord, we highly, highly recommend this tool.
Regular drills (non-hammer): Best cheap cordless drills
If you don't think you'd ever have any use for a hammer drill, and you simply want a normal, standard drill that you can use from time to time around the house, here's a couple of our picks for the best, cheapest cordless drills out there. These things are dirt cheap, but will serve you well for normal around-the-house jobs.
Porter-Cable PCC606LA 20V ½" Cordless Drill
It's a little on the 'high end' of the word cheap, but this is a great standard drill if you're looking for your first one, or possibly even a backup to have around the garage.
Black and Decker SS12 12-V Cordless Drill
Okay okay, we know a lot of you might be scoffing at the fact that we've put a Black and Decker 12V tool up here, but keep in mind, we're just considering cheap cheap cheap. If anyone out there can find a better, brand new drill out there for this price by all means please oblige us all!
Summary/Bottom Line
So, to summarize:
Hammer drills 'hammer' as well as spin – their sole use is essentially for drilling into masonry, where the concrete has to be broken up in order for the drill bit to penetrate effectively.
Regular drills just spin. Nothing special. They rely on high RPM, the downward force of your arms, and a good, sharp bit.