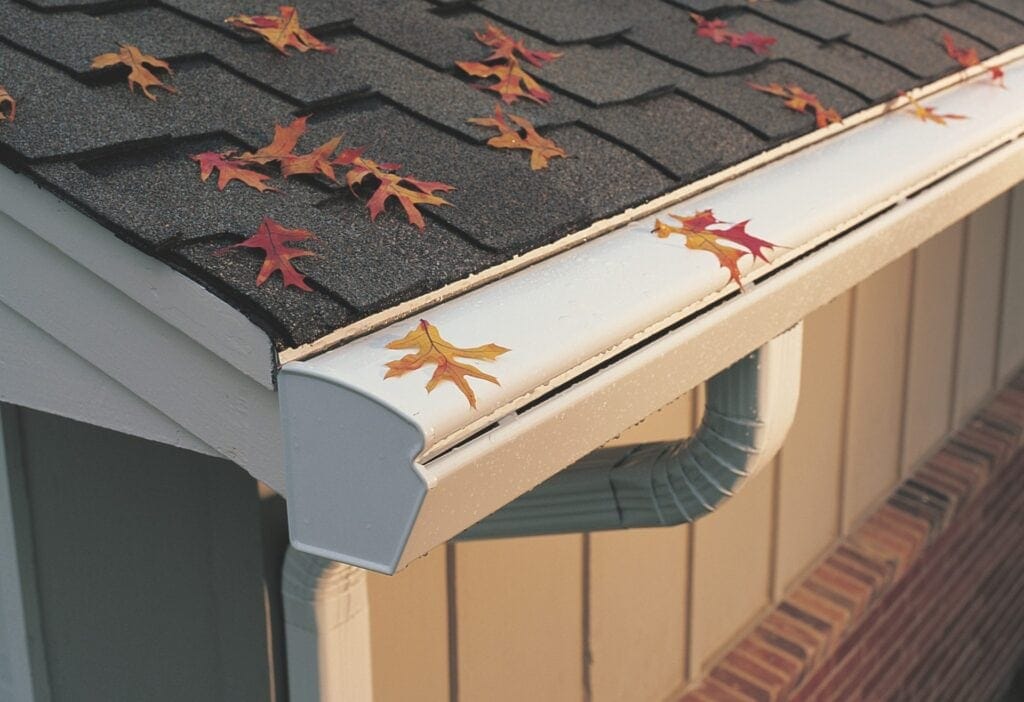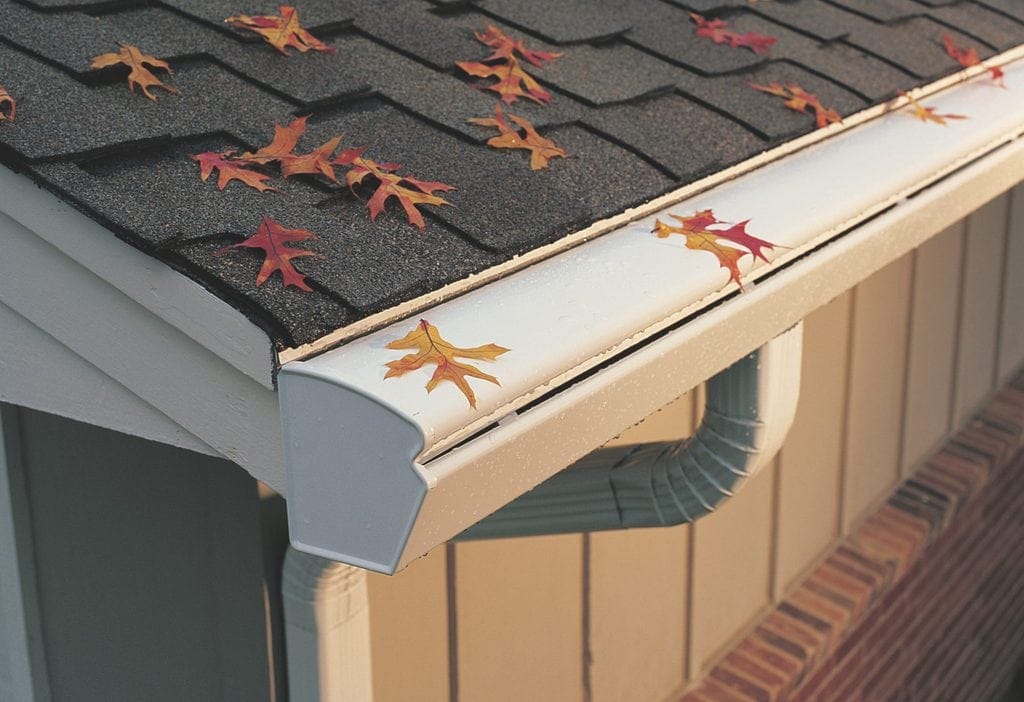 Few things can cause more extensive and extensive devastation to your home than water damage. For that reason, clean and healthy gutters are an essential part of a well-protected household. Gutter guards come in many shapes and sizes, and different styles serve different purposes. One thing is true across the board, however: gutters with guards last longer than ones without guards.
There are tons of different types of gutter guards, and they all offer their distinct advantages and disadvantages. You don't need to sift through all the junk yourself (like you'll wind up doing without good gutter guards). We've reviewed the best gutter guards you can buy in 2020 to keep your gutters cleaner, sturdier, and even better-looking all year long.
Editor's Choice
The Amerimax 636025 Lock-In gutter guard is the ultimate gutter guard system for any home in even the wettest and most forested environments. These sleek (yet discrete) gutter guards protect your gutters better than practically any system on the market, even the so-called "innovative" systems that come at twice the price.
You can enjoy the Amerimax 636025 gutter guards whether your structure is fitted with 4″, 5″, or 6″ gutters made out of either steel or aluminum. They're designed for K-style, which are among the most common gutter types in American homes, so if you aren't sure what type of gutters you have, it's very likely that yours are compatible with the Amerimax 636025.
These metal mesh gutter guards block almost all debris, allowing your gutters to drain water easily. Preventing debris from jamming up your gutters means less time cleaning and maintaining the gutter system and less of a chance of your house sustaining expensive damage. The mesh is fashioned from a powder-coated steel material that ensures durability and longevity so that you won't have to replace your gutter guards for many seasons to come.
Being an open-weave metal mesh, the indistinct coloring blends in with roofing of different types and colors, whether you have a roof made from bright stone slates or darker asphalt shingles. In fact, the texture of the mesh blends particularly well with the texture of shingles, transitioning from a grainier surface to a smoother and more open surface appearance – if you even notice that it's there in the first place.
The Amerimax 626025 installs in a breeze with its ultra-simple "lock-in" installation system. All you have to do is slip the guard under the edge of the shingles and affix the front of the gutter guards to the edge of the gutter. Strong winds and falling debris are no match for this steel mesh once it's fastened tightly in place atop your gutters.
Amerimax offers a limited 10-year warranty on all of their gutter guards, and they're made 100% right here in the USA. Don't settle for anything but the best for your home. Secure your gutters with our top pick for the best gutter guards you can buy today.
Best Value Gutter Guards
If you're looking for the best guards for gutters for the best value, the A-M Aluminum Gutter Guard with Mill Finish comes at a fantastic price per foot while offering superior protection against debris versus other budget-price guards on the market. For a fraction of the cost of high-end gutter guards, you can protect your system with a guard that not only protects your home but looks both sleek and discrete, as well.
Not only is it a fantastic value among budget guards, but it's hands down the best stainless steel gutter guard around. The design alone sets it apart from other gutter guards; it's made from a heavy gauge all-aluminum and stainless steel that won't rust, rot, or break down. In fact, A-M guarantees as much with a lifetime warranty!
The A-M Aluminum Gutter Guard with Mill Finish is diverse enough to fit almost any gutter system for residential or commercial use. While it's specifically made for hidden systems, it will fit all hangar types including K-style. As a result, it's a wildly popular choice among homeowners and business owners alike. Once you're comfortable installing your A-M Aluminum Gutter Guard, you'll be able to do it again and again on nearly any property you own.
While the A-M Aluminum Gutter Guard has an attractive metal finish, it's nearly impossible to spot from the ground. At higher levels, it's discrete and blends right into the gutter system as if it's supposed to be there in the first place. And it is, right? Your gutter guards aren't there to be a stylish trim around your roof. They're there to serve an important purpose in guarding your gutters and your home. The A-M Aluminum Gutter Guards are discrete, practically hidden from view, so your home maintains the look and ambiance it always has.
Don't let the small holes fool you. The A-M Aluminum Gutter Guards are built to be so durable so that they can withstand even the heaviest downpours and even snow pileups. Each foot of gutter guard is perforated with 380 holes and is reinforced with ultra-strong steel and aluminum to keep them in like-new condition for many years.
All you need to install these 100% USA-made gutter guards is a few 1/2″ zip screws, and the rest is easy. The A-M system comes with easy-install tabs so you can effortlessly affix them to seamless joints. Any handy homeowner should be able to self-install these guards, and doing so will protect their home at a much fairer price than the other more "premium" names in gutter protection.
Traditional gutter guard systems are a fantastic way to protect your home, but they're expensive, bulky, and can be tricky to install. Moreover, the best gutter systems just don't experience much trauma and thus may not need the protection of full gutter guards. But there are different types of gutter guards. Downspout gutter guards are the best way to protect your downspouts from clogging up without spending tons of unnecessary money to guard gutter systems that don't need it.
Some downspout gutter guards are little more than a wire mesh that sits overtop of the downspout to block debris. Those work well enough but require just as much cleaning as dirty gutters themselves. So, what's the point? The Wedge Downspout Gutter Guard actually helps to self-clean your downspouts with its unique wedge-shaped design. This shape causes leaves and other debris to get pushed over the edge and even blow off the side of the house. You'll find yourself cleaning your gutters and downspouts half as often with the unique Wedge Downspout Gutter Guard.
Most homes are built with standard 5″ gutters, so the Wedge Downspout Gutter Guard is most suitable for such gutters. However, they fit any 2×3″ downspouts, so even if you have a nontraditional gutter system, the Wedge may still be the perfect fit for your home.
Downspout gutter guards are easier to install than full-on gutter guards because they're smaller and more isolated units. There's no fussing with connecting the system to your shingles or roof. The simple no-tool installation immediately starts cleaning and protecting your downspouts from the time you drop the Wedge into place.
All of the needed connectors for installation are included right in the kit with your Wedge Downspout Gutter Guards. Made 100% in the USA, it ships in one flat and convenient package but then assembles to its full size in mere minutes. The manufacturer proudly offers a 30-day no-risk moneyback guarantee should you find that the Wedge Downspout Gutter Guards don't quite fit your home or just aren't the right fit for you.
Not satisfied with more traditional gutter cover systems? Are metal gutter guards too heavy, bulky, or difficult to assemble and install? For the best gutter with guards that you can set-and-forget, pick up the GutterBrush Simple Gutter Guard for 5″ gutters. There's no gutter protection system around that's simpler to install. No messing with shingles, in fact, absolutely no hardware at all.
With the GutterBrush Simple Gutter Guard, you simply slide the brush sections into place, one after the other. There's no need to affix them to your roof, shingles, or gutter system. The brush sits nicely in place blocking out debris while allowing air and water to flow freely. The cylindrical bristles are durable but lightweight ensuring that even the most sensitive gutter pipes can bear the weight of these products.
The GutterBrush Simple Gutter Guard doesn't require any tools, connectors, fasteners, or even any cutting. The pre-cut sections are designed to fit most gutter systems, and each package comes with nine 36″ sections and two 18″ sections. Simply rip open the package, climb up to the roof, and drop the brushes in place to start protecting your system in an instant. It's never been easier for even a first-time homeowner to install their own gutter protection against debris without the help of an expensive professional.
With an easy-install system like the GutterBrush, you can save tons of money on the gutter and home maintenance. The GutterBrush system ensures that water will keep flowing freely, avoiding any nasty damage to your shingles or water damage to your house.
Metal gutter guards are bulky and heavy, and some gutter systems simply can't handle them. Other times, metal gutter guards just simply let too much small debris in, meaning you still wind up cleaning your gutters more often than you'd like to. That's where foam comes in. A good foam gutter guard seals your gutters against debris better than many a traditional metal gutter cover.
The GutterStuff Pro foam gutter filter insert blocks leaves and debris in order for even significant amounts of water to flow easily and quickly. This offers the utmost in water damage protection for your house, which is what a good system is all about. Mesh gutter guards keep your system clean, too, but can result in a lot of splashback under heavier rains. Foam gutter guards to a better job of trapping water in and trapping debris out, keeping your roof, shingles, and house dryer and safer.
Like all of our top picks for the best gutter guards, the GutterStuff Pro foam gutter filter insert is incredibly easy to install, even for someone who's never worked on their gutter system before. It says "insert" right in the name because that's all you have to do to install this foam system in your gutters. Just set it in place for immediate high-quality protection against leaves and debris at an ultra-affordable price.
GutterStuff Pro users love this gutter guard because it's absolutely the most invisible gutter guard you can buy. Unlike almost every other gutter guard available, the GutterStuff Pro foam gutter filter insert sits down completely inside of the gutter and doesn't stick out over the top or cling around the edges. It's impossible to see from most angles unless you are looking down into the gutter from above. If you just can't find a gutter guard that looks good on your home, the GutterStuff Pro is the best way to keep protecting your gutters without compromising your house's curb appeal.
GutterStuff's Pro foam gutter filter insert offers maximum protection from the elements while keeping your gutter system clean and safe. GutterStuff is so confident that they make the best gutter guards that they offer a 15-year warranty on the Pro and all of their other gutter protection products. Don't take a chance with your home's safety or even its looks. Try the ultimate foam gutter protection system in the GutterStuff Pro 5-inch K Style foam gutter filter insert.