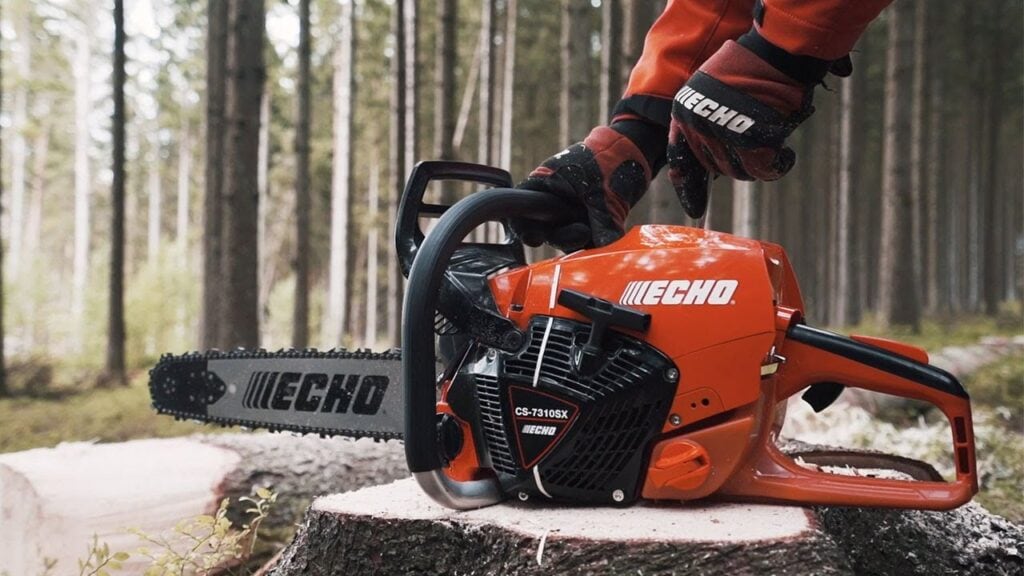 Are you currently looking to buy a chainsaw? Have you narrowed it down to choosing between an Echo or a Stihl model? Don't worry, you're not alone. The good news is selecting either brand will mean you're getting an excellent tree-cutting machine. But, a choice has to be made, so we've compared Echo vs Stihl so you know exactly what to choose.
Echo chainsaws are lightweight, powerful, and geared towards being easy to use. Stihl manufacturer their parts in-house, and they also have a larger range of models than Echo does. Because of this Stihl has the upper hand when it comes to features.
We would like to note that when comparing these two chainsaw manufacturers, we found that they both create amazing products. One manufacturer may be deemed better than the other due to the innovative designs that they incorporate into their products or even just a simple feature that the other one lacks.
Before we begin, are you looking for some general information on tools like miters saws, chainsaws, table saws, etc? Check out our complete resource guides on Miter Saws, Table Saws, Chainsaws, Band Saws, and Circular Saws.
Brand Histories
Stihl
Stihl is a German manufacturer and they're known for their exceptional product quality. Stihl models are durable and hard-wearing.
Echo
Echo is a Japanese company and they're known for being reliable and having excellent service.
Features
Both Stihl and Echo chainsaws feature kickback protection and automatic chain oiling. While Echo chainsaws use chain brakes activated by inertia and plastic kickback guards., Stihl chainsaws on the other hand solely rely on chain brakes. While this technically makes Echo chainsaws slightly safer, users may find that the plastic guard on the Echo chainsaws gets in the way.
Echo chainsaws come with air pre-cleaners to help with filtration but they do lack anti-vibration handles and tool-free chain-tension adjusting. Stihl models do have these features. Stihl chainsaws also have an easy 2 Start system, which makes the ignition process much easier.
Warranty and Price
We're going to base the price off of the most popular chainsaws from each company right now. The Echo CS-370 chainsaw costs $279 and the Stihl MS 210 C-E chainsaw costs $290. As you can see there's not much of a price difference. Echo chainsaws come with a five-year warranty and Stihl chainsaws only come with a one-year warranty.
Build and Design
When looking at Echo vs Stihl our team of experts found that Echo chainsaws are lighter than the competitors. Because of its light weight, it makes it the better choice for cutting fallen trees and can make a noticeable difference over time when you're working for a long time.
Engine
The engine in these chainsaws really has no comparison between the two companies. Stihl has advancements on the technology side with each of their products, including emission reduction and fuel efficiency.
After an extensive look into Stihl and Echo and comparing their chainsaws, our experts appreciated the lighter weight and power Echo chainsaws provide but they just don't compare to the functions that Stihl chainsaws offer.
Parts and Accessories
You always want to keep parts and accessories in mind because when you purchase a chainsaw you're purchasing more than just the saw itself. You're also buying the parts and accessories that come with it. The more pieces your tool comes with, the more safe and versatile it will be. For example, plastic kickback guards and chain brakes are safety features that not all chainsaws come with. If you find a chainsaw that you like that also has these features, then it's a winning choice.
Models
Stihl makes 33 gas-powered chainsaws including the MS 460 Rescue. The MS 460 Rescue is a heavy-duty model that was specifically designed for emergency crews. Stihl also offers three electric chainsaw models. Echo makes 13 gas-powered chainsaws, including two that were designed specifically for cutting trees. One of Echos' more popular models is the CS-370.
Fuel Efficiency
​​It's known that Stihl chainsaws have more technology-based features, and our team noted this during the comparison. Stihl outperformed Echo for fuel efficiency because they made their saws with this in mind. You end up saving a good amount of money down the line if you opt for a model that has fuel efficiency in mind, which is why Stihl is the winner for this round.
Safety Features
When handling a dangerous tool like a chainsaw it's necessary to understand all the safety features that come with your chainsaw. We recommend looking for chain brakes, a plastic guard, and other safety features to protect you.
Both Echo and Stihl saws offer safety features that will keep you out of harm's way when using the tool.
Problems
Both Stihl and Echo chainsaws produce fumes, smoke, and a lot of noise. The Stihl chainsaw produces 102 decibels, while the Echo chainsaw produces 99 decibels. An added downside with Echo chainsaws is that they come unassembled.
Echo vs Stihl: Which Brand is Better?
Echo chainsaws are lighter and have a longer extended warranty than Stihl. While Stihl products come with fancy features like the ergonomic design and air filtration the Echo chainsaws lighter body makes them better choices for cutting firewood and trees.
Wrapping Up
There is Echo vs Stihl Chainsaw Comparison! We hope this buying guide helped you find a chainsaw that's best for you! Do you prefer Echo or Stihl chainsaws? Do you own a chainsaw already? If not, are you considering purchasing one now? Please feel free to leave a comment, we would love to hear from you! 
Did you enjoy this article? Check out some other articles I have written: