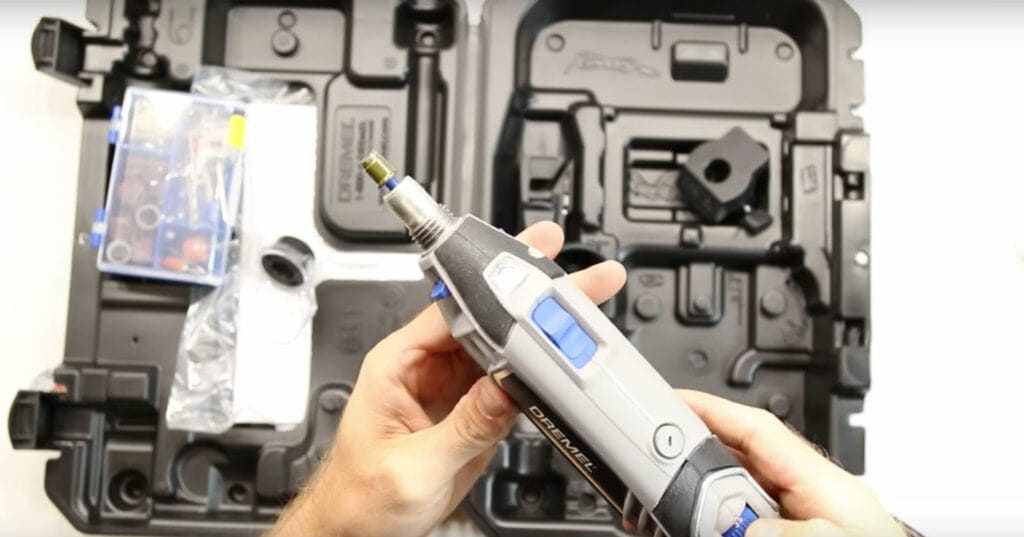 A rotary tool is one of the most versatile tools around.
Many people mistakenly compare them to a power drill or a router. And, while it's true they're capable of drilling and routing, they're able to do so much more.
A rotary tool features an interchangeable tip or bit that accepts a wide variety of attachments and accessories for uses ranging from drilling to routing to sanding to polishing and many more.
Many brands now produce rotary tool kits. But Dremel remains one of the best names in the business. Although they sell a variety of models, the 4000 and 4200 are two of the very best.
Here's how the Dremel 4000 vs Dremel 4200 rotary tool kits stack up against each other.
More on Dremel Tools:
Rotary Tool Buyer's Guide
Last update on 2020-12-02 / Affiliate links / Images from Amazon Product Advertising API
A basic understanding of rotary tools makes the buying process much easier.
Not only will you know what to look for and what to avoid, but you'll have a better idea of the specific features that you require.
Here's what you need to know:
Rotary Tool Benefits
Thanks to their unique design, a rotary tool has a wide range of benefits.
Chief among these is its versatility. Because you can use the tool with multiple attachments, it's really a dozen or so different tools rolled up into a single package.
According to the DIY Network, a rotary tool can be used for carving, cutting, etching, grinding, sanding, and much more.
In addition, a rotary tool is quite compact. Most come in a convenient carrying case. Although small, the tools are powerful enough for even serious projects.
Compare a rotary tool to a power drill. A power drill accomplishes one task: drilling. A rotary tool can also drill, but provides a dozen or more application as well.
Why Buy a Tool Kit?
It's possible to buy a Dremel rotary tool on its own.
Hunker states that because of the design of these power tools, a rotary tool just isn't effective or beneficial without accompanying attachments and accessories.
That's why the Dremel 4000, Dremel 4200, and other Dremel rotary tools are best bought as part of a larger overall kit.
Not only do these kits provide a convenient carrying case, but they also come with a wide range of attachments, usually at least 24 if not far more.
The DIY Resource has an excellent YouTube video that explains many of the best uses for a Dremel rotary tool.
Rotary Tool Top Features
A few key features influence the performance of a rotary tool.
Keep these most important features in mind during the buying process to ensure that the model you need meets or exceeds your personal needs.
Here are the top rotary tool features:
Motor – Type of motor dictates maximum power and different operating speeds.
Handle – A comfortable, ergonomic handle makes using the tool much easier.
Attachments – Make sure that the tool kit you buy has all of the attachments that you need for your project.
Attachment Method – Different methods are used to change out the attachments on the tip. Some utilize a tool while others are built-in.
Power Source – Most rotary tools are corded, although some cordless models are available.
Luckily, when you choose Dremel, you can rest assured your rotary tool will be top-notch no matter which model you select.
Dremel 4000 vs Dremel 4200 Showdown
Since its beginning in 1932, Dremel has been a top manufacturer in rotary tools.
In fact, the company was instrumental in the design of modern rotary tools. All of their products are uniquely innovative and push the boundaries.
Now, let's jump right into comparing two of the very best: the Dremel 4000 and Dremel 4200.
Dremel 4000 Rotary Tool Kit
Last update on 2020-12-01 / Affiliate links / Images from Amazon Product Advertising API
The Dremel 4000 Rotary Tool Kit is available in four options.
Each package comes with a different amount of attachments and accessories, although the 2/30 option (2 attachments and 30 accessories) is most popular.
The Dremel 4000 rotary tool itself is notable for its high-performance motor, 6-foot cord, and variable speed control.
It's a powerful and rugged power tool capable of cutting, sanding, grinding, sharpening, polishing, and more with accuracy and precision.
Not only is the Dremel 4000 a great value option, but it's very easy to use, comfortable even for long periods of time, and as versatile as they come.
What We Like:
2 attachments, 30 accessories
Great balance of value to performance
Extremely durable
What We Don't Like:
Not quite as powerful as 4200
Dremel 4200 Rotary Tool Kit
Last update on 2020-12-01 / Affiliate links / Images from Amazon Product Advertising API
Like the 4000 mode, the Dremel 4200 Rotary Tool Kit is available in a variety of packages.
These include a 36-piece kit, 47- piece kit, 77-piece kit, although the 36-piece kit is most popular with 4 attachments and 36 accessories.
This rotary tool is as durable as they come. It's built for use by professionals in a serious work environment. The 4200 can stand up to all the abuse you can throw at it.
Most notable is its incredibly powerful motor (5,000 to 35,000 RPM) that's capable of even the toughest jobs. Yet thanks to the variable speed control and electronic feedback, it's still gentle enough for those projects that require a gentle touch.
Another highlight of the Dremel 4200 is its ergonomic handle and comfortable design which make it easy to use in all situations.
What We Like:
4 attachments, 36 accessories
Extremely powerful
Most versatile available
What We Don't Like:
Wrap Up
Both the Dremel 4000 and Dremel 4200 are top-notch rotary tools.
Although you're sure to be more than happy with either model, the 4200 has a slight edge over the 4000.
Simply put, the 4200 is the more advanced, more finely-polished model.
Last update on 2020-12-01 / Affiliate links / Images from Amazon Product Advertising API
Not only does the Dremel 4200 come with more accessories and attachments, but it boasts the most powerful motor, the most comfortable grip, and the best electronic feedback.
The Dremel 4200's "EZ change system" does away with a wrench or tool to make changing out attachments as simple as possible.
However, the Dremel 4000 is still a top-notch tool. It's powerful, consistent, and accurate, not to mention easy to use.
Thanks to its much more affordable price, it's probably the better option for casual DIY woodworking while the 4200 is the best bet for serious professionals.
Here's the bottom line: the Dremel 4200 Rotary Tool Kit is the better tool while the Dremel 4000 Rotary Tool Kit is still a stellar budget option.
Thanks to the Dremel commitment ot quality, you'll be happy with either of these rotary tools.